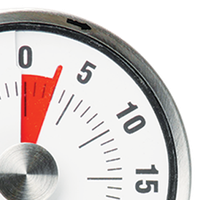 Here's what eleven former Peace Corps directors would say.
To mark the 60th anniversary of the Peace Corps on March 1, University of Wisconsin-Madison hosted a conversation with 11 former Peace Corps directors. Topics ranged across the decades, with a focus on this unprecedented moment — pandemic that led to global evacuation — and an eye toward what Peace Corps can and should do for a changed world.
The conversation was moderated by Donna Shalala, former secretary of health and human services and former member of Congress. Shalala served as a Volunteer in Iran 1962–64, when Sargent Shriver was Peace Corps Director. "He came out to visit us. One of the things I remember, other than he was a charismatic character and we had a lot of fun with him, is that he stuck us with the hotel bill. Thirty years later I presented him with that bill — and his wife made him pay it."
In all seriousness, she noted that amid a time of rancorous political divide, if she had three minutes with the president to talk about the Peace Corps, she would drive home this point: "The Peace Corps has always been bipartisan. It has always had the support of both parties. Some of the most significant budget increases were during a Republican presidency."
Bolstering support for Peace Corps is something that earns support on both sides of the aisle.
—Steven Boyd Saum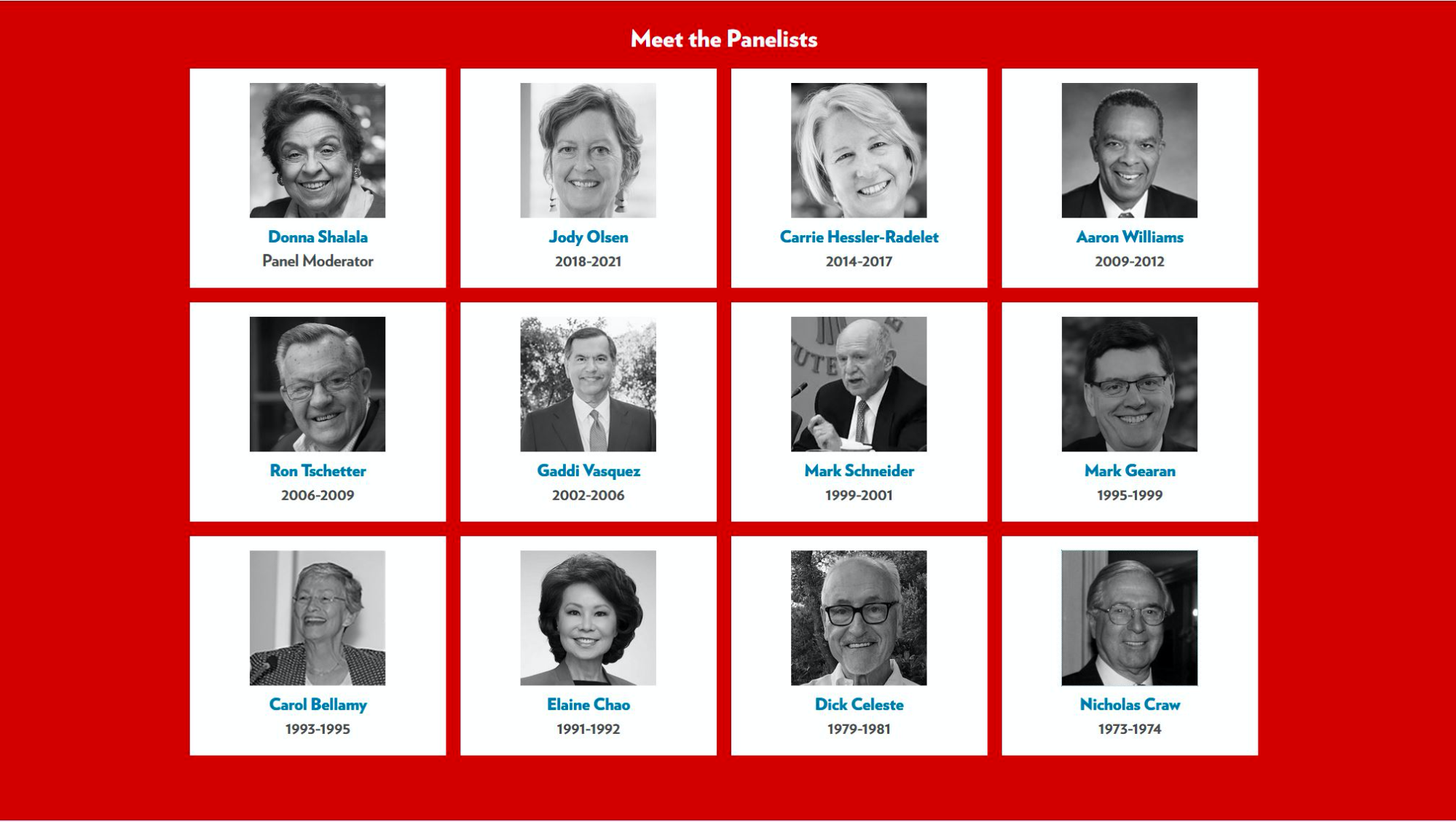 ---
I'd tell the president: Get them back out there as quickly as you can.

Number two, use it as a base to build a national service program for the entire United States. And number three, hire everybody who's a Returned Peace Corps Volunteer for your administration.

—Carol Bellamy
Director 1993–95
---

---
My first request would be to double the size of the program, because we clearly have always had the demand, way more than we could ever fill … Peace Corps has remained strong and a very durable brand throughout multiple challenges, multiple crises, multiple attempts to defund the agency, people who tried to submerge it in another agency … It has survived and prospered.
—Nicholas Craw
Director 1973–74
DOUBLE IT!

We've come to appreciate the importance of public health, both at home and globally, in a much more immediate way. Can we declare a decade committed to global public health, in which the Peace Corps plays a role overseas — and then brings that role home? The public health system here can use great strengthening, and it could become part of a comprehensive national service program.

—Richard Celeste
Director 1979–81
---

---
For a while I was with the Pan American Health Organization, and people told me that Peace Corps Volunteers in Latin America, in Africa, and in countries in other parts of the world, were key in the smallpox eradication program, and Volunteers worked on polio eradication. Looking forward, it seems to me that would be the kind of challenge Volunteers would respond to. COVID is not going away quickly. Peace Corps Volunteers can help, through their ability to bring technology to bear on health communication in countries around the world.
—Mark Schneider
Director 1999–2001
I am a big proponent of universal national service. I would tell the president that we have a blueprint, which is ready to go, for expansion of national service. Now is the time. We need something that created the greatest generation, that brought people together from Tulsa to New York, from Brooklyn to Fresno — and national service can do it. As we look for ways to promote diversity, equity, and inclusion, national service would be an ideal platform to expand opportunities for young people around the country.

—Aaron Williams
Director 2009–12
---

---
I'd try to add an initiative that was dear to my heart: the 50-plus initiative, and talk about the fact that the Peace Corps is not only for young people; it's for those who have had successful careers, and now have years of experience that they have the ability to share with people around the world. I think it would be impactful on the president to hear some of those stories.
—Ron Tschetter
Director 2006–09
The most important point is the proven track record, success, and value of the Peace Corps — to set the foundation

to have a discussion about the ultimate objective, which is to grow and expand the Peace Corps. The domestic dividend is the one aspect that I tried to emphasize, particularly, both to the president and on the Hill; the return on that investment far, far exceeds the boundaries or the time of service in country.

—Gaddi Vasquez
Director 2002–06
---

---
My conversations with Sargent Shriver confirmed to me the whole ethos of the Peace Corps was innovation — and making the Volunteer the North Star. Which led me to think through ways that we could contemporize the Peace Corps and make it right for the times. I used to think the domestic dividend was one of the more underreported or unobserved strengths of the Peace Corps.
We know the good work that happens in some of the most desperate places across the planet — what that means to those communities and villages, certainly the Volunteers. We now know the impact on American lives when they return is the brilliance of the Third Goal of the Peace Corps. We're at a point in our history where the importance of national and community service cannot be more important. It's what unites us. Volunteers would say that it crosses the boundaries of difference.
We're at a point in our history where the importance of national and community service cannot be more important. It's what unites us.
As we celebrate this 60th anniversary of the Peace Corps, a major accomplishment in the next ten years can be to enhance the threads of service. We know the demand is there. The interesting question for me now is: What will the next ten, 15, 20 years bring in innovation? During my time, we thought of ways to use short-term assignments, initially Crisis Corps, which became Peace Corps Response. Every director here had a moment where they could build upon that history through innovation, respond to needs.
America's young people — and those not so young — are looking for ways to make a difference. As to the future of the Peace Corps, we're going to need everyone's support to make sure the funding is ample. This anniversary is so joyful — but the 70th will be even more so when the Peace Corps will have been doubled.
—Mark Gearan
Director 1995–99
Many people don't really understand what Peace Corps does. So I would share a story that conveys what Peace Corps is really about — a story told me by Alpha Condé [first democratically elected president in Guinea], who early in my tenure as director came to visit with President Obama to celebrate democracy in West Africa. He asked to see me; he had a short period of time in Washington, D.C. I went to his hotel, and we had a very formal meeting and exchanged gifts.
He had to meet with President Obama in just a minute. I jumped up to leave — and he reached for my arm and he said, "Please sit down, because now that we've dispensed with the formalities, I want to speak to you from my heart. I want to tell you how Peace Corps has transformed my life — but even more important, how it has changed the lives of my people.
"There was a Peace Corps Volunteer who lived next door to me — the first person who believed I had a future outside the boundaries of my village. His late-night tutoring helped me to pass my national exams. He helped me navigate the journey through university application, financial forms, etc. I would not be president today if not for his support and encouragement.
"But more important, the impact your Volunteers have had on my people: During my campaign for presidency, I visited over 300 villages in Guinea. I went to villages in the far east of my country, where Ebola started. My campaign staff wouldn't go there — and there were Peace Corps Volunteers. I went to the villages in the north where civil servants refused to be posted — and there were Peace Corps Volunteers. I went to small villages in the center of my country; they are visited occasionally by NGOs, which do great work. But at the end of the day, they get back in their SUVs and go back to Conakry, where they live. Your Peace Corps Volunteers stay.
Alpha Condé, the first democratically elected president of Guinea, said:

"Your being there validates my people in a way that sending them money or building them a school could never accomplish. In all honesty, your being there validates my people more than millions of dollars in foreign assistance."
"By your presence, you tell my people that Americans care, that my people are important, that you're willing to give us your most precious asset — your sons and daughters — and that they are willing to leave everything that is dear to them to travel thousands of miles from home to learn our language, eat our food, learn about our culture, and work on our priorities. Your being there validates my people in a way that sending them money or building them a school could never accomplish. In all honesty, your being there validates my people more than millions of dollars in foreign assistance.
"My people are so proud to show their culture and their language. They're so proud to work together with your Volunteers to create a better world together, who give them a hand up and not a handout. And that makes a difference."
I'd share that story. In this world that has become so divided, presidents need to know about those interpersonal connections. Unless people really understand that, they don't see a benefit in the Peace Corps. We need to be able to communicate the importance of Peace Corps in a way that is profoundly personal. When I was director, there were more than ten presidents on the continent of Africa alone who said they got their start with a Peace Corps Volunteer. That's extraordinary.
—Carrie Hessler-Radelet
Director 2014–17
---

---
I was sometimes asked by Volunteers, when I was director, what is their real impact? I assured them that I had the great privilege of seeing the continuum of work from one Volunteer to another — work that's built upon one another.

—Elaine Chao
Director 1991–92
What you're all illustrating is the one-on-one, the humbleness; you learn the language, you learn the community, you are with a family. One example that several of you were involved in: Peace Corps going back to Indonesia. There was a lot of mistrust, and a tiny program — maybe ten Volunteers. We came, we worked, bit by bit by bit. I was able to go back to Indonesia about 15 months ago for a meeting with the Ministry of Education and the other agencies that have come together for Peace Corps in Indonesia. They said, "We want to say to you now, ten years later — we want to open up the next section for the country. We want to bring in 30, 40, 50, 60 more Volunteers. We trust you. We respect you, because you honor and respect us as individuals working in communities."
—Jody Olsen
Director 2018–21
---