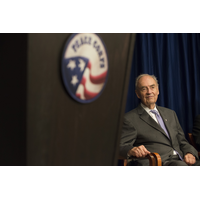 A legendary figure in the launch of the Peace Corps dies at age 92.
He was a student of Gandhi's methods of bringing political change through non-violent direct action. An associate and friend of Martin Luther King Jr. during the early years of the civil rights movement. A key adviser to the presidential campaign of John F. Kennedy who facilitated a key meeting between JFK and MLK which eventually led to a critical phone call that is credited with tipping the election to Kennedy.
He was a World War II era veteran. A university president. A United States Senator.
But for tens of thousands of members of the Peace Corps community, Harris Llewellyn Wofford — who died Monday — will always be remembered and revered for his iconic work as one of the architects of the Peace Corps, and his vigorous lifelong commitment to volunteerism and service above self.
"Harris Wofford blessed the world with his never-ending commitment to public service and social justice," said National Peace Corps Association President Glenn Blumhorst. "He truly was a global citizen who embodied Peace Corps values. All who were fortunate enough to have met Harris are mourning his passing, not only because we lost a friend, but also because our nation has lost a man of such high character and goodness."
After JFK's election in 1960, Wofford began work in the new administration as a key civil rights adviser, but was later appointed to assist Sargent Shriver in the formation of the Peace Corps. He served as the agency's special representative to Africa and director of operations in Ethiopia.
At gatherings of the Peace Corps community, Wofford would regularly remind audiences of the bold vision and role of the new agency at its inception. He recalled being on the White House lawn with President Kennedy as a new group of volunteers was leaving for their service. According to Wofford, Kennedy said:
"You know this Peace Corps is going to be really serious when we have 100,000 Volunteers a year. Because in one decade, we'll have a million Americans who will have had first-hand experience in Asia, Africa, and Latin America. Then at last, we'll have an intelligent foreign policy because there will be a big constituency of people who understand the world."
Wofford was a member of NPCA's Advisory Council and a regular at NPCA conferences, leadership summits, and advocacy days. His commitment to service went well beyond Peace Corps. He was Chief Executive Officer of the Corporation for National and Community Service (which included AmeriCorps) from 1995 to 2001. He was a leader in the formation of the Building Bridges Coalition in 2006, bringing together non-governmental organizations, businesses and universities committed to expanding overseas service opportunities. Wofford also served on the boards of several volunteer organizations, including America's Promise, Youth Service America, and the Points of Light Foundation.
In our nation's capital, a city that can be consumed by status and titles, "Senator Wofford" was simply known to all as "Harris." His personal modesty belied his mark on history and many global achievements. Those achievements began in the 1940s, when he formed the Student Federalists while in high school. They continued six decades later, when Wofford assisted another presidential candidate at a critical moment: introducing Barack Obama at Philadelphia's National Constitution Center before a pivotal speech on race in America. They endured in 2016, when his opinion piece in The New York Times spoke of the man who became the second love of his life and the importance of marriage equality.
During the 50th anniversary year of Peace Corps in 2011, NPCA recognized Wofford's lifetime of service to our nation and our world by establishing the Harris Wofford Global Citizen Award. The award is given annually to an outstanding global leader who grew up and continues to live in a country where Peace Corps Volunteers serve and whose life was influenced by the Peace Corps.
Memorial Service
On Saturday, March 2, 2019, we gathered to remember the remarkable life of Harris Wofford at Howard University in Washington, DC. If you were unable to join us, you can watch the service using the link below.
---