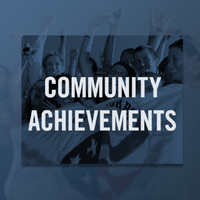 Community News - Achievements of RPCVs
Author: Peter Deekle
October 2019
CHILE
Diane Bammel (1967-1969) worked part time during her Peace Corps service in an orphanage for girls and part time in a small Baptist kindergarten in the major slum of Concepcion. One of the orphans became her foster daughter. In October 2018, Diane sold her home and car, and moved to Chile to live with her foster daughter Anita and her husband Carlos, where she became involved in the same slum of Concepcion, called Aguita de la Perdiz.
COSTA RICA
Kirti

Mathura (1984-1986) is a popular and frequent public speaker and horticultural consultant. She recently shared her expertise in early October about "Landscaping for Birds" at the Desert Rivers Monthly Speaker Series in Arizona. She provided information on native and desert-adapted plants that provide food, shelter, and nesting opportunities for birds year-round while also beautifying your home garden.
GABON

Stacy Jupiter (1997-1999) received was name one of 26 MacArthur Foundation Fellows for 2019, citing her efforts to save lives and coral reefs as well as build on traditional practices to figure out when, where, and how long to close off fishing areas to best manage natural resources. The honor comes with a grant totaling $625,000. Stacy directs the Wildlife Conservation Society's Melanesia Program Fulbright scholarship.
GHANA
Zack Moore (1997-1999) is Laguna Blanca's (CA) STEM coordinator and science instructor. He received the Fulbright Distinguished Teacher Award and will travel in November to Ghana to facilitate STEM integration in the Ghana-Lebanon Islamic School. Laguna Blanca is a not-for-profit EK-12 co-educational, college preparatory day school. The Fulbright award will support Zack's pursuit of female inclusion in STEM fields.
GRENADA

Rachel Passmore (2015-2017) served in Peace Corps as a literacy and health specialist following a Fulbright English Teaching Assistant (ETA) in Delhi, India. Since June 2019, she is Project Director of 24-Month Children and Youth with Special Health Care Needs at Albert Einstein College of Medicine.
GUYANA

Travis Hill-Weber (2011-2013) has been appointed the director of the Pepperdine University Buenos Aires International Program; he oversees all of the program operations, including student affairs, academic programs, and educational field trips. He and his wife live in Buenos Aires.
IRAN

Donna Shalala (1962-1964) was elected in 2019 as the U.S. Representative for Florida's 27th District. She formerly held several academic leadership positions and was the 18th U.S. Secretary of Health and Human Services (1993-2001). Donna has also served on the National Peace Corps Association Advisory Council.
LESOTHO

David Gorman (1989-1992) is the founder of Bikes for Lesotho. Following his Peace Corps service, he began collecting used bikes to ship overseas to the people of Lesotho. Since 2012, Bikes for Lesotho has shipped thousands of bikes, with the help of Working Bikes Cooperative.

Michelle Wilcox (2013-2015) having played varsity soccer prior to her graduation in 2012, was inducted in September 2019 into the Lyndon State College Athletic Hall of Fame. During Peace Corps service she was an English teacher at the primary level. There were many people with AIDS and she taught disease prevention and life skills, working with vulnerable young women.
LIBYA

Randolph Hobler (1968-1969) is completing 101 Arabian Tales: How We All Persevered in Peace Corps Libya. In the course of research and writing, he interviewed 101 RPCVs from Libya, distinguishing it among other Peace Corps memoirs. While marketing for the book, he noted that many RPCVs beyond professional career pursuits are also deeply involved in community service activities, both locally and abroad.
MALAYSIA
Roni Lerner Love (1965-1967) reported that Malaysia 13 held its 54th reunion in Seattle on September 5-8, 2019. This group began training at Northern Illinois University in September 1965, completing it in Hilo, Hawaii. Volunteers from this group were assigned in-country at the end of December until December of 1967. Wendy Grimes O'Leary and MaryAnn MacKay coordinated the reunion. The group's last two reunions have been 2 years apart while previous ones were about every 5 years. They plan on continuing to meet biennially.
MOLDOVA

John Lewis (1997-1999) returned to his Peace Corps country of service after 20 years to shoot a web series on the highs and lows of country living abroad. Lost in Moldova, written by scriptwriter John Lewis and produced by an American-Moldovan team of filmmakers, navigates the cultural divides between both nations with lighthearted humor.
NORTHERN MARIANA ISLANDS
Catherine "Kit" Porter Van Meter (1967-1969) reports that the RPCV community that served in the Northern Mariana Islands (NMI) and Micronesia in the late 1960's and early 1970's is collecting pictures and stories from Peace Corps Volunteers and Staff who lived and served in the region. They are working with the Museum of the Peace Corps Experience to preserve and make accessible content related to their service. They are also in communication with the CNMI Official Archives and Northern Marianas Humanities Council (NMHC) about content sharing. The NMHC has funded a matching grant to facilitate community involvement and development of this project.
PARAGUAY

Mark Jacobs (1978-80) has recently published his short story, Wild Turkey, in Maple Tree Literary Supplement. He has published more than 140 stories in magazines, and among his five books are A Handful of Kings, published by Simon and Shuster, and Stone Cowboy, by Soho Press. He is also a former Foreign Service officer and speaks fluent Spanish and Turkish, along with some Guaraní.
SENEGAL
Amy Maglio (1996-1999) is the founder of the Oak Park-Chicago based nonprofit Women's Global Education Project, which helps girls in Africa stay in school and thereby reduces female genital mutilation and early marriage.
TURKEY

William Brockhaus' (1967-1969) memoir, Letters from Turkey—A Peace Corps Volunteer's Story, was published by Outskirts Press in August 2019. William witnessed the events described in this book, and in spite of the many hardships recounted, continued to teach and to care deeply for Turkey. He returned to Turkey in 1972 on a Fulbright Grant to study at the University of Istanbul. He presently resides in Orange County, CA with his wife.
ZAIRE

Robert Zeigler (1973-75) was selected to present the prestigious Charles Valentine Riley Memorial Lecture at the American Association for the Advancement of Science Headquarters. Dr. Zeigler is the Director General Emeritus of the International Rice Research Institute (IRRI), serving as IRRI's Director General for more than 10 years and has been a global leader on food security issues his entire career.
---
Please share your news with us! Email Peter Deekle.
---