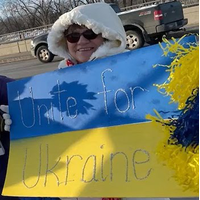 Honoring three groups working to help the people of Ukraine
By NPCA Staff
The 2022 Loret Miller Ruppe Award for Outstanding Community Service honors three groups that have worked together to support the people of Ukraine since the full-scale Russian invasion in February 2022. The RPCV Alliance for Ukraine, the Friends of Moldova, and Partnering for Peace have aided refugees and those in harm's way. The award was presented at the Peace Corps Connect Conference in September 2022.
Named for the widely admired tenth director of the Peace Corps, the annual Ruppe Award is presented by NPCA to outstanding affiliate groups for projects that promote the Third Goal of Peace Corps — "strengthen Americans' understanding about the world and its peoples" — or continue to serve host countries, build group spirit and cooperation, and promote service. Here's what these groups have to say about the work they're doing.
RPCV Alliance for Ukraine
We are here to continue and strengthen service at a time of overwhelming need. In February 2022, Vladimir Putin launched a full-scale assault on Ukraine, a country of more than 40 million people and a second home to more than 3,000 Returned Peace Corps Volunteers. Many of our friends and family members fled. Others are fighting to defend their communities, and some are no longer with us. Everyone who served in Ukraine knows somebody affected by the war. One in three people have fled; 7 million are displaced internally, 5 million are scattered around the globe.
When the invasion started, Ukraine RPCVs rapidly mobilized to assist our Ukrainian friends, family members, colleagues and communities. We are raising awareness, sending money and supplies, engaging mass media, and directly assisting with transportation, housing, and money. The Alliance has delivered $280,000 worth of trauma first aid supplies. Our new Peremoha grant program, funded by sales of our Ukrainian cookbook, is delivering $40,000 to local humanitarian aid projects. We've started the Uniting for Ukraine sponsorship initiative, connecting Ukrainians with sponsors so that they can find refuge in the United States. Every day, Ukraine RPCVs are connecting on a grassroots level to distribute needed resources and information. While the initial wave of global attention seems to have crested, we're in this for the long haul.
—Cortney Copeland (Ukraine 2017–19) President, RPCV Alliance for Ukraine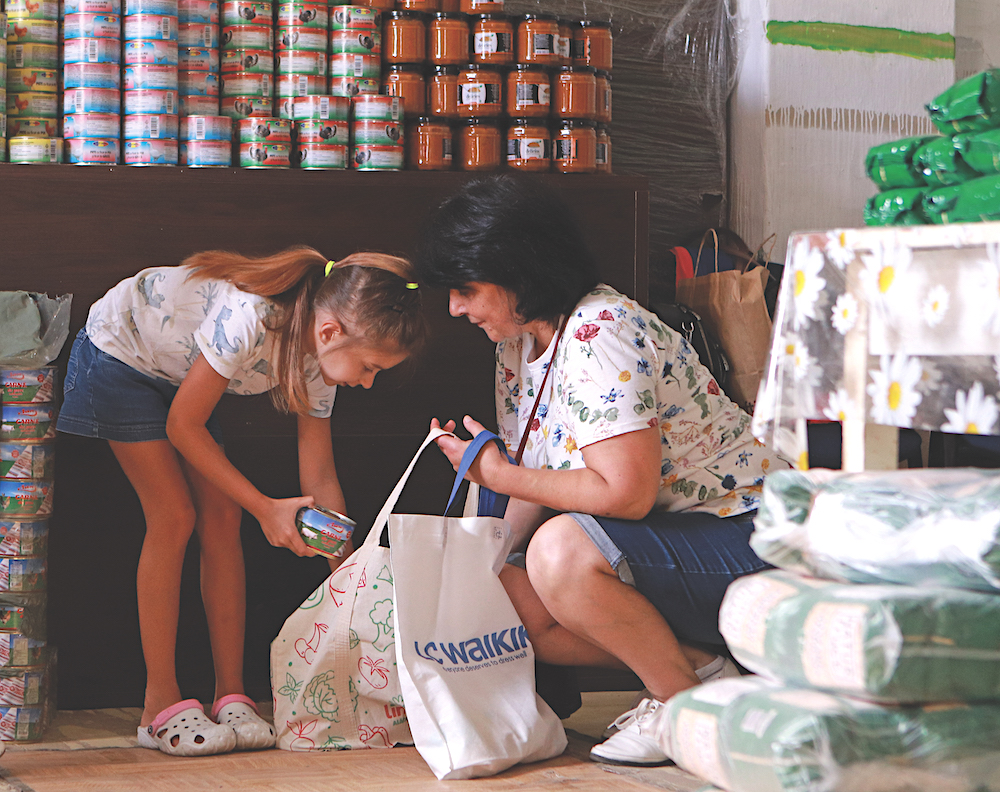 In a time of need: assisting refugees from Ukraine at a center on Moldova. Photo courtesy Friends of Moldova
Friends of Moldova
Since Russia invaded Ukraine, over half a million refugees have crossed into neighboring Moldova. Friends of Moldova was founded to support Moldovan civil and youth activists. When the war in Ukraine began, however, some of us dropped everything to travel to Moldova and coordinate direct assistance to refugees, together with our local partners. Others in the U.S. have raised funds and spoken out. Friends of Moldova has raised more than $680,000—one of the largest relief efforts ever undertaken by a group of returned Volunteers. Carol Spahn, then CEO of the Peace Corps, flew to Moldova to help serve meals at the Friends of Moldova's first center for refugee assistance. Moldova's president, Maia Sandu, visited as well. Our distribution centers have provided free food, clothing, and sanitary items to tens of thousands of Ukrainian refugees and assisted other relief efforts.
We've been excited to team with Rotary International to obtain new funding. Rotary clubs from Oklahoma City to Raleigh, North Carolina, have worked with RPCVs and the Friends of Moldova to secure disaster response grants.
—Piper Rasmussen (Moldova 2019–20) Member, Fundraising Committee, Friends of Moldova
Partnering for Peace: Friends of Peace Corps and Rotary International
In 2014, Peace Corps director Carrie Hessler-Radelet and Rotary General Secretary John Hewko signed a memorandum of understanding to promote their shared mission of service and sustainable community development. The MOU was signed as I began my service in Peace Corps Georgia. Partnering for Peace is a nonprofit built to support the Rotary-Peace Corps relationship through awareness, education, and outreach. It has supported projects stocking library shelves in PCV villages; administered health screenings; provided micro loans; organized sanitation, water, and hygiene projects; and undertaken vocational training and conflict resolution programs aligned with Peace Corps' Third Goal.
The war in Ukraine has brought Rotary and RPCVs together to aid Ukrainian citizens and refugees. Members have supported funding and assisted on-the-ground coordinating with RPCVs. Fundraisers, donations, grants, and local support are now the norm. I was recently asked to assist Rotarians in Paris who needed people to unload emergency supplies from Spain to Moldova; Friends of Moldova could assist with that. There is so much we can do together. Partnering for Peace is honored to play just a small part in connecting the Rotary community with these passionate NPCA affiliate groups. We have facilitated two $25,000 grants to a refugee camp in Moldova and a hospital in Donbas, both funded by Rotary and spearheaded by RPCVs.
—Kim Dixon (Georgia 2014–16) President, Partnering for Peace
---
WATCH: Video remarks from the winners of the 2022 Loret Miller Ruppe Award
This story appears in the Winter 2023 edition of WorldView magazine.
---