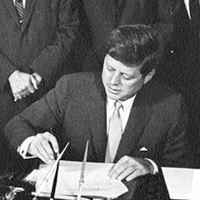 This year we mark 60 years since President John F. Kennedy signed the legislation creating the Peace Corps. Celebrate the moment in the morning. Take part in special advocacy programs throughout the day. And stay tuned for special news and commemorations from Capitol Hill.
By Jonathan Pearson
PHOTO: President John F. Kennedy signs the Peace Corps Act on September 22, 1961. Courtesy JFK Presidential Library and Museum
As you prepare to join National Peace Corps Association (NPCA) for the 60th anniversary Peace Corps Connect conference September 23–25, we also invite you to take part in a special commemoration on September 22 — the anniversary of the signing of the Peace Corps Act.
While plans are being finalized, here is the programming you can expect, with individual links to register for each event throughout the day.
SEPTEMBER 22, 2021 | SCHEDULE
Events and timing subject to change.
Mark the Moment
9:30 AM – 10:30 AM (Eastern)
September 22, 1961 at 9:45 AM. That was the moment when President John F. Kennedy signed congressional legislation that formally established the Peace Corps. Join NPCA to celebrate this moment. Former Congressman Joseph Kennedy III, and Peace Corps pioneers Bill Josephson and Bill Moyers are scheduled to join us. Register here.
Social Media Mobilization
1:30 PM – 2:30 PM (Eastern)
Have a Twitter account? Are you a regular on Facebook or Instagram? Got connections that run far and wide on LinkedIn? Make plans to be part of a nationwide social media mobilization to amplify the importance of the Peace Corps at this historic 60th anniversary moment. While activity is likely and encouraged throughout the day, you can also plan to stop by anytime during an hour-long zoom gathering to say hello to others, hear the latest from NPCA leaders and citizen advocates, and celebrate 60 years of the Peace Corps! Whether you stop by the virtual gathering or not, help amplify Peace Corps through social media: Register here and we'll keep you in the loop.
Honor Those Who Have Served | In-Person Wreath Laying at John F. Kennedy Memorial at Arlington National Cemetery
4:00 PM – 5:30 PM (Eastern)
Northern Virginia Returned Peace Corps Volunteers (NOVARPCV) host a wreath-laying ceremony at the John F. Kennedy Memorial at Arlington National Cemetery. Speakers include Peace Corps Director Carol Spahn; former Congressman and Returned Peace Corps Volunteer Sam Farr; returned Volunteer Rep. John Garamendi (D-CA); and NPCA President Glenn Blumhorst, who will speak on the legacy of the Peace Corps to honor President John F. Kennedy. Following speeches, attendees will walk together to the grave site of President John F. Kennedy, where a wreath and flowers will be placed. This is an in-person event. Learn more and register here.
Learn the Ropes: How to Become a Citizen Advocate
8:00 PM – 9:00 PM (Eastern)
If you're interested in becoming a citizen advocate but aren't sure how — or if you're just wading in — this is the most important hour of the day. We need to substantially build our ranks to score significant victories in Congress in this key moment in Peace Corps' history. Don't think you alone will make a difference? In this program, you'll hear from NPCA advocates who absolutely have — bringing on board legislators who have never supported Peace Corps in the past. Don't think lawmakers listen to what you say? We will hear from RPCV Capitol Hill staff on that topic. Not sure if you can make a difference? Hear some success stories from RPCV advocates. Interested in other issues? Meet members of RPCV special interest affiliate groups on how they bring their Peace Corps voice to the conversation.
(UPDATE) We are happy to announce this program will begin with remarks from RPCV Congressman John Garamendi (D-CA), with an appeal to our community to help pass his Peace Corps Reauthorization Act legislation! Register here.
60th Anniversary Live ... from Capitol Hill?
Times TBD
We will be monitoring Capitol Hill for possible Peace Corps-related actions and news on or about September 22 — related to advancing the Peace Corps Reauthorization Act, support for Peace Corps funding, or commemorating the 60th anniversary of the signing of the Peace Corps Act. Register here to be notified about any key Peace Corps developments that will be broadcast live from Capitol Hill.
Story updated September 21, 2021 at 5:00 PM
---
Jonathan Pearson is Director of Advocacy for National Peace Corps Association.
---