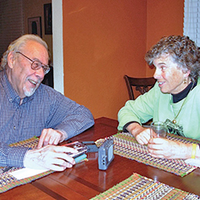 Megan Patrick's arrival in Togo in 2001 remains a deep and raw memory to this day. "It was a difficult time in the beginning, but not in the way I would have guessed," she said during her interview for the Returned Peace Corps Volunteer Oral History Archive.
"I had to learn all over again how to buy food, avoid certain foods, get clean water, wash and dry clothes, and dress (never show your knees!)— indeed how to ask for help in a local language I barely knew. I felt like a two-year-old walking in an adult body. I'm not sure I could articulate it at the time, but those first few months felt like a loss of autonomy and self-identity."
Patrick began her interview with this difficult recollection and continued with memories of training, her two years serving in Togo and multiple ways she engaged village girls, encouraging them to stay in school and gain confidence.
While serving in the Pacific, Betty Smallwood (Fiji 69-71) recalls, "If I just broke even in terms of what I did there…if I didn't do any harm, it made me a better American. It took me out of my comfortable, middle class life. ….It gave me a sense of 'other.'"
More Than Just a Story
An RPCV's oral history interview records and preserves the unique experiences of each individual volunteer. The RPCV offers opinions and reflections in a subjective context, sometimes with surprising spontaneity, as was the case with Patrick. These personal histories become primary biographical sources, and in a broader context can be used for harvesting individual stories.
Stories offer snapshots. They entertain and educate, introducing people to new ideas, aspects of life, and ways of thinking. They differ from oral histories because they stand alone, with or without context.
In an oral history interview, stories and thoughtful reflections can emerge unexpectedly during these broader reminiscences. When the interviewer asked Paul Milo (Fiji 75-77) why he joined Peace Corps, there was no simple answer.
"I don't know what I expected, really," he said. "I was looking for an adventure of learning, cultural exploration, and giving back to some degree. I would say that 'giving back' part got stronger as I was actually there. …when you … think of your students' lives, and realize if they pass 6th form math, which is not that common in Fiji, they can pretty much get a job in a bank, or a relatively good job by local standards. So, you were offering something that really did matter in their lives."
In this recording project, our team has realized that multiple interviews taken together provide diverse perspectives on Peace Corps experiences. Additionally, they form underpinnings for critical research: Patterns of development in a country or region, the impact of particular Peace Corps programs, or the role Peace Corps played in shaping international development following decolonization.
Why Do They Matter?
The RPCV Oral History Archive is a growing collection in the John F. Kennedy Presidential Library and Museum, part of the U.S. National Archives and Records Administration (NARA). Interviews are conducted by RPCVs who were previously interviewed and were trained to interview others.
Since Robert Klein (Ghana 61-63) conducted the first interviews in 1997 we've recorded and archived 700 interviews. "We believe that the history of the Peace Corps lies within the unique experience of each Peace Corps Volunteer," Klein wrote in 2011. "Thus, the goal of the Project is to build up a comprehensive collection of firsthand narratives by those who have served. These interviews epitomize the special character of Peace Corps service—we are part of the Peace Corps project but we serve as individuals."
Archivists at the JFK Library report that the RPCV Collection—which includes these oral history interviews—ranks in the top 10-15 percent of the library's collections in terms of research room use. Considering electronic searches, in the first nine months of 2019 the RPCV Collection records received nearly 6,000 hits on the website, ranking it the second most searched collection in that time period in the JFK Library.
Christine Fitzpatrick, an archives specialist at JFK Library, describes the RPCV collection as "first-hand evidence of how one of President Kennedy's programs has evolved over time. Not many aspects of his legacy are able to be tracked this way."
Fitzpatrick stresses the global impact of our service. "I think that documentation from volunteers is an essential piece of the equation when you are trying to evaluate the impact that the Peace Corps has had on the country and the world."
Klein's Vision
At the 35th anniversary celebration of Peace Corps, Robert Klein learned that several Ghana I volunteers had died. He realized their compelling stories were already lost; pieces of Peace Corps history were disappearing.
Klein soon began recording interviews among his Ghana 1 training group. With dogged tenacity, he persuaded archivists at JFK Presidential Library and Museum to help him develop an oral history interview protocol based on Oral History Association standards. JFK Library staff agreed to receive and curate the interviews as long as they met those standards.
Klein began his recorded interviews with what was then state-of-the-art analog technology, an audiocassette tape recorder. He traveled across the United States interviewing members of Ghana I. He also recruited and trained other RPCVs to join him and expanded the oral history interviews to include any RPCV willing to share those Peace Corps memories. And with the help of one of his recruits, Phyllis Noble (Nigeria 65-67), they worked with JFK Library archivists to develop an interviewer's guide.
Klein was also hearing about correspondence, diaries, photographs, and reports RPCVs had saved from their years of service. He brought the question to me as University Librarian Emerita at American University. Together with William Mayer, my successor as University Librarian, the three of us established the Peace Corps Community Archive and broadened the collection of Peace Corps Volunteer papers already at American University. A few weeks later, Robert Klein died, but not before he personally had interviewed 208 RPCVs.
As the project's new leader, Noble followed Klein's lead and traveled at her own expense, creating analog recordings, sleeping on the couches of volunteers' homes to reduce her expenses. With the advent of reliable digital recorders Noble directed the migration from analog to digital recorders in 2015 and revised the guide.
Before her own death in 2017, Noble asked interviewer Evelyn Ganzglass (Somalia 66-68) and me to carry on the oral history project. We created the Phyllis Noble Memorial Oral History Fund to finance the digitization of the analog recordings of the first 520 interviews that are on cassettes in the JFK Library.
Expanding Outreach
Evelyn Ganzglass now serves as coordinator of the eight-member RPCV Oral History Archive Project team. We became an NPCA affiliate, created a web site on the NPCA's community platform, launched a social media presence, updated our interviewers' guide and recruited more interviewers.
Our team is committed to attending each annual Peace Corps Connect national conference to present workshops, sponsor exhibits, conduct more interviews and recruit and train more interviewers. Watch for an RPCV Oral History training workshop during Peace Corps Connect in Seattle, July 16-18, 2020!
Since Klein began the interviews in 1997, the interviewers who volunteer have paid all of their own expenses including travel. To make their work more affordable, we obtained a grant in 2019 from the NPCA Community Fund to buy recorders to use at events such as RPCV reunions and to lend to new interviewers just getting started.
Five longtime NPCA affiliate groups have launched interviewing projects under our guidance and bought digital recorders to enable more RPCVs to interview: Friends of Fiji, Heart of Texas Peace Corps Association, New Jersey RPCVs, Northern Virginia RPCVs, and West Virginia RPCVs. We encourage others to join the movement to record our individual Peace Corps experiences.
Stories, Stories and More Stories
Many RPCV interviews reveal the harsh realities of our service. In his work as Peace Corps doctor, organizing for inoculations, identifying health conditions in rural areas, writing and distributing health-related curriculum, E. Fuller Torrey (Ethiopia 64-66) wrapped up his interview observing. "Although PCVs were overall healthy in those two years, we nonetheless lost one volunteer—eaten by a crocodile—while swimming with four friends in a river shunned by local people."
Stories, even some like Torrey's, abound and we envision harvesting them to produce new products for education and entertainment. Although the interviews themselves are part of NARA and are open for use by the public, when we find stories we wish to use in another printed or audio format, we seek permission from the storyteller.
A member of our team, Cedar Wolf (Namibia 06-08), produced "In Their Own Words," a series of stories and photographs based on project interviews that aired at the September 22, 2019 Peace Corps Day events in the Kennedy Center for the Performing Arts' new REACH addition. Check out Wolf's production on our homepage peacecorpsoralhistory.org.
Patricia Wand is a member of the RPCV Oral History Archive Project team and served in rural community development and health education in Nariño, Colombia from 1963 to 1965. She was University Librarian at American University 1989-2006 and served eight years on the NPCA board, 2 years as vice-chair, and now co-chairs the Committee for a Museum of the Peace Corps Experience.
This story was first published in WorldView magazine's Winter 2019 issue.
---