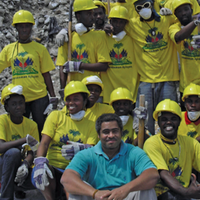 Carlos Jean-Baptiste
Peace Corps Volunteer in Kenya (2006–08) and Zambia (2008–09) | Peace Corps Response Volunteer in Haiti (2010)
As told to Ellery Pollard
Photo: Haiti in the aftermath of the 2010 earthquake: Carlos Jean-Baptiste, in blue shirt, assisting with relief. Courtesy Carlos Jean-Baptiste
I identify as a first-generation Haitian American, born of an immigrant mother. I grew up in a community where my grade school was 50 percent first-generation American, so I experienced the world through these relationships. I was always aware of how big the world is. Peace Corps was a path to experience it firsthand, and it helped me understand the complexity of identities and how we have a responsibility to parse those identities — our own and those of people we live and work with.
When I arrived in Kenya as a Volunteer, I was petrified. But when my host father met me, he embraced me, and he said, "Today, my son, you were born in Africa, and your name is Makau." To be embraced by a community, by someone who doesn't know you, and to immediately feel a sense of belonging — that's a very significant feeling.
While I was in Kenya, I was a behavior change communicator for Deaf audiences. It was a pilot program, and most of us who went were artists and graphic designers. The idea of being able to create visual media to communicate behavior change was promising and exciting. It was an amazing experience to get the chance to work with the Deaf community — people who see themselves as their own tribe, but who all represent different ethnic groups within Kenya.
I was in service for about 18 months before Peace Corps suspended the program due to civil unrest following the 2007 elections. Four of us went to Zambia and met with the country director. She asked if we were interested in doing a pilot there, which ended up being a great way to build something new and carry on from our previous service.
The earthquake hit Haiti in January 2010. I was working in Ethiopia at the time. I immediately started trying to find ways to help.
The earthquake hit Haiti in January 2010. I was working in Ethiopia at the time. I immediately started trying to find ways to help. I did some fundraising, but I was ultimately able to volunteer with Peace Corps Response, working with USAID. That was my first time in Haiti; it was unfortunate that it took the earthquake to get me there.
The program was put together as quickly as possible, trying to find the right skill sets to be most effective. It was a disaster response situation: I came in from the airport and they sat me at a table and told me to read all these documents and explain what I was going to do. Those first hours were cathartic. It's all epiphany, it's all learning — what I know, what I don't know, how to move forward. Not knowing everything is fine. But knowing people is an expertise as well — how to read cues. Leaning on experiences I had from Kenya and Zambia and Ethiopia, I knew that if you don't ask the right question, or don't ask it the right way, you're not going to get the answer you really want. Sometimes people are going to tell you what they think you want to hear rather than what you need to know.
What I did was fill gaps for a long time: I would be an informal interpreter in the field; then I worked as the liaison to the United Nations Clusters. Any given day, you could be working on something totally different, responding to immediate needs. We were facilitating specific parts in the recovery via monitoring and evaluation, recommendations about what people should do. I was able to work on a project at its inception and then work in a different agency to develop and implement it. So I got the chance to see the fruits of my work in a way that a lot of Volunteers don't.
In terms of identity, in Haiti I could be Haitian — but also American. I could speak Kreyòl in a really comfortable way, but also speak English. It was the first time that everyone around me was speaking the language that I grew up speaking. How many people have that moment where you swear you're an expert, and then you're confronted with however much you really know — or don't? It's incredibly humbling — but not humiliating.
This is part of a series of stories from Crisis Corps and Peace Corps Response Volunteers and staff who have served in the past 25 years.
---