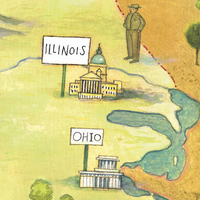 This year, for the first time, two returned Volunteers in the Midwest reached out to their members of Congress to talk about Peace Corps. That effort made a difference at a critical moment.
By Jonathan Pearson
From her home in central Illinois, Nikki Overcash had written to her elected representatives in the past, but she had never asked for a meeting or directly engaged with them. She heads up academic services at Illinois College, not far from the state capital, Springfield. This past spring, when National Peace Corps Association put out a call for returned Volunteers to seek meetings with their members of Congress during the National Days of Advocacy, she decided now was the moment.
She reached out to Rep. Rodney Davis, the Republican who represents Illinois' 13th district, which stretches from the city of Champaign west to the Mississippi River.
"A significant part of who I am today can be attributed to my Peace Corps experience," Overcash says. Peace Corps service took her to China 2007–09 as an education Volunteer. She forged deep friendships. And more broadly, she says, "Serving allowed me to better understand myself, America, China, and global connections with much more nuance."
"Serving allowed me to better understand myself, America, China, and global connections with much more nuance."
Maria Arnaiz is no novice when it comes to meetings with members of Congress. For her, home is northeast Ohio, near Akron. She serves as a legislative and advocacy chair for the Ohio State PTA and, as a board member of three nonprofit organizations, has participated in annual congressional meetings. Peace Corps service took her to the Democratic Republic of Congo 1984–88; she worked as a fisheries extension Volunteer.
When NPCA called on returned Volunteers to arrange meetings with Congress in the spring, she put in a request for a meeting with Rep. Anthony Gonzalez, who represents the state's 18th district and calls Akron home.
Why this year? Part of Arnaiz's motivation was another, future member of the Peace Corps community. "My son, Emilio Bloch, has been accepted to serve in Rwanda in the maternal and infant health program," she says. "He was supposed to have left in August 2020."
But as COVID-19 swept the globe in March 2020, Peace Corps temporarily suspended all programs around the world; Volunteers have yet to return to service overseas. Arnaiz's son grew up hearing about her experience in the Peace Corps; it's something he wants to understand firsthand. So, Arnaiz says, "Organizing the congressional meeting and advocating for Peace Corps funding so that Volunteers could return to the field was an obvious way for me to help him get that opportunity."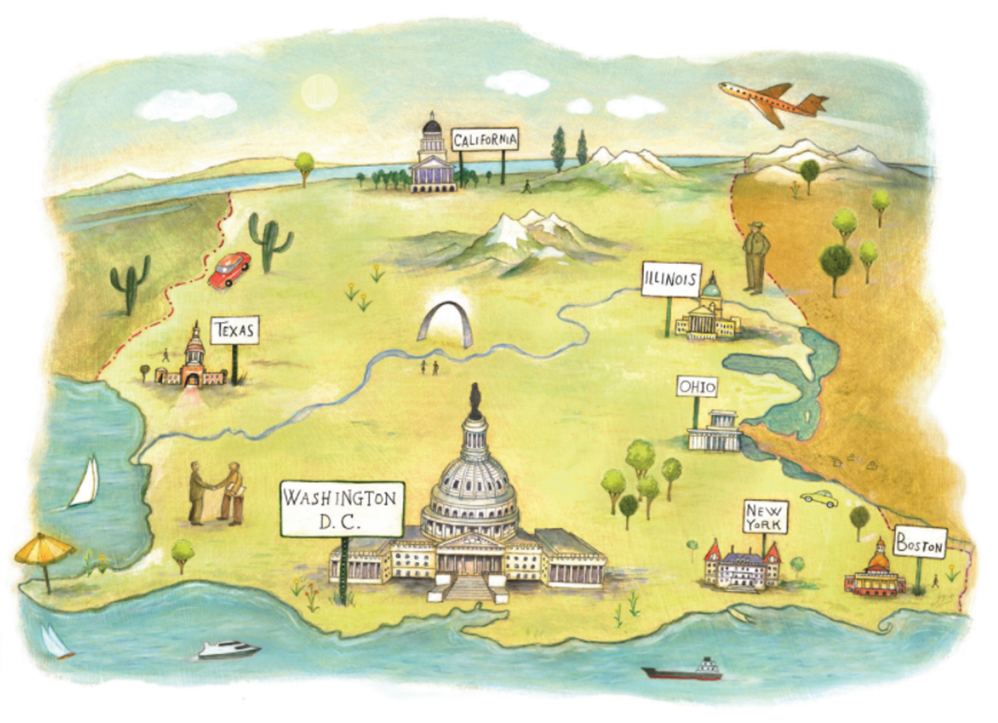 Illustration by John S. Dykes
See People as People
What difference could a couple of meetings make? When the annual House of Representatives Peace Corps funding "Dear Colleague" letter was issued in April — a letter requesting $40 million in additional funding for the agency, to ensure financial support for important reforms — a dozen Republicans were among the 156 lawmakers who signed. Representatives Rodney Davis and Anthony Gonzalez were on board. For both, it was a first.
In Illinois, Nikki Overcash worked with Rodney Davis's district office to arrange one of the first in-person meetings the congressman had held since the pandemic began. During their conversation, Overcash learned that Davis had a friendly relationship with fellow Republican Garret Graves of Louisiana, the lead Republican on both the Peace Corps funding letter and the Peace Corps Reauthorization Act (H.R. 1456).
And, as often happens in congressional meetings, mention of the Peace Corps led to a personal connection. One of Davis's staff members knew another returned Volunteer from Illinois who was now in Washington, D.C., working for the Peace Corps agency.
Arnaiz used materials and talking points provided by NPCA and put together a personalized introductory document, which she sent to Anthony Gonzalez's office. Arnaiz is also a member of the Northern Ohio RPCVs, an affiliate group of NPCA; she recruited Ann Jankowski, a fellow Gonzalez constituent and returned Volunteer (Guatemala 1988–91), for the meeting. Naturally, Arnaiz's son Emilio also took part.
"He believes national service, like the Peace Corps, is a way to bridge the divide in our society, an opportunity for people with different backgrounds to work together. He's a big believer in getting people to see others beyond the caricatures; to see people as people."
Soon after the meeting began, Representative Gonzalez told us he would support the Peace Corps funding letter because he believes in national service," Arnaiz says. "He told us a bit of his experience in the Capitol building during January 6th. He was disturbed by the anger and violence. He believes national service, like the Peace Corps, is a way to bridge the divide in our society, an opportunity for people with different backgrounds to work together. He's a big believer in getting people to see others beyond the caricatures; to see people as people."
When it comes to arranging meetings with members of Congress, Overcash says that fellow returned Volunteers shouldn't let limited experience give them pause. "National Peace Corps Association has your back throughout the process! Even if you only have a little time to give, that time will be used fruitfully thanks to the strong support and resources offered by the wonderful team."
Arnaiz says that while it sounds like a cliché, her advice to other RPCVs is: "Just go ahead and do it. Meeting your representative and advocating for things you believe in is an effective way to be the solution to the problem. Representative Gonzalez, like other political actors I have met, said that a personal story that humanizes the numbers really makes an impact."
---
Jonathan Pearson is Director of Advocacy for National Peace Corps Association. Get involved in advocacy by dropping him a line: advocacy@peacecorpsconnect.org
---