Registration for this event has passed
Join BARPCV in support of the Boston Asian community! Fight Asian discrimination and show your solidarity with our Asian neighbors by signing up here: https://docs.google.com/forms/d/e/1FAIpQLSfta4AWoYYaaRb6cjxGKFB4n44EmdbknmgMvHiFiztCsYZHkw/viewform?usp=sf_link
The Chinatown Food Pantry fights food insecurity by providing free groceries to Chinatown's needy. We'll help unload, pack, organize and distribute free groceries. 25 volunteers are needed on Saturday mornings from 9am to 1pm on June 19th and June 26th.
Location is St James the Greater Church, 125 Harrison Ave, Boston MA 02111.
Our partner is Chinatown Main Streets program, Debbi Ho ex Director. You can learn more about the organization here: https://www.chinatownmainstreet.org/chinatown-fair-foods
Contact RPCV Brian McBride at service@barpcv.org with any questions!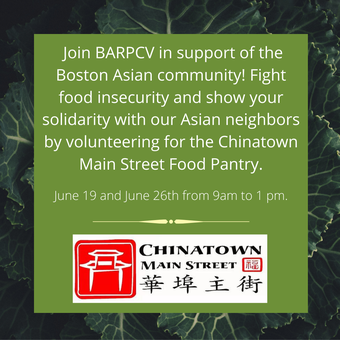 125 Harrison Ave, Boston, MA 02111, USA