Join the RPCVs of Washington for Peace Corps Night at DC United against Atlanta United! Come to their pregame happy hour at Trustys or carry a flag in the pregame parade of nations. Participate in Peace Corps' Parade of Nations at the game by carrying a flag from a country where Peace Corps has served. Wear your host country's team jersey and help celebrate the Peace Corps and the Third Goal!
Please register below to get more details.
Pregame Happy Hour
5-7:30 pm at Trusty's
Trustys 1420 Pennsylvania Ave SE Washington, DC 20003
(short walk to RFK Stadium, special thanks to RPCV/W Member Tiffany Grimes for organizing!)
Register Now!
Or paste this link in your browser's address bar: http://www.rpcvw.org/pcdc2017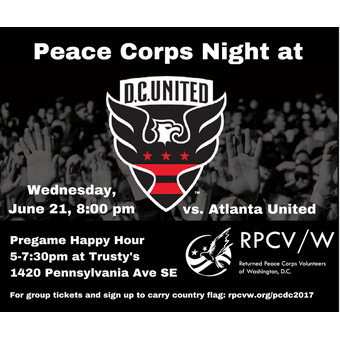 Trustys 1420 Pennsylvania Ave SE Washington, DC 20003 United States