Join us for the DC showing of ABRAZOS by Luis Argueta, an internationally acclaimed Guatemalan filmmaker and the winner of NPCA's 2019 Harris Wofford Global Citizen Award, on Monday June 17th at 6:30 pm at New York University's Washington, DC auditorium at 1307 L Street NW.
Attendance is free. Please RSVP for the event here.
Cannot attend in person? You can view the live stream of the panel discussion following the film screening (starting at approximately 7:25 pm Eastern). The live stream link can be found both on the NYU web page (which links to the ustream channel) and on the ustream channel.
The 45-minute documentary focuses on a group of U.S. citizen children who travel 3,000 miles, from Minnesota to Guatemala, to meet their grandparents for the first time. Following the film, Argueta will discuss his work along with individuals featured in the film.
The Guardian has named Argueta one of Guatemala's National Living Icons, alongside Nobel Laureate Rigoberta Menchu and Singer/Songwriter Ricardo Arjona. He also has been awarded the Order of Quetzal in the degree of Grand Officer, the highest honor given by Guatemala. His 1994 film, The Silence of Neto, was the first feature-length Guatemalan film nominated for an Oscar.
Argueta's recent trilogy of films on immigration --The Postville Raid, ABRAZOS, and The U Turn -- brings into sharp focus the resilience of immigrants, their struggle to succeed often against impossible odds as well as their contributions to American society. He is currently at work on a new immigration film that will look at the long lasting effects of family separations.
Argueta has had a long association with the Peace Corps. In 1967 Argueta met Kenneth Lehman, a Peace Corps volunteer in Guatemala City, who served as Argueta's tutor for seven months before Argueta, then a high school graduate, left for the University of Michigan on an industrial engineering scholarship.
While helping Argueta with his English composition, Lehman quickly recognized Argueta's creative skills and encouraged Argueta to consider pursing the creative arts as well as engineering. In addition, Lehman played a key role in helping expose Argueta to the plight of Guatemala City's poor. When Lehman's students asked for help in becoming more involved in the city's social issues, Lehman helped them launch a literacy campaign focused on social centers serving the poorest of the poor in the city. "Luis was a charter member of the group," recalls Lehman. The two have remained close friends for more than 50 years. Earlier this year Lehman nominated Argueta to receive the National Peace Corps Association's Harris Wofford Global Citizen Award.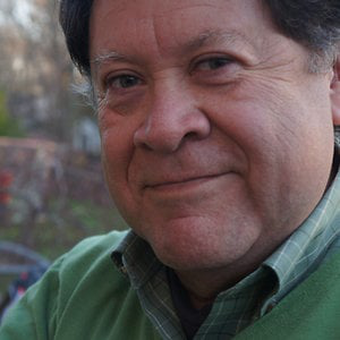 1307 L St NW, Washington, DC 20005, USA