Local District Meetings: Meet With Your Elected Representatives
Contact Us To Organize a District Meeting!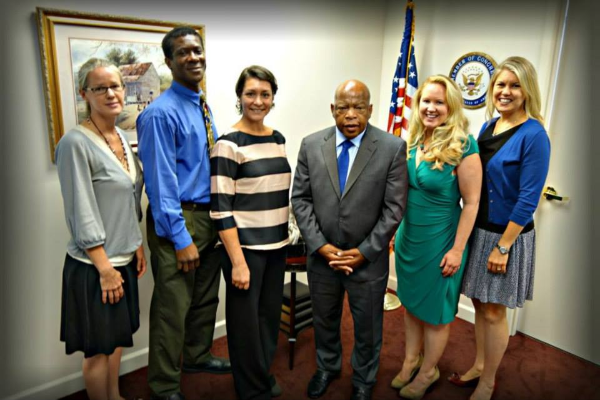 (Members of the Atlanta Area Returned Peace Corps Volunteers held a district meeting with Congressman John Lewis in 2014)
Join or Organize a Meeting!
It is EXTREMELY important that you share your Peace Corps experiences with your elected representatives.  While we often make a push for district meetings during the traditional congressional summer recess in August, you can help organize an advocacy meeting with the district office of your member(s) of Congress any time during the year!
Four Easy Steps to Get Started:
Contact us at advocacy@peacecorpsconnect.org so we know of your plans to hold a district meeting.

Go to the website of your Senators or Representative.

Find the district office closest to you (most often at the bottom of the home page).

Call that district office, identify yourself as a constituent and a Returned Peace Corps Volunteer, and request a meeting to discuss Peace Corps issues.
No matter what your experience level, NPCA Advocacy staff will be willing to assist by providing you key updates on current issues, materials you can use to prepare a leave-behind packet during your meeting, and (if needed) assistance in trying to find other local RPCVs to participate in your meeting.
---
Helpful NPCA resources: