Redefining "Above and Beyond": The 2016 Ruppe Award goes to Friends of Liberia, Friends of Sierra Leone, and Friends of Guinea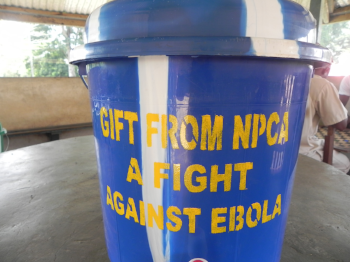 Named after the widely admired 10th director of the Peace Corps, the Loret Miller Ruppe Award for Outstanding Community Service honors National Peace Corps Association (NPCA) affiliate groups for their continued support to their host countries through projects that promote the Third Goal of the Peace Corps, build spirit and cooperation, and promote service. In 2016, in recognition of their collaboration to combat the deadly Ebola virus, NPCA is pleased to award the Ruppe Award to Friends of Liberia (FOL), Friends of Sierra Leone (FOSL) and Friends of Guinea (FOG). The Award will be presented at Peace Corps Connect on September 23, 2016. 
Ebola Relief Fund
When disaster hits close to home, the world's response cannot be fast enough. With Ebola taking hold in West Africa in the fall of 2014, representatives of the three awardees initiated their own response by banding together through the NPCA's Ebola Relief Fund. Each of the three groups designated two representatives for the fund's steering committee, which worked tirelessly over the next year until the crisis started to abate. They set a standard for working together that future efforts will want to emulate.
Hearts of Service and Change You Can See
What set this effort apart? FOL, FOSL and FOG dedicated months and months of their time to Ebola eradication and prevention. They employed all of their technical skills to find new information and solutions. They utilized their personal connections within affected communities to interface with local leaders and potential victims. These groups did not stop, did not rest, did not wait for someone else to come along and help. These groups took action, and more importantly, took action that made a difference.
Allowing local community members to define their most pressing problems, helping these community members develop and write proposals for funding, working to raise funds from friends and community members in the US, and maintaining liaisons with communities once proposals were funded led to:
Over $90,963 in collected donations from over 400 individuals and 17 affiliate groups
26 communities and roughly 300,000 individuals impacted
Ebola eradication in some communities before projects had even been completed
100% response rate for project completion reports (a number virtually unheard of among relief and development agencies)
Through grants from the Ebola Relief Fund, galvanized communities and repurposed organizations were able to help stop the disease's deadly spread by feeding the quarantined, distributing cleansing supplies and protective gear, safely burying the dead, and disseminating life-saving information. As the crisis evolved, the Steering Committee adjusted the grant requirements according to the needs of the moment, shifting to caring for vulnerable populations who had been turned away by hospitals, such as orphans, widows and pregnant women.
A New Way of Responding
In addition to the gratifying reports from grateful communities in the three countries served, the NPCA and the three awardees had the satisfaction of pioneering a new way of working together in regional emergencies. The Steering Committee wrote a "Lessons Learned" memo that lays out what worked to make this such a success. The evacuated Peace Corps Volunteers who worked on the Steering Committee reported feeling they could do something about the crisis they left behind. Communities had the resources to solve their own problems and learned about applying and accounting for grants. And our donors had the satisfaction of knowing they made a difference, community by community, in a historically threatening epidemic.
Congratulations to Friends of Liberia, Friends of Sierra Leone and Friends of Guinea for their outstanding community service!
Be sure to witness these outstanding groups receive their award at Peace Corps Connect on September 23th by registering here!
To download the Ebola Relief Fund final report, click here.
Do you know of an NPCA affiliate group who goes above and beyond to serve host countries, build group spirit and cooperation, and promote service? If so, please nominate them here by March 31, 2017. Learn more about past Ruppe Award winners.