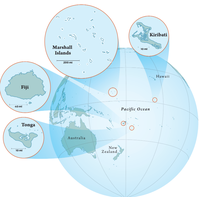 Tonga: Lessons and memories, hopes and fears
By Siotame Drew Havea
Forty years ago I started working with Peace Corps Tonga. When I came on board in the mid-1980s as training director and then associate director, our two main projects focused on education and health. We had also launched an agricultural project, focused on research and agribusiness, in the 1970s. Some of our volunteers complained of not enough happening in their structured jobs. So we made sure volunteers' time and energy went to secondary projects focused on the environment.
Volunteers worked directly with farmers and community members to plant trees—to provide wind shelters, fruit trees for food, and even mangroves to foster a rich and flood-resilient ecosystem. Retiring from Peace Corps Tonga after 25 years of service, I found myself volunteering with a youth program devoted to making Tonga green, promoting organic farming. But increasingly the work we've done with the environment on Tonga has been to grapple with climate change as it affects our kingdom of 169 islands spread across 270,000 square miles. And increasingly we have to frame this work as adaptation.
Growing up Cyclone
My first year in primary school I joined my maternal grandmother in Vava'u. My grandmother was taking care of her parents, who were in their nineties. The year was 1961, which coincided with a wind that clocked 200 kilometers per hour. This is before they started naming cyclones. Our place was three kilometers inland, and after the cyclone I could see the water around us. My great grandfather explained to me that these big cyclones come every 20 years to regenerate the environment. None of the fruit trees in the compound were left standing. I learned that we should leave trees that were half uprooted lying on the ground. We put leaves and decomposed rubbish around the half-uprooted trees. Then we harvested the fruits from the half-uprooted trees, before the new plants bore fruit.
Twenty years later, Cyclone Isaac hit the islands hard—especially in the northwest. Severe Cyclone Juliet hit the next year, and after that Cyclone Waka. In 1990 Cyclone Ofa cleaned out 95 percent of the houses in the Northern Islands. There's no question that housing has to evolve to be hurricane proof—but that is beyond the means of most families. The severe cyclones are now hitting every two to three years, with greater intensity cyclones hitting every year.
In 2014 and 2017 we experienced two category 5 cyclones. We still haven't fully recovered. Since 1961 we have had over 20 cyclones with wind speeds of more than 110 to 185 kph hitting our shores. In the last five years, flooding has become a regular part of the cyclone as well—which means we have to move families from flood areas to evacuation centers every year.
Internal migration
I returned to Nuku'alofa, my home in the capital on the main island of Tongatapu, to attend junior high school. I spent time with my grandfather, a retired Methodist minister who had spent the majority of his service as a missionary in the Solomon Islands, near Papua New Guinea. My grandfather's younger brother frequented the house. So did their cousin from the outer island of 'Eua. I learned that my great uncle was the government official tasked with moving almost a thousand people from Niuafo'ou island, the northernmost of the islands in Tonga, to resettle them in the island of 'Eua, just southeast of the main island. The people had to be evacuated because Niuafo'ou is home to an active volcano, and in 1946 and 1947 it was in a constant state of eruption.
But when my great uncle's cousin from 'Eua visited, he made sure to tell my great uncle he should understand what he did. The Niuafo'ou people are very disruptive, the cousin said. They have different lifestyles and little respect for the original people of 'Eua. They took root crops and picked fruit trees without permission. It has been 80 years of resettling in 'Eua, and we still hear of biases and difficulties with acceptance and assimilation.
In 2009, an 8.3 magnitude earthquake that was centered in Samoa destroyed three communities on the island of Niuatoputapu and killed nine people. We built three new communities for people to resettle. Will the difficulties with acculturation and acceptance be repeated?
It is interesting to note that earthquakes are also becoming stronger and more frequent. The usual 4 to 6 magnitude earthquake is a normal weekly occurrence. But in the past decade we have experienced three earthquakes with a magnitude of 7 or more—and three were 8 in magnitude.
Seabed mining companies have announced intentions to drill around the core of the Pacific Ring of Fire. So we expect to see more earthquakes—and more powerful earthquakes—in the future.
Sea level rise
As I started high school in 1970, my maternal grandparents moved to Nuku'alofa and lived with us. We all helped out in the small, eight-acre farm, growing a variety of root crops. My grandfather was a fisherman and had a 14-foot open boat that we used for line fishing or trawling, heading out three times a week for a few hours. On weekends we left for most of the day, and we usually hopped off on one of the uninhabited sandy islands to swim and cook fish before continuing.
At the end of last year I went fishing in the waters I fished as a boy. I could no longer see the sandy islands we often enjoyed. The western side of Tongatapu is struggling to keep communities from being divided by the water. With sea level rise, the land on both Tongatapu and the central Ha'apai Group is sinking under the water, at the same time erosion wears away chunks of the islands. Sea walls can hold for two or three years before the sea takes them away. If sea level rise continues, Tonga will disappear in the next century.
Tonga has been part of the international processes in the Pacific calling to restrict carbon emissions, with the goal of limiting global warming to 1.5 degrees Celsius. The health of our Pacific Ocean is our leaders' priority in setting a 2050 ocean strategy. The Pacific has tirelessly participated in shaping the 2030 Agenda for Sustainable Development, forged at the United Nations in 2015. We went in enthusiastically to sign the Paris Agreement on Climate Action. We know that the future of our homes is at stake.
Now in 2020, it has not been comforting to face the fact that small voices are not heard and we will be leaving a lot of people behind. Standing at the shore in front of my house, looking at the beautiful water—oceans that have provided livelihood to my family and my ancestors for ages—I am burdened by the knowledge that this land will likely disappear within 80 years. I think of my 12 grandchildren. And I grapple with the fact that the very source of livelihood that has supported us for generations will turn around and destroy that livelihood as it swallows the island.
Small Island States
Returned Peace Corps Volunteers have founded groups to support these nations: Friends of Fiji, Friends of Tonga, Friends of Micronesia—which includes Volunteers who served in the Marshall Islands—and the newly-formed Friends of Vanuatu. RPCVs for Environmental Action keep their connections with the region, too. Check out digital WorldView for more.
---
Siotame Drew Havea was associate director of Peace Corps Tonga 1985–2005. He continues to work to support civil society in his home country, leading the national committee for all NGOs in Tonga. He holds degrees from Willamette University and the Monterey Institute of International Studies. He is the 2017 recipient of the Harris Wofford Global Citizen Award from National Peace Corps Association.
This story was first published in WorldView magazine's Spring 2020 edition..
---