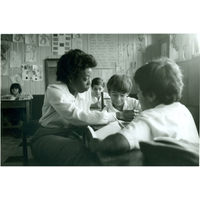 Teacher Appreciation
"Knowledge is power."
-Francis Bacon.
Since its founding in 1961, Peace Corps has sent tens of thousands of Americans as teachers into schools and classrooms in all corners of the globe. Today - World Teachers' Day - we celebrate those volunteers and all teachers. Teachers are the key to empowering students, especially in developing countries. Education provides opportunity for students to grow and reach their potential. Volunteers who teach offer resources that last a lifetime.
Teachers learn alongside their students. The lessons Peace Corps Volunteers assembled during their service were brought back to the United States and used to enrich the communities in which RPCVs live and work. Not all Peace Corps teachers continued in education, but as members of the Peace Corps community know, not all lessons take place in a classroom.
Lessons from Peace Corps Teachers
"My job wasn't the toughest, but it was certainly something I loved doing, and I will always remember it as a self-satisfying experience. I was satisfied not only with helping others, but also with the freedom I had to project my individual characteristics and talents. The latter proved to be an opportunity that I had never had before at the workplace. As long as I didn't step on any toes, I was able to use my abilities to generate as much activity as possible." – Tommy Chambers, Zimbabwe 1993-1995
I learned … "That we never know enough." – Melissa Missa
I learned… "[you are a] Lifestyle facilitator inside and out of the classroom, you are more than just *a teacher* you are a mentor and a facilitator in the process of making learning easier for your students." – Tyron Stander
I learned … "That a teacher must be a lifelong learner." – Judy Craig, Venezuela 1967-1969
Having served in " the first group of Peace Corps teachers to Sierra Leone 1966-63," Billie Day brought back to her American community "the awareness of the vast history of people on the African continent and the varieties of those experiences." Her service motivated her to obtain a Master's degree in African Studies and a Doctorate in Education. Teaching in the Peace Corps expanded her ability to empathize with others: "…the experience of living and working for an extended period in another country and culture (in those days with little contact with home) that broaden my sensitivities to others, their outlooks and experiences. This awareness extended to broadened perceptions of the United States and its history and peoples and then current events." – Billie Day, Sierra Leone 1966-63
Advocates for Education
With the recommended budget cuts, all Peace Corps programs are at a point of uncertainty. At NPCA we continue to speak with your representatives to advocate for level funding for the Peace Corps, allowing more Americans to serve as teachers. You can layer our advocacy efforts by contacting your federal representatives, or signing onto our Affiliate Group Letter to the President. Additionally, continue to share your experience with us via email, Facebook, or Twitter (@pcorpsconnect).
Peace Corps Teacher T-Shirts Available for a Limited Time
Honor all teachers in the Peace Corps community with your limited-edition "Peace Corps Teacher" T-shirt. Search for yours here.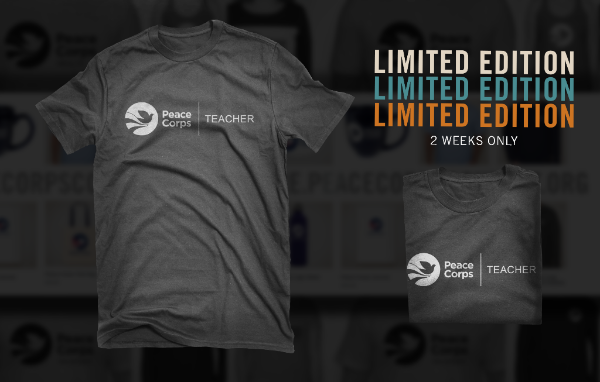 ---