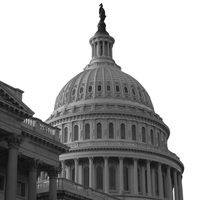 Here's how we've been advocating for evacuated Volunteers — and a Peace Corps in a changed world.
By Jonathan Pearson and Steven Boyd Saum
The coronavirus pandemic and temporary suspension of all Peace Corps programs marks the greatest existential threat to the agency in its history. When Volunteers were evacuated, they were ripped from communities with hardly any notice; in March they came back to a pandemic and an economic maelstrom. Regulations typically would not allow them to be eligible for unemployment insurance; their health insurance coverage would expire in a month. In some cases they had no home to come back to.
Supporting those Volunteers became top priority. As part of the $2.2 trillion stimulus package signed into law March 27, we lobbied for $88 million in additional funding to support the safe evacuation and immediate readjustment needs of Volunteers. Thanks to help from supporters in Congress, new regulations were issued by the Department of Labor declaring that evacuated Volunteers are eligible for unemployment insurance. Health insurance coverage was extended. We have also sent letters to governors of some states where evacuated Volunteers have had trouble receiving the unemployment assistance they should.
Thanks to help from supporters in Congress, new regulations were issued by the Department of Labor declaring that evacuated Volunteers are eligible for unemployment insurance. Health insurance coverage was extended.
What's ahead? A concerted, lengthy mobilization is required to ensure the future of Peace Corps. And as nationwide protests against the killing of George Floyd and racial injustice have made profoundly clear since the end of May, we need to uphold Peace Corps values of equity and justice here at home — as well as abroad — as we work to support Peace Corps in a changed world. That's an essential part of our advocacy work as well.


On the Hill
It may seem a lifetime ago, but it was only on March 5, 2020 that 200 members of the Peace Corps community took part in our annual Day of Action on Capitol Hill. Groups of returned Volunteers — including 35 Volunteers from China, evacuated five weeks earlier — met with members of Congress. For the first time ever, we delivered materials to every senator and representative. Returned Volunteers also presented the NPCA Sam Farr Congressional Leadership Award to Senator Dianne Feinstein of California and Congressman Hal Rogers of Kentucky for their leadership on Peace Corps issues.


Ink on paper: some of the bipartisan support for Peace Corps last year.

Community advocacy was essential in getting a record 42 senators to sign the annual "Dear Colleague" letter in support of Peace Corps, co-authored by Susan Collins (R-ME) and Dianne Feinstein (D-CA). It also bolstered efforts by the Peace Corps Caucus in the House — led by RPCVs John Garamendi (D-CA) and Joseph Kennedy III (D-MA), and Representative Garrett Graves (R-LA) — to secure 167 signatures on a House letter requesting $450 million for Peace Corps in fiscal year 2021.
As it turns out, our Day of Action was about the last big day of meetings for anyone on Capitol Hill before COVID-19 began to shut down Washington, D.C. The crisis that pandemic created for Volunteers has meant our advocacy work is more important than ever. That work just doesn't happen in person right now.
The following section outlines positive legislation for Peace Corps and evacuees. But there's one instance when we've asked the community to raise their voices against legislation: the Working Under Humanity's Actual Needs (WUHAN) Rescissions Act introduced by Rep. Jeff Duncan (R-SC) that would take back the funding used to support evacuated Volunteers
---
In the Works
There's a great deal of national legislation in the works that our community can get behind — some that we helped shape.


Senate
UNITE Act (S.B. 3642)
Senators Ed Markey (D-MA) and Chris Van Hollen (D-MD) developed legislation with NPCA to mobilize U.S. citizens — especially 
evacuated Peace Corps Volunteers — to combat the COVID-19 pandemic by expanding response programs. Extends opportunities for evacuees to purchase health insurance to six months. Calls for expedited procedures to redeploy evacuees. House Bill 6560 parallels it. Introduced by RPCV John Garamendi.
Senate Bill 3700

Senators Chris Murphy (D-CT), Susan Collins (R-ME), Dianne Feinstein (D-CA). Addresses unemployment and health care benefits for evacuees, expands service opportunities, promotes return of Peace Corps programs.
Pandemic Response and Opportunity Through National Service Act 
(S.B. 3624)
Chris Coons (D-DE), joined by Chris Van Hollen and others. Has drawn national media attention amid increasing calls for national public service programs.
Cultivating Opportunity and Response to the Pandemic through Service (CORPS) Act (S.B. 3964)
Senators Chris Coons, Roger Wicker (R-MS), and others. 
Expands national public service programs with priority enrollment for evacuated Volunteers.
Joint Legislation
Reauthorize Peace Corps Commemorative Project
Senators Rob Portman (R-OH) and Jeanne Shaheen (D-NH), Representatives Joe Kennedy III (D-MA) and Garret Graves (R-LA) ask to extend time for work on a commemorative and park near the Capitol, celebrating the mission and ideals of the Peace Corps.
Letters: Combat COVID-19
National Health Corps Letter (April 21) to House leadership
Representatives Ami Bera (D-CA), Chrissy Houlahan (D-PA), Susan Brooks (R-IN), and Bill Foster (D-IL). Calls for a National Health Corps to combat COVID-19, specifically referencing evacuated RPCVs as a resource.

Bi-Cameral Letter (April 2)
Senator Chris Van Hollen and Representative Dean Phillips state the need for evacuees to have jobless protections and opportunities to use their skills to combat COVID-19.

House
Inspire to Serve Act of 2020 (H.R. 6415)
Introduced by Jimmy Panetta (D-CA) and joined by Don Bacon (R-NE), Chrissy Houlahan, Michael Waltz (R-FL), and others.
Incorporates some recommendations offered by the Commission on Military, National and Public Service in a report issued in March 2020. Extends non-competitive eligibility for Peace Corps service from one to three years; proposes pilot program for Peace Corps Response Volunteers to work remotely; involves Peace Corps leadership in a national Council 
on Service.
Utilizing and Supporting Evacuated Peace Corps Volunteers Act (H.R. 6833)
Introduced by Representatives Dean Phillips (D-MN) and Don Young (R-AK). 
Extends opportunity for evacuated RPCVs to continue to purchase health insurance through Peace Corps beyond three months. Calls for expedited opportunities for evacuated RPCVs in programs aimed at combating the COVID-19 pandemic here at home. Expedited opportunities to return to Peace Corps service. Also includes language of the no-cost, bi-partisan Respect for Peace Corps Volunteers Act to allow the Peace Corps logo on grave markers or death notices.
Pandemic Response and Opportunity Through National Service Act 
(H.R. 6702)
Introduced by David Price (D-NC) and joined by more than 15 cosponsors. Funds 750,000 national service positions over three years to support pandemic relief and recovery. Gives placement priority to Peace Corps Volunteers, Fulbright grantees, or AmeriCorps participants whose service or grant was interrupted by COVID-19.

In the weeks ahead we will be calling on our community to support Peace Corps and its values. We hope you'll join us and take action: advocacy.peacecorpsconnect.org
---
Jonathan Pearson is the Advocacy Director for National Peace Corps Association. Steven Boyd Saum is the editor of WorldView magazine. This story was first published in WorldView magazine's Summer 2020 issue. Read the entire magazine for free now in the WorldView app. Here's how: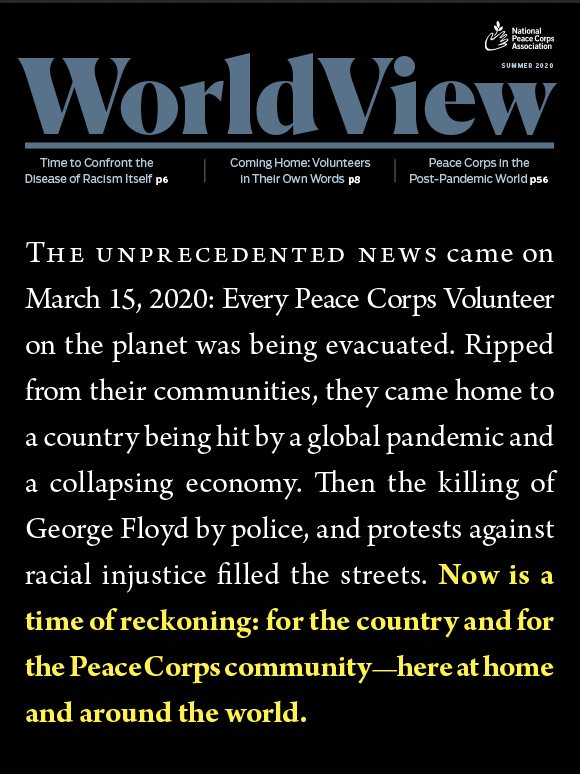 STEP 1 - Create an account: Click here and create a login name and password. Use the code DIGITAL2020 to get it free.
STEP 2 - Get the app: For viewing the magazine on a phone or tablet, go to the App Store/Google Play and search for "WorldView magazine" and download the app. Or view the magazine on a laptop/desktop here.
---