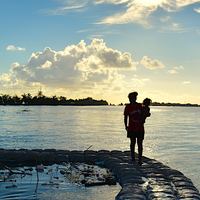 The weather: We talk about it but don't do a blessed thing about it, right? Until we did, without intending to — into the Anthropocene era we rode, brave new world of climate instability. But that climate changing is accompanied by some very predictable results — at least for small-landed and big-oceaned island nations in the Pacific: catastrophic storms, king tides washing across communities, threatened fresh water supplies and health and well-being, and the very land itself disappearing.
The first autumn that I served as a Peace Corps Volunteer in Ukraine — as the weather cooled and the names of the months changed from Golden to Leaves Fall — my colleagues in the provincial capital of Luts'k expressed sympathy for this poor American now facing his first Ukrainian winter.
I'm from Chicago, I told them. Got the winter thing down.
• • • • •
I first wrote for WorldView some 15 years ago, after returning to Ukraine for a visit amid a frigid December, observing the third round of elections during the Orange Revolution. It was good to be back — to see old friends, how they were trying to make their corner of the world (in the geographic center of Europe) a better place, and given that I'd grown up in the vicinity of the Windy City, I had heard a thing or two about election hijinks over the years. It was also good to work with editor David Arnold to give shape to the piece I wrote, good to share this story with the Peace Corps community around the world. For Ukraine it was a moment of hope — soon dashed. But the wheel of history turns, yes?
For those in the southern hemisphere — from South America to sub-Saharan Africa to the Pacific and parts of Asia, that's about half the Peace Corps Volunteers on the planet — fall is falling. Here in the northern hemisphere, spring is springing. In these pages, Editor Emeritus David Arnold has handed me the editorial baton: a privilege and honor to take it, to carry on the work of catching your stories. Magazines are storehouses of words and images and ideas. They are also living, breathing creatures nurtured over time by the people who guide them. This one has had the fortune of being led with intelligence and integrity, earning respect and goodwill.
Nearly a quarter million volunteers, and how many more millions of lives have been touched by what you've said and done?
And deservedly so: Nearly a quarter million volunteers to date, and how many more millions of colleagues and students and neighbors and other lives—across the world and back home—have been touched by what you've said and taught, written and learned, advocated for and done with your own hands? And are doing now. That's something we can talk about.
• • • • •
And so we are, even amid a global pandemic — after every Peace Corps Volunteer on the planet was evacuated in March. This spring edition of WorldView tackles climate change in the Pacific. We put the print edition to bed before the global evacuation — but not before Volunteers in China were called home. Our community is rallying to help these 7,300 Volunteers, and we've been telling their stories in digital form. We'll be sharing many facets of their stories in the summer edition of the magazine.
We also know that at this moment, it's absolutely critical to tell Peace Corps stories far and wide. So here's some news about that.
We've put the contents of this entire edition online — to reach evacuated Volunteers and our whole community wherever they are. Share these stories with friends and colleagues on social media. You can also get this whole edition for free on our app. Sign up for an account and use the code we sent to all members of the Peace Corps Community. (Didn't get that code? Let us know.) Then download the app from the App Store or Google Play — or for desktop and laptop computers, get it here. Then explore: digital exclusives and searchable archives and more.
And we could use any help you can give at this unprecedented time. We know many members of our community are hurting. But if you are able to make a gift of any size, that will help us provide the critical support for evacuated Volunteers — and rally folks far and wide for this whole ambitious Peace Corps mission.
Write Steven Saum: worldview@peacecorpsconnect.org.
The original version of this note appeared in the Spring 2020 print edition of WorldView, published in March.
---