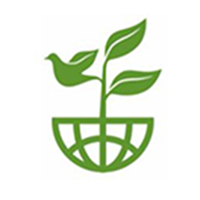 Nancy Kelly of Health Volunteers Overseas and Amy Maglio of the Women's Global Education Project are recognized with the Deborah Harding Women of Achievement Award. Estee Katcoff, founder of the Superkids Foundation, is recognized with the Kate Raftery Emerging Leaders Award.
By NPCA Staff
As part of the global virtual conference Peace Corps Connect 2021, Women of Peace Corps Legacy presented awards to three outstanding leaders in the Peace Corps community. Nancy Kelly and Amy Maglio were each honored with the Deborah Harding Women of Achievement Award. And Estee Katcoff was presented with the Kate Raftery Emerging Leader Award.
The awards were presented by Kathleen Corey, president of Women of Peace Corps Legacy, on September 23 at the Peace Corps Connect conference. WPCL is an affiliate group of National Peace Corps Association and is part of a vibrant community that includes more than 180 affiliate groups focused on regions in the U.S., on countries where Volunteers have served, and around causes that matter to the Peace Corps community.
---
Deborah Harding Women of Achievement Award
The Deborah Harding Award honors Peace Corps women whose contributions have made a significant difference in the lives of women and girls in the world.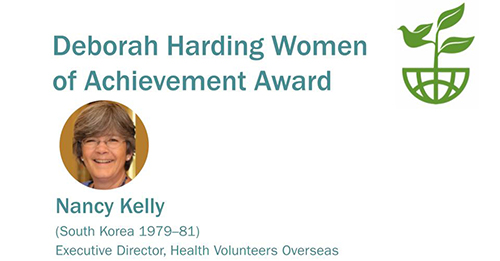 Nancy Kelly has worked tirelessly for over four decades to help women and girls all over the world. She began her journey in 1979 as a Peace Corps Volunteer in Korea, working in maternal and child health, and went on to develop a career in global health. As the executive director of Health Volunteers Overseas since its creation in 1986, she has been the driver behind a program which has enabled thousands of women, children and humans to receive improved, dignified, and compassionate health care — and has allowed thousands of health professionals to receive training and mentorship which otherwise would have been near impossible.
Under her leadership, Health Volunteers Overseas has facilitated over 11,900 volunteer assignments globally. The last five have resulted in, on average, 3,200 health professionals receiving training and mentorship each year — benefiting innumerate women and children both directly and indirectly. In so doing, she is helping to build a global cadre of talented, confident, and inspired women who are committed to advancing global health.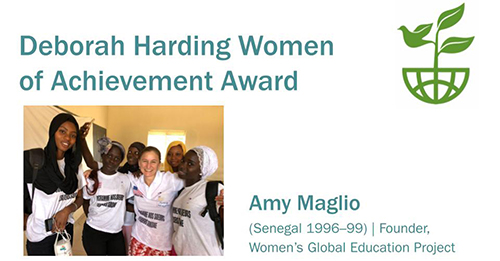 Amy Maglio is the founder and executive director of the Women's Global Education Project (WGEP) which works with grassroots community partners to educate, empower, and promote equality for women and girls in rural Senegal and Kenya. As a Peace Corps Volunteer, Amy saw firsthand the multiplier effect of girls' education in rural Senegal and how access to education — which was extremely limited for girls, not only increased their own opportunities — but also enabled them to provide for their families and catalyzed wider community change.
Inspired by Khady, her host sister who she assisted in getting an education as well as other girls in her village, Amy started WGEP in 2004, at her dining room table, determined to help girls and women succeed in school and reach their full potential. As director of this Chicago-area NGO, she helped ensure the increase of education opportunities for marginalized girls in rural Kenya and Senegal through innovative programs with grassroots community partners.
This NGO has proved to be tremendously successful and has held a 99% retention rate, reaching over 20,000 girls and young women to date. In 2010, she was invited to present WGEP's model as a best practice approach to girls' education at the United Nations Girls' Education Initiative Conference in Dakar, Senegal, and was a drafter of the UN Declaration on Gender Equality.
---
Kate Raftery Emerging Leader Award
The Kate Raftery Emerging Leader Award is presented annually to a woman with an affiliation to Peace Corps under the age of 35 who has demonstrated outstanding leadership and ongoing commitment to serve women and girls.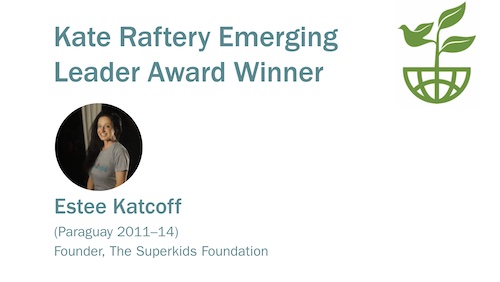 Estee Katcoff became aware of gender-based violence as a Peace Corps Volunteer and used this knowledge to lead initiatives preventing it in Paraguay during and after her service. She founded a girls' empowerment club and extended for a third year to continue her work, which included working with the Children's Rights Council of Gender-Based Violence Prevention.
Since then, Estee has piloted a successful youth program, originally called Zero Violencia, which continues now as the Superkids Foundation, working in Paraguay to mobilize children as agents of change in their communities. Seventy percent of the Kid Teachers who have risen to action through Superkids identify as girls and learn the knowledge and skills needed to not only end GBV but work towards equity in their communities, particularly in education.
Estee's focus has always been on building the capacity of her Peace Corps community to use best practices to effect change, while championing women and girls and always including men and boys in the effort.

Story updated December 28, 2021 to correct spelling
---