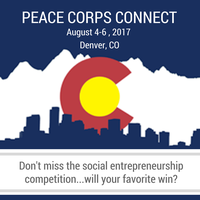 The finalists have been chosen! Meet the six RPCV teams who will compete in our first annual social entrepreneurship competition, hosted by the Returned Peace Corps Volunteers of Colorado (RPCVCO) at Peace Corps Connect this August. This competition showcases work in our Peace Corps community that exemplifies partnership and collaboration and impacts the world around us.
Peaceful Fruits
Evan Delahanty, RPCV Suriname (2011-13)
Peaceful Fruits makes healthy, delicious, rainforest-friendly snacks! Founded by a returned Peace Corps Volunteer, Peaceful Fruits partners with local communities in the Amazon to harvest sustainable, ethically-sourced fruit. We then bring that fruit to Northeast Ohio, where we employ people with disabilities in full wage jobs to make our products. Organic, 100% fruit, and literally made by hand with love, Peaceful Fruits is in tune with what modern snackers want.
After a successful pilot in 2016 and a recent well-received appearance on ABC's Shark Tank, Peaceful Fruits is on track to do $400K in sales this year and we are raising funding to scale up production and sales. The words we live by are, "Eat better for a better world." www.peacefulfruits.com
Bokk Baby
Margaret Davidson - RPCV Senegal (2012-14) and Danny White - RPCV Senegal (2012-14)
Bokk Baby, founded by two RPCVs, is an e-commerce social enterprise launching in Fall 2017 that retails sustainably made baby apparel, blankets, and signature gift boxes. Our apparel is manufactured in Denver, Colorado using eco-friendly, organic textiles, and our gift boxes for Mom & Baby include return shipping labels, so parents can donate gently used baby clothing and blankets back to us. We package donated items into gift bundles and distribute them to new mothers in rural Senegal in partnership with local community health workers. Textile manufacturing is the second-most polluting industry in the world, and Bokk Baby helps to reduce waste at the production level and encourage recycling. "Bokk" means "to share" in Wolof, and sharing is at the root of what we do; we all share the same planet, and every baby is born to make a difference.
Friends of ENCA Farm
Sherry Manning - RPCV Philippines (2006-08) and Carrie Evans - RPCV Philippines (1985-88)
Friends of ENCA Farm is helping Filipino farmers access the seeds to their future. More than 2 billion people in the world, including the majority of the Philippines, relies on food that is produced from smallholder farmers, which is defined as those who farm less than 2 hectares. However, today, the majority of the world's seeds are not owned by farmers but by three major bio-chemical companies. Friends of ENCA Farm has launched a grassroots farmer-led seed saving movement in the Philippines and is now ready to help our participating farmers develop a farmer-led owned and operated social-enterprise organic seed company. This project will ensure that greater numbers of smallholder farmers have access to locally produced, regionally adapted organic seeds and will provide increased economic development for the participating farmers. To learn more please visit us at: www.encaorganicfarm.com.
Messages in Bottles
Michael Dirks - RPCV Vanuatu (2005-07)
Social entrepreneurship can help to engage national and international leaders on plastic waste and global ocean issues that really need some sustainable policy, life-cycle analysis and circular economy approaches to tackle the challenge. "Messages In Bottles," began as a small way to represent global water pollution generally (contaminants of concern, nutrients that create ocean dead zones, CO2 gas that accelerates ocean acidification, etc.) symbolized by plastic specifically and the footprint of non-recycled plastic waste in remote regions of the globe, as I observed as a Peace Corps volunteer in the Pacific. Half of the gift of "Messages In Bottles" is a fun one-for-one "makers" gift item. The other half of the gift is sent to congressional leaders and corporate leaders about the imperative to "think globally" on non-recycled plastic waste and many other environmental sustainability challenges. The "Partnering for Prosperity" award will help to grow this initiative into educational partnerships for creative problem solving with youth like with DAVA.org as well as extending the impact of environmental waterway "clean-up" efforts. Messages In Bottles will ultimately enable larger scale "recycling" partnerships where recycling, creativity and engineering can be built-in to multiple hands-on learning initiatives for youth and adults. Here is the website (work in progress): https://thethirdarrow.wordpress.com/reduce-messages-in-bottles/
Microgrids in Uganda
Matthew Vanderwerken - RPCV Namibia (2012-14), Evan Fuellenbach, and Keni Herman
Our project is based on human centered research with the aim of creating a business plan to provide electricity in rural Uganda. Only 8% of the rural population in Uganda has access to electricity. People without a reliable source of electricity use unsafe methods such as kerosene that cause chronic respiratory and eye diseases. A solar microgrid system has the potential to provide rural populations with access to electricity that can be used for lighting and cell phone charging and eventually productive use. Meaning, Ugandans will not only be able to use light to read at night, but also to start their own business and create value for their families aiding in the development of their communities.
FarmRise
Justin Carter - RPCV Togo (2011-14), Caroline Smith, and Kira Griswold
Why do the smallholder farmers, who produce 80% of all food in developing countries, make up most the world's hungry? Team FarmRise aims to improve food security within smallholder farmer communities by creating business linkages to enhance market access. Through our field research in Kenya, where 90% of production is performed by smallholder farmers, we have identified an opportunity to transform farming from a subsistence activity into a commercial enterprise. Our mission is to promote a sustainable value chain, whereby improved farming inputs lead to an increase in productivity, amplified by collective action, so farmers have the power to sell crops at competitive prices, allowing them to invest in their livelihoods. Contact: Justin Carter justin.carter921@gmail.com
These teams will be competing for the Judges' Award and the Audience Choice Award, both of at least $2,500 in value.
Your vote counts!
Come to Peace Corps Connect to make sure your favorite wins!

---