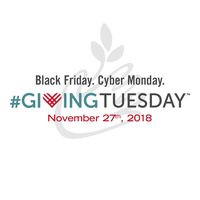 While it seems more and more that we communicate by hashtags these days, there are some that resonate with our Peace Corps ideals more than others. For one, I love the idea of #GivingTuesday! What could be more in line with our values than following our annual day of giving thanks by a day focused on giving back.
In our #GivingTuesday 2017 campaign, one individual in particular made a significant difference. How did she do it? She challenged her Peace Corps cohort.
This donor - who asked us not to share her name more broadly - made a donation to NPCA's #GivingTuesday campaign and challenged her cohorts and friends to match it. They not only met, they surpassed their goal of raising $2,000.
Think of how much more of an impact we can have if we work together. So, for #GivingTuesday 2018, we'd like you - affiliate groups and individuals alike - to step up and offer your own challenge!
Set a financial goal, maybe $2,000 or more.

Make your donation into our Community Fund, specifically supporting the projects of RPCVs. Select one of the target sectors from here or use this special link for general Community Fund project support.**

Reach out to your cohort, friends, and affiliate group members. Tell them of your goal and challenge them to match your gift. Provide the link to donate and instruct them to put "#GivingTuesday" and your name in the "in honor of" field.

Tell us of your challenge and your goal. We'll do the rest.
One individual. One donation. That's all it takes to make a difference. For example:
$10 will bring water to one person in one community

$125 will provide leadership training for one girl

$1500 will provide the first micro-loan to launch a start-up organization on the path to sustainability
The individual or affiliate group that raises the most for our #GivingTuesday 2018 campaign will help us select the next project supported by the funds.
This year, use your #GivingTuesday to give back!
---
**If you prefer to pay by check, send it to NPCA, 1900 L Street NW, Suite 610, Washington, DC 20036 and put #GivingTuesday in the memo line.
---