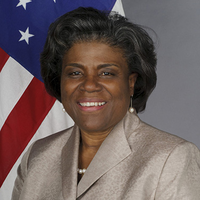 Linda Thomas-Greenfield wants to see more girls from places like she grew up as Volunteers — and ambassadors.
As a young girl growing up in Baker, one of my biggest dreams was joining the Peace Corps.
—Linda Thomas-Greenfield
Nominated by President Joe Biden to serve as U.S. Ambassador to the United Nations
Why She's A Fan
Writing last fall for The Advocate in her home state of Louisiana, Linda Thomas-Greenfield noted: "As the oldest of eight children, I always had a strong sense of responsibility and curiosity. I became enamored with the idea of the Peace Corps from joining a group of trainees who were stationed at nearby Leland College for their language training."
Thomas-Greenfield didn't end up serving in the Peace Corps, but her studies led to a grant to conduct research in West Africa — and to a 35-year career in the Foreign Service, including posts as U.S. ambassador to Liberia and director-general of the Foreign Service.
As a Black girl who was the first in her family to graduate high school, she grew up in a town where KKK cross burnings were common. "The young girl from Baker in me did not imagine this career, and while I had few who looked like me at this level, I know the power that representation can bring to an agency like the State Department. My wish is for more girls from Baker and Baton Rouge to serve as United States ambassadors, diplomats, international aid workers, Fulbright Scholars, and Peace Corps Volunteers."
---