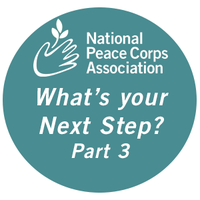 Pre-service: Welcoming the next generation of Volunteers to the Peace Corps community
Affiliate group "Welcome Back - Send Off" events are incredibly important and meaningful ceremonies for RPCVs, future PCVs, and family members. It's the first point that future Volunteers and their families are really welcomed into our community. For most invitees, it's their first introduction to NPCA and our vibrant network of affiliate groups and members who are rooting for their success.
One such event was hosted by Returned Peace Corps Volunteers of New Jersey (RPCV-NJ) earlier this year. Micronesia RPCVs Pam & Gary Mount hosted the 7th Annual RPCV-NJ Picnic / Peace Corps Welcome Back - Send Off in June at their beautiful facilities, Terhune Orchards near Princeton. NPCA President & CEO Glenn Blumhorst participated on this occaision, and regularly joins the Welcome Back - Send Off events.

Peace Corps Recruiters Dan Turkel and Jon Breen were on hand to arrange the "Send Off" component for the Peace Corps invitees. During the candle ceremony, the RPCVs of NJ all lined up according to years of service, and as they passed a single candle down the line, they shared words of wisdom to the new recruits leaving for their assignments in the next few months.
Jennifer D. and her family members attended the picnic. She later sent the following message about the event:

"My family & I had a great time! As I said yesterday the picnic was crucial in gaining my parents' full support by demystifying the Peace Corps Volunteer experience for them. They finally feel proud of what I am about to do."
Jennifer and her family left the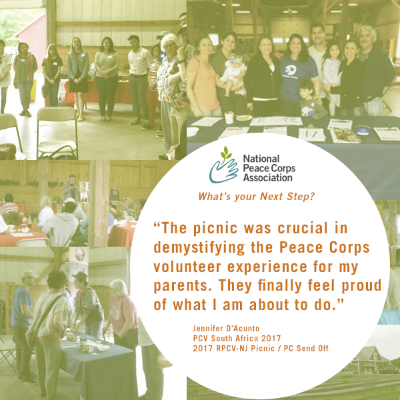 Welcome Back - Send Off feeling supported, and more invested in the Peace Corps than ever before. That's the power of our community coming together through our affiliate groups. When we share our Peace Corps stories, we foster hope and empowerment for future volunteers. We inspire others to service, and to feel proud of those who serve.
NPCA encourages you to join your fellow Peace Corps community members in the upcoming activities and events on our calendar. Become an active part of our community by joining our affiliate groups and the meaningful programming they undertake throughout the year. We support our affiliate groups through webinars, trainings, technology support and more so they can spend their time supporting you, your Peace Corps friends, and the new Volunteers who join our ranks every day. Come and be a part of that work.
Please consider making a tax-deductible donation to NPCA so that we can continue supporting our groups and members. Providing the core administrative, technical and logistical support to affiliate groups is key to our community's vigor, but, we can't do this work without your support. Our small staff works with over 173 affiliate groups, more than 7,000 individual members, and a growing community. Last year alone, we added over 20,000 people to our database. If you want to help make our affiliate groups stronger and more productive than ever before, make a financial investment in our vibrant community today.
What's Your Next Step? Blog Series
Whether prior to service, in the field or post-service, National Peace Corps Association supports our community members through every stage of their Peace Corps experience. Throughout this blog series, journey with us as we explore the diverse and varying experiences of members in our community. Whether they are currently serving, or 50 years post-service, each of our nearly 250,000 community members continues to contribute to our greater impact on the world. This holiday season, we challenge you to think about what your next step will be to live out the Third Goal and create peace and friendship through the Peace Corps community. The world is desperately in need of both, and our community must lead the charge, because making the world a better place is what we do best. We're stronger together, and together we're building a more peaceful world every day. What's your next step to live out your Peace Corps values?
---