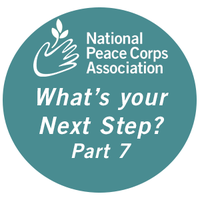 This International Day of the Volunteer (December 5th), NPCA celebrates the contributions made by the Peace Corps community toward a more peaceful and prosperous world. Returned Peace Corps Volunteers (RPCVs) come back from their service with experiences that have molded their unique perspective of the world and expanded their skills in cultural agility, foreign language and regional expertise that propel them not only into the working world, but also give them great insight to start new, socially conscious businesses.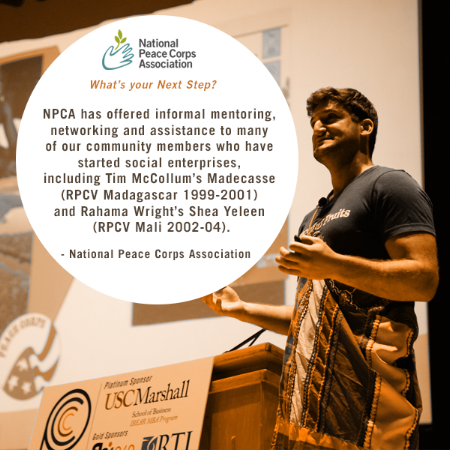 One such community member is Sam Goldman (RPCV Benin 2001-05). He is co-founder and president of d.light, a social enterprise start-up that brings solar powered light to developing communities. The people in Sam's host community relied on kerosene lamps for lighting. During his service, his neighbor's son was severely burned from head to toe in a kerosene accident. Today, nearly two billion people depend on kerosene lamps for their lighting. The founding of d.light was directly inspired by Sam's Peace Corps service. Sam is bringing a safer and more affordable solar powered lighting to developing communities throughout the world. In 2011, NPCA honored Sam with the Sargent Shriver Award for Distinguished Humanitarian Service to recognize his accomplishments and promote his work to our entire Peace Corps community.
Sam is not alone in his efforts to use his Peace Corps values to build an impactful and globally minded business. NPCA has offered informal mentoring, networking and assistance to many of our community members who have started social enterprises, including Tim McCollum's Madecasse (RPCV Madagascar 1999-2001) and Rahama Wright's Shea Yeleen (RPCV Mali 2002-04).
The 2017 Peace Corps Connect Conference featured a Pilot Social Enterprise Pitch competition. This "Shark Tank" competition showcased social entrepreneurs in our Peace Corps community who exemplify partnership, collaboration and impact on the world around us. The audience choice award went to Margaret Davidson and Danny White (RPCV Senegal 2012-14). They developed Bokk Baby, which distributes gift boxes of gently used baby clothing to new mothers in rural Senegal. The judges' pick went to Friends of ENCA farms, which is led by Sherry Manning (RPCV Philippines 2006-08) and Carrie Evans (RPCV Philippines 1985-88). Friends of ENCA farms is a grassroots, farmer-led, seed saving movement. This organization collects local and heirloom seeds and sells them to farmers, rather than farmers having to purchase seeds from large bio-chemical companies. (Watch their award winning pitch here!)
NPCA wants to ensure you find success in your professional endeavors after your Peace Corps service. No matter your calling and no matter the phase in your life - we want to help you succeed! Through partnerships with employment organizations that give preference to RPCVs, networking events hosted by our affiliate groups, and online career tools made specifically for the Peace Corps community (such as our robust LinkedIn networking group), we can help connect you to a rewarding career.
NPCA is always working to grow and increase our ability to foster entrepreneurship among our members. Currently, NPCA board members and RPCVs are working together to build a formalized program to support new social entrepreneurs within our community, but we'll need help to make this a reality. If we want to offer these innovative businesses formalized mentoring, legal advice, start-up funds, and feedback on business plans, we'll need additional financial backing to make that possible. Support your Peace Corps community today by contributing to NPCA so that we can help our social entrepreneurs take their Peace Corps service into the business world.
What's Your Next Step? Blog Series
Whether during pre-service, in the field or post-service, NPCA supports our community members through every stage of their Peace Corps experience. Throughout this blog series, journey with us as we explore the diverse and varying experiences of members in our community. Whether they are currently serving, or fifty years post-service, each of our 250,000 community members continues to contribute to our greater impact on the world. This holiday season, we challenge you to think about what your next step will be to live out the Third Goal and create peace and friendship through the Peace Corps community. The world is desperately in need of both, and our community must lead the charge, because making the world a better place is what we do best. We're stronger together, and together we're building a more peaceful world every day. What's your next step to live out your Peace Corps values?
---