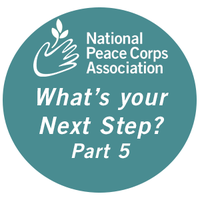 Ensuring that PCVs and RPCVs have the resources to impact their communities
National Peace Corps Association (NPCA) is committed to ensuring that you have the necessary resources to continue living out your Peace Corps values. We know that you want you to maximize your impact on communities both at home and abroad to bring peace and prosperity to all. NPCA has partnered with organizations that share our commitment to Peace Corps values and can provide resources to help you continue to do what you do best - making the world a better place.
In order to better serve the Peace Corps mission and our community of changemakers, NPCA launched the Community Fund in 2016. Through it, we focus on raising funds for international development initiatives run by Peace Corps Volunteers (PCVs) and Returned Peace Corps Volunteers (RPCVs). The Fund is currently focused on three primary sectors: water and sanitation, girls' education and empowerment, and micro-enterprise. Since its inception, the Community Fund has provided resources for 137 projects which have impacted over 546,000 people. Through our partnerships, more than $394,000 has been mobilized by generous donors like you. With only a little over a year of operation, our Community Fund is doing exactly what we wanted it to - helping our members do good, better.
One of the most active partnerships we have established is with California based non-profit Water Charity. Founder and COO Averill Strasser (RPCV Bolivia 1966-68) has created an organization that is very effective in bringing clean water and sanitation services to developing communities in need.
In 2011, South Sudan became the world's newest nation. It is also among the world's poorest. Throughout the country, people struggle to find clean water. In rural South Sudan, people wait in line for days when water shortages are extreme. Many have resorted to drawing water from muddy pits, which makes them extremely susceptible to waterborne illness. Eighty percent of people in South Sudan hospitals are sick from drinking dirty water.
Through the Community Fund, and contributions from caring individuals like you, Water Charity and NPCA launched a program designed to rebuild and restore wells throughout South Sudan. This project is especially cost effective because it simply calls for the repair of existing wells. Phase 1 of this project has been completed. It provided funding, expertise, and materials to repair 10 wells in the Tore region of South Sudan. These wells now provide clean water to over 5,000 people, and the entire project only cost $13,500! Phase 2, which we are currently fundraising for, will provide the necessary resources to repair wells in the Yei region.
If we can do all of that in a little over one year, imagine what we can do in the future! We have the capacity to more than double the amount of work we're currently doing in water and sanitation, micro-enterprise, and girls' education and empowerment. But we need your support to get there!
Join us in this work, and consider making a tax-deductible contribution today to support the NPCA Community Fund. We're your social impact organization, and we're dedicated to making sure you have the opportunity to keep on doing the same meaningful work that you started with the Peace Corps. Donate today, and help us build a better, more peaceful and prosperous world.
What's Your Next Step? Blog Series
Whether during pre-service, in the field or post-service, National Peace Corps Association supports our community members through every stage of their Peace Corps experience. Throughout this blog series, journey with us as we explore the diverse and varying experiences of members in our community. Whether they are currently serving, or fifty years post-service, each of our 250,000 community members continues to contribute to our greater impact on the world. This holiday season, we challenge you to think about what your next step will be to live out the Third Goal and create peace and friendship through the Peace Corps community. The world is desperately in need of both, and our community must lead the charge, because making the world a better place is what we do best. We're stronger together, and together we're building a more peaceful world every day. What's your next step to live out your Peace Corps values?
---