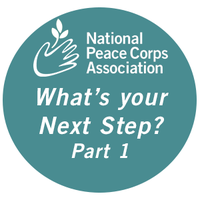 What's Your Next Step? Blog Series
Whether during pre-service, in the field or post-service, National Peace Corps Association (NPCA) supports our community members through every stage of their Peace Corps experience. Throughout this blog series, journey with us as we explore the diverse and varying experiences of members in our community. Whether they are currently serving, or fifty years post-service, each of our 250,000 community members contributes to our greater impact on the world. This holiday season, we challenge you to think about what your next step will be to live out the Third Goal and create peace and friendship through the Peace Corps community. The world is desperately in need of both, and our community must lead the charge, because making the world a better place is what we do best. We're stronger together, and together we're building a more peaceful world every day. What's your next step to live out your Peace Corps values?
Pre-service - Ensuring that more Americans have the opportunity to serve
Do you remember getting your invitation to Peace Corps? How many years did you wait before you were accepted? Do you remember looking for your country of service on a map and the excitement you felt prior to leaving for staging? In 2015-2016 the Peace Corps received approximately 24,000 applications, roughly seven times the number of Volunteer positions available. Dallas Selle is one of the lucky Volunteers who got her acceptance letter this year.
Dallas is a student at the University of Missouri - St. Louis majoring in International Business with a minor in Economics. She'll leave for service in Costa Rica this February 2018 where she'll be working in the Community Economic Development sector. Dallas doesn't even know that she owes her future service to NPCA's Advocacy Coordinators, like Lila Holzman.
Northern California Peace Corps Association (NorCalPCA) Advocacy Coordinator, Lila Holzman, recalls how, after several moves, two failed Peace Corps invitations and a year and a half, she was finally able to serve in a Sustainable Agriculture program in Panama in 2012. Her pre-service journey was a significant challenge leading up to her Peace Corps service.
After finishing her Peace Corps service, Lila earned her MBA from the Wharton School of Business and relocated to the San Francisco Bay area. After November 2016, she was looking for ways to contribute that were meaningful to her. The Peace Corps community fit that description. "The Peace Corps does a lot of good for the world. There's global understanding and the ability to solve complicated problems. It is important in shifting how Americans are viewed abroad, and a Volunteer's presence, although small, has a very important impact on the world. Knowing those aspects of how the Peace Corps works, it was important to advocate for (Congressional) appropriations."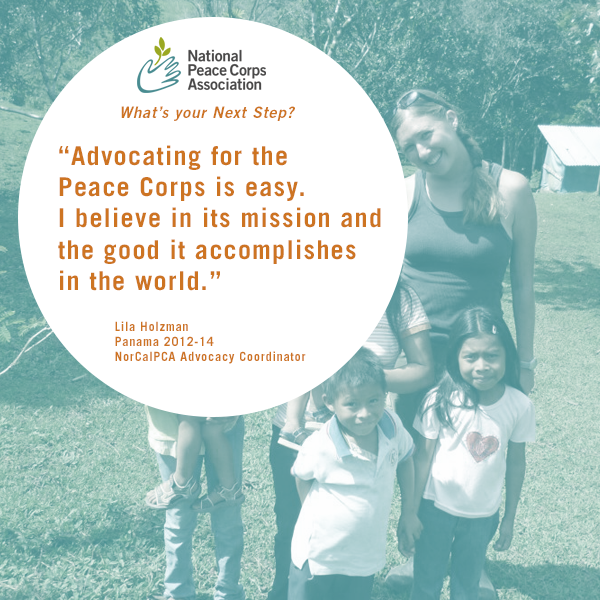 Lila is one of NPCA's 44 Advocacy Coordinators, who mobilize constituents in their regions to advocate for additional Peace Corps funding. "With political advocacy work, it's easy to become discouraged and wonder 'does making this phone call actually make a difference?' Advocating for the Peace Corps is easy. It's bi-partisan and often a relief for staffers to meet with us. What meant the most after meeting with staffers from Senator Kamala Harris's office was how they reinforced the importance of constituents making those calls and contacting their representatives; it adds legitimacy and gives weight to why that representative should support the Peace Corps and sometimes fight for it."
Last year, Advocacy Coordinators played a key role in NPCA's fight to get Peace Corps $410 million to support the agency's work, which resulted in increasing the number of Volunteer positions open to applicants. Over three hundred more positions, in fact. Dallas is one of those soon-to-be Volunteers.
This year, NPCA was able to get the Senate to maintain funding for the Peace Corps at $410 million, despite the President and House budget requests proposing a cut of $12 million. We're still fighting for that level funding as the Senate and the House negotiate on a final federal budget for FY18 before their deadline in early December. But our huge wins on Capitol Hill this year are largely thanks to the help of Advocacy Coordinators like Lila. In conjunction with their mobilization efforts, NPCA's advocacy team also works closely with staffers on the Hill and key members of Congress to educate them on the importance of the Peace Corps. NPCA remains steadfast in our campaign to reach a Volunteer force that's 10,000 strong over the course of the next five years. We're already making big strides toward that goal.
You can help us get there. Consider making a tax-deductible donation today to support NPCA's work, so we can mobilize more advocates like Lila, and offer more Volunteer positions to candidates like Dallas. We're building a more peaceful world - together. Help us take the next step with our advocacy work today.
Volunteers serving in 2015: 6,900 PCVs
Volunteers serving in 2016: 7,200 PCVs
What's your next step to give more Americans the opportunity to serve?
---