Author: RPCV Kate Schachter
Since my return from my first Peace Corps service in Ghana in 2007, I've been coming to the annual conferences, except for the year I went into PC Response in Georgia. Attendance has always been low, usually around 400. And I keep asking myself…why don't more RPCVs come? What should we be doing different? Am I just a glutton for meetings?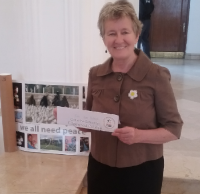 In particular, since 2011 when NPCA started the new shared group hosting system and rotates it on a known schedule (50th anniversary in DC, Upper Midwest, Northeast, South, West, repeat), it's been a great opportunity to meet with RPCVs from other regions. Lessons have been learned and improvements made with every single Peace Corps Connect (PCC), but still attendance is surprisingly small. If we get more people, the conference pays for itself, and then some, with NPCA able to provide lower prices, especially to new RPCVs and volunteers.
Here are just a few of the things I love about the PCC conferences.
The people! Meet or reconnect with RPCVs from every era. All the rest of the things I love start here with the community.
The information! I was chatting with Averill Strasser and his wife, and he mentioned he is working with RPCV Peter Jensen on projects all over Africa. Peter is teaching people how to bury water and has made great progress showing successes in desperate situations. Wait…what? Bury water?? Check out his YouTube channel.
And then there's the information embedded in the many breakout sessions. Through panel presentations and discussions, cause-related groups, Peace Corps, and NPCA shared important news about projects that impact members. This year I was pleased to have the RPCVs for Environmental Action be accepted to offer a panel presentation entitled "RPCVs Take Action on the Environment." Many thanks to the 20 or so people who chose to sit in on our presentation instead any of the six other sessions, or opt out for a kayak trip on the Delaware River!
The groups! A half day is devoted to the opportunity for affiliate group representatives to get together and learn what's going on at NPCA in the area of group services; learn from each other; and give feedback to NPCA, the Affiliate Group Network Coordinator, and the Member-Elected Board members. Outside the half-day forum, we recognize groups with the Loret Miller Ruppe Award for Outstanding Community Service, which this year justly went to the Cincinnati Area Returned Volunteers (CARV) for their work with refugees. And there are more awards: the Harris Wofford Global Citizen Award, the Sargent Shriver Award for Distinguished Humanitarian Service, and the Deborah Harding Women of Achievement Award. Acceptance speeches are heartfelt and inspirational about the work accomplished.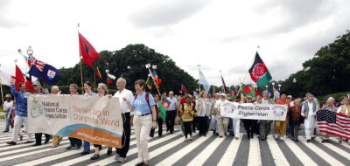 The atmosphere! I always feel charged from the effect of being with "my people." The combination of meetings, receptions, dinners, and downtime turn the conference into an exciting dynamic of Third Goal accomplishment. The pomp and circumstance of a Gala dinner at the Kennedy Center or a Parade of the Flags in DC in 2011; a boat cruise and dinner on the Mississippi River for 150 people in 2012; a boat ride in the Boston Harbor in 2013; a community garden service project in 2017; a hike along the Appalachian Trail in 2018. These examples bring it together for an enjoyable long weekend.
The reflection! It all starts with our service in Peace Corps. When I went to Peace Corps Response/Georgia, I was proud to see that they had both versions of the Peace Corps Pledge – the required one, and the new one that Meleia Egger had created in 2015. I was prepared in Georgia, and still I was blown away by the poetry of it. The pledge created the right atmosphere in Berkeley when it was formally introduced. It remains a fitting commitment to world peace and friendship.
Next year, be there! HoTPCA is Heart of Texas Peace Corps Connect, June 21-23, 2019. What's not to like about Austin?!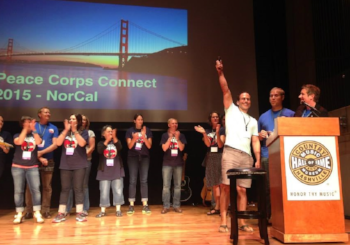 Photos: Community Service group – 2017, Denver service project; EducationUSA Kate Schachter – 2016, In Batumi, Georgia, representing our alma maters at a US State Department event; Parade of Flags – 2011, DC Parade of Flags to the Capitol; PCC Nashville to NorCal – 2014, Tennessee RPCVs hand the conference baton to NorCal
---
About the Author:
Kate Schachter has broad Peace Corps experience. She first served as a 50+ Peace Corps Volunteer in Ghana from 2004-2007, leaving a 20-year corporate career in middle management positions in two biotechnology companies in Madison, WI. Ghana was followed by active participation on the leadership team of the RPCVs of Wisconsin-Madison, from 2007 to the present. She also was elected as an NPCA Board member and Group Leaders Forum Coordinator from 2010-13. In 2016 she returned to volunteer service as a Peace Corps Response Volunteer in Georgia. Kate is a co-founder and group leader of the RPCVs for Environmental Action. In January 2018, she was offered a position as the UW-Madison Campus Recruiter. What better job than to talk about Peace Corps service all day?!
---