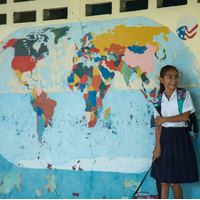 Meet the newest members of our team.
By Glenn Blumhorst
Photo of schoolgirl in Panamá by Eli Wittum
Next week we mark two days that resonate deeply with the Peace Corps community. On Monday, September 21, we celebrate the International Day of Peace. And on Tuesday, September 22, we commemorate the 59th anniversary of the passage and signing of the Peace Corps Act — the legislation that created the Peace Corps. One of its advocates in the House of Representatives was Illinois Republican Marguerite S. Church, who valued the aspiration to nurture "human dignity and confidence" around the world.
But that world has changed. And here on the eve of the 60th anniversary of the agency, we have both the opportunity and responsibility to help reimagine and reshape the Peace Corps — and our community — to be better and stronger. So I'm delighted to welcome a number of new Returned Peace Corps Volunteers to the NPCA team to help do that work — from consultant and Council on Foreign Relations Member Jalina Porter to full-time team member Marieme Foote, who was evacuated from Benin in March and is taking on responsibilities supporting advocacy and outreach. We've also brought on board database expert Robertino Bogart and consultant Kim Dixon to work with part-time team members Caitlin Nemeth and Molly O'Brien as they spearhead efforts to connect, inform, and engage community members.
And we have three more opportunities to join our team: We're looking for a Director of Development, Finance and Administration Associate, and Associate Editor, Global Stories. Together we can foster a diverse, vibrant, and united Peace Corps community that has the energy and commitment to tackle the big challenges in front of us.
Jalina Porter | Strategy Consultant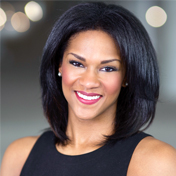 Jalina Porter will be contributing to several key areas of our work, including partnerships; advocacy; strategic communications; and our diversity, equity, and inclusion strategies. She has been an active collaborator with NPCA advocacy programs for many years, and she introduced Howard University President Wayne A. I. Frederick at our July 18 Peace Corps Connect to the Future ideas summit.
A term member of the Council on Foreign Relations, Jalina is a strategic communications advisor who specializes in Congress, peace and security, and diversity, equity, and inclusion. Throughout her career, she has advised and trained over 3,000 public and foreign policy professionals, veterans, artists, athletes, politicians, and leading corporate executives. She served in Peace Corps Cambodia 2009–11 and later served on the board of the Returned Peace Corps Volunteers of Washington, D.C. as development director. She was named a 2018 top 35 Black American National Security and Foreign Policy Next Generation Leader by New America and a 2019 Foreign Policy Influencer by the Women's Foreign Policy Group. She is also a member of the inaugural cohort of the NPCA 40 Under 40 Returned Peace Corps Volunteers. She is a proud graduate of Howard University, where she received her bachelor's degree, and Georgetown University, where she earned her master's. A former professional dancer, Jalina is passionate about the arts, living with intention, and unique storytelling through movement and writing.
Marieme Foote | Advocacy and Administrative Associate / Outreach Specialist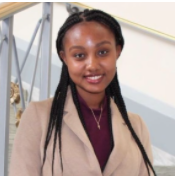 Marieme Foote served as a Volunteer in Benin from September 2018 until the global evacuation in March 2020. While serving as a Sustainable Agricultural Systems Agent, she worked alongside men and women's groups to address issues concerning food security and agriculture. After returning to the U.S., she became involved in advocacy work for evacuated Volunteers and worked with Women of Color Advancing Peace and Security (WCAPS) to gather data and create a report to advocate for better support for evacuated Volunteers. She holds a B.A. in political science with a minor in environmental studies from Ithaca College. She identifies as a Senegalese-American, so she has spent time both in the U.S and Senegal, where a part of her family resides. In her free time, she enjoys traveling, reading, and knitting.
Robertino Bogart | Database Management Specialist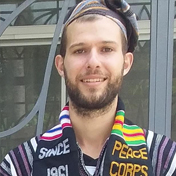 As a Volunteer in Ghana 2017–19, Robertino taught the computer class at a junior high school and worked on a number of health, education, and agriculture projects with students and community members. He co-led a team of PCVs, software developers, and farmers that won the 2018 Peace Corps Cashew Hackathon. They created the prototype for a data collection tool that collects data about cashew harvests and provides reliable and accurate pricing and sales data for farmers and cashew buyers. Prior to joining the Peace Corps, Robertino worked as a database developer with the SQL programming language. He is adding python programming language to his repertoire to manage data and create visualizations. He holds a B.A. in mathematics from George Mason University and enjoys swimming and cooking.
Kim Dixon | Team Leader, Peace Corps Community Connect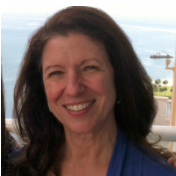 Kim joins NPCA as a part-time consultant after many years of sales, marketing and management consulting with IBM. On the technical sales side she focused on organizational change management when implementing Internet solutions; she later founded a consulting firm in Raleigh, North Carolina. Her true calling appeared when she went to Georgia as a Peace Corps Volunteer 2014–16 and worked with internally displaced persons. When her service concluded, she returned to the States, but her heart remained in Georgia. In 2017 she returned for another 18 months. Among other diversions and hobbies, Kim has danced with the Raleigh Little German Band throughout the East Coast, Germany, Austria, and Belgium.
Caitlin Nemeth | Outreach Specialist, part time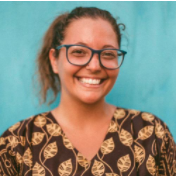 Caitlin Nemeth is a Coverdell fellow at the University of Colorado-Denver and expects to complete her Master of Public Administration degree in 2021. She served as a Volunteer in The Gambia 2017–19. She has a B.A. in public health policy and English from the College of William and Mary. While studying at W&M, Caitlin worked for the university's Phonathon, building rapport with alumni and other associates of the College, and raising money for scholarship funds, diversity & inclusivity initiatives, and academic departments. As a shelter advocate at Avalon, A Center for Women and Children located in Williamsburg, she began to build necessary interpersonal skills while deepening her understanding of the complexities of nonprofit public health programs. Her time at the shelter encouraged her to combine her dream of joining the Peace Corps with her career ambition of implementing positive public health change. In Caitlin's spare time, she enjoys sailing and paddle boarding on the Chesapeake Bay, baking delicious cookies and cakes, and reading speculative fiction novels.
Molly O'Brien | Outreach Specialist, part time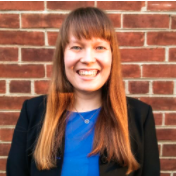 Molly O'Brien comes to NPCA after completing her M.A. in Public Service/Nonprofit Administration at Marquette University earlier in 2020. She was the recipient the Trinity Fellowship, a competitive program focused on social and economic justice, and she worked at Milwaukee Habitat for Humanity providing programmatic support for homeowners. Molly was a Peace Corps Volunteer in Trang, Thailand 2016–18 and in Karak, Jordan 2014–15. Since her return from the Peace Corps, she has been active in the RPCV community, serving on the board of the Milwaukee Peace Corps Association as their membership coordinator. Prior to Peace Corps she earned a B.A. in history and communications from Loyola University Chicago. She resides in Grand Rapids, Michigan, where she enjoys spending as much time outdoors as possible.
---