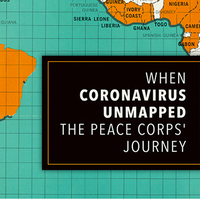 Evacuation, some Peace Corps history, and #apush4peace
When Coronavirus Unmapped the Peace Corps' Journey
Jeffrey Aubuchon (92252 Press)
Reviewed by Jake Arce and Steven Boyd Saum
In March 2020, the COVID-19 pandemic led to the unprecedented global evacuation of Peace Corps Volunteers. Jeffrey Aubuchon brings together stories of some evacuees chronicled in WorldView: Chelsea Bajek, who was working with a women's group in Vanuatu; Jim Damico, evacuated from teaching in Nepal; Benjamin Rietmann, yanked from his work with farmers and young entrepreneurs in Dominican Republic; and Stacie Scott, who left behind the community she was serving as a health volunteer in Mozambique.
Aubuchon follows in greater depth two Southern California high school sweethearts, Jacqueline Moore-DesLauriers and Dylan Thompson, who served together in Morocco. In Sefrou (pop. 80,000), on the outskirts of Fez, they taught English classes and hosted a STEMpowerment workshop for girls at the local dar chabab (youth center). They established a girls' volleyball team that played its first game on March 5. Ten days later, Peace Corps announced its global evacuation.
"Never in the last 40 years has the Association's mission been more vital."
The book also serves up some context for 2020 — when each week seemed like a year unto itself. And National Peace Corps Association gets more than a passing nod — particularly its crucial work advocating for evacuated Volunteers, which helped secure additional benefits for them and $88 million in supplemental funding for Peace Corps. "Never in the last 40 years has the Association's mission been more vital," Aubuchon writes. "Indeed, on March 16, 2020, NPCA President Glenn Blumhorst released a statement not only voicing support for all of the EPCVs, but also outlining a national plan to coordinate support for these evacuees among the Peace Corps, the NPCA, and the RPCV community itself."
Aubuchon served as a Volunteer in Morocco 2007–09. "I walked my own Peace Corps journey in the aftermath of the September 11, 2001, terrorist attacks and the Casablanca bombings of 2003," he writes. He applied for and received grant funding to help build four libraries. In fall 2019, he was teaching a course in Advanced Placement U.S. History at a high school in central Massachusetts. A lesson in Cold War history led students to do more than merely talk about global problems; they founded a youth venture — and began raising funds to support Peace Corps Volunteers' projects. Taking the acronym for the class, APUSH, they hasthtagged their effort #apush4peace. They convinced community members to put up $1,000 in seed funding — and then, through fundraising, more than tripled that, "allowing them to help a PCV in Zambia build a hospital clinic ward and help another build a library in Mozambique."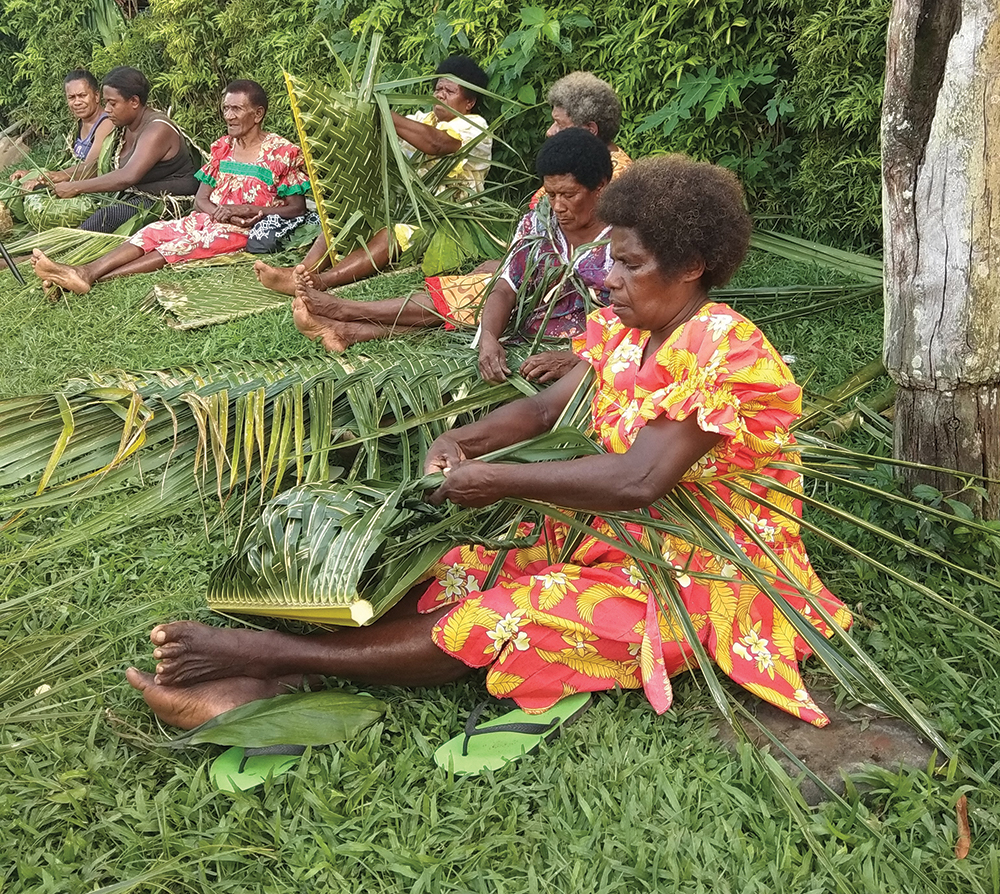 Paama Custom Arts Festival: Traditional basket weaving on Vanuatu. Chelsea Bajek worked with these women to launch a business project. Photo by Chelsea Bajek
One of those APUSH students, Olivia Wells, takes over the closing chapter of the book. She observes: "Few people know that there are ways to help educate adolescents in Eswatini (Swaziland) about HIV/AIDS, or to help local farmers in Malawi construct an irrigation system to decrease water erosion on their farmland."
This is a project that's meant to give back; one dollar from each copy sold goes to Kiva.org to support microfinance projects, and another dollar goes to support National Peace Corps Association.
As for the stories of the Volunteers who were evacuated: Those journeys continue beyond the pages of the book. For example, Jim Damico, a three-time Volunteer, didn't wait for Peace Corps to return to Nepal. He went back on his own in January 2021 and has been mentoring teachers. Chelsea Bajek, who was serving in Vanuatu, had successfully applied for a Peace Corps Partnership Program grant to purchase equipment and materials for skill-building workshops at the Paama Women's Handicraft Center. But those funds were cut off when Bajek was evacuated. Thanks to crowdsourcing and NPCA's Community Fund, in 2021 that project was fully funded and will, Bajek reports, increase opportunities for women's economic development and empowerment.
---