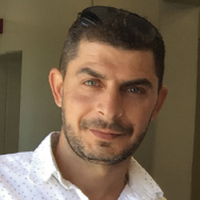 Bassam Osman worked in a shoe factory in Aleppo, the commercial capital of the Republic of Syria. During the seven-year civil war that some called a revolution, the government of President Bashir al-Assad bombed that shoe factory and more than 130 other city buildings.
Seven years ago Osman crossed the border into Turkey to get emergency medical treatment for his oldest daughter, Zulekha, and returned home to rescue his wife, Mayada, another daughter and two younger sons from the bombing. They were among more than 5.5 million Syrians who have fled their brutalized homeland.
The family struggled in Turkey's informal refugee camps or living with relatives for five years. Osman later told an interpreter and Cincinnati Enquirer reporter, "In Turkey, my kids were called scavengers and dirty."
The UN High Commissioner for Human Rights declared the Osmans refugees. The State Department conducted an extended background investigation and security check and medical exams. Their status as stateless and displaced Syrians ended in 2016 when the State Department offered to resettle the family in the United States.
The family flew to Cincinnati, where Catholic Charities of Southwestern Ohio offered them a new American home in the Queen City. They arrived six months before President Trump signed Executive Order 13769 banning immigration for Syrian refugees.
The State Department's Bureau of Refugees, Population and Migration gave them a onetime stipend of $1,125 for food, housing, utilities and transportation. For three months Catholic Charities provided them housing, cultural orientation, classes in English as a second language and job readiness. Catholic Charities asked CARV to provide mentoring and ongoing social support to assist the family in integrating into the Cincinnati community and American culture.
Experienced hosts
"We're a small affiliate," says Susan Robinson, who has led much of the group's recent work with refugees and immigrants. For more than 15 years RPCVs in CARV have served informally to help immigrant communities in Cincinnati adapt to life in America, including mentoring a newly arrived refugee family from South Sudan in 2004. Beginning in 2015, CARV initiated a project in partnership with their local Catholic Charities to greet refugees and immigrants at the airport, deliver the refugees to new temporary housing in apartment buildings, truck in recycled furniture from the Catholic Charities warehouse, tutor them in English as a second language, invite these new American families for holiday dinners, join them in community service projects, and guided them on field trips to city museums and countryside orchards.
"Catholic Charities saw us as a pretty cohesive group," say Robinson, who had worked in irrigation, agriculture and sanitation projects with her husband, Jim, in central India from 1969 to 1971. Since her retirement as a financial officer at Macy's, Robinson has come to know the Bassam and his family well. "They asked us to mentor the Osman family in the next phase of their integration into our community."
Under Robinson's watchful eye, more than 50 CARV members pitched in to mentor the Osman family, finding Arabic speakers to translate, recruiting English language tutors, taking families to doctor appointment and negotiating the labyrinth of city and school bureaucracies for all of the family, which now includes a year-old baby boy Abdou.
The job
NPCA chose to honor CARV's refugee resettlement work because it far exceeded expectations for the commitment and success of other NPCA affiliates or any other organic community organizations. The Osmans needed CARV's help and they got it.
The Osmans first three months in America were daunting, says Robinson. "They'd fallen behind in their English classes and the employment class." Bassam had not found a job yet. Catholic Charities had offered him several. "But he wanted to be a cobbler," Robinson says. That problem was solved when at a CARV potluck members raised the issue.
Alberta Hemsley, Philippines 67-69, found just the man who could help. The 78-year-old African American owner of Clarence Howell Shoe Repair in the revitalized neighborhood of Pleasant Ridge had a backlog of shoes to fix.
Howell challenged the young Syrian on the shop's green sewing, stitching and finishing machines and hired him on the spot. In his low downhome Georgia accent, Clarence Howell told the Enquirer reporter, "When I met him, he reminded me of myself." Since then, Howell has increased Bassam Osman's pay from $9 to $11 an hour and increased his daily hours from three to fulltime work.
The economics
For all of their generous support of the Osmans and the long ranks of immigrants they have served, Catholic Charities policy encourages refugees to be self-sufficient and discourages dependency members from buying food or clothes for the families. "We use Goodwill or St. Vincent de Paul's because that seems more fair and sustainable," Robinson says.
However, the biggest financial challenge for the Osmans was a $7,000 loan from the Geneva-based International Office of Migration for the cost of their flight from Turkey to Cincinnati and the cost of applying for their green cards. CARV lifted that financial burden for the Osmans. The group posted an appeal on GoFundMe and within six weeks CARV members, family and friends raised funds with which the Osmans paid their debt.
Mentoring a family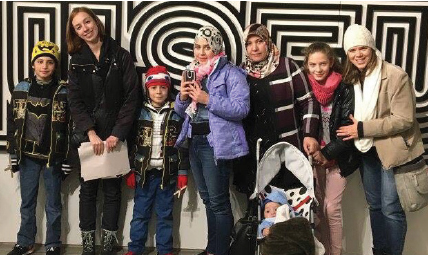 One of CARV's strengths in mentoring the city's New Americans is the close network of members whose volunteer commitments and careers are intertwined. Annie Scheid, Jamaica 91-93, is director of refugee resettlement for Catholic Charities of Southwest Ohio. Ron Ison, Togo , 84-87, trains volunteers for the city's Community Learning Center Institute.
Rachel Von Holle, Macedonia, 14-16, teaches English at Roselawn Condon Elementary School, attended by Bassam and Mayada's daughters when they arrived. They were in her classroom last year. "Zulekha is the very social one and loves to talk," Von Holle says. "Sara, the second one, is a little more relaxed. Both love to help their mom and the baby brother." She found that their father enjoyed making jokes.
Jamie Kreindler, Morocco, 15-18, used her Moroccan Arabic to help the family and to get to know Bassam's wife, Mayada. "She's adjusting very well. Her children help her a lot." Mayada's English is not as good as her childrens' but she is always thanking CARV members for what they have done.
"She says in English, 'Thank you, Susan,' and holds her hands over her heart."
Breaking away
With the help of their local mosque, the family has moved from their first apartment in Bond Hill to better housing in Colerain Township.
In May of 2016 the children received scholarships to attend the Universal Muslim Academy, a blend of English instruction, Islamic tradition, and a Montessori curriculum. "We don't like losing our students," Von Holle says. "It's fun to see them learn, but we understand that's what the family needs."
CARV is now looking for another service project. Robinson says the Osmans are in good shape. "We're keeping those friendships and many of us still visit them."
Written by David Arnold, editor of WorldView magazine and English as a second language teacher in Asbe Teferi, Ethiopia, 64-66. This story was first published in WorldView magazine's Winter 2018 issue.
---