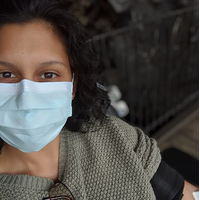 The founder of RPCVs Serving at Home chronicles her work as a Volunteer — and launching a network to support communities across the United States.
By Mia Richardson — as told to Cynthia Arata
I had wanted to serve in the Peace Corps since high school. I was really interested in the Cold War, and while learning about that time in history, I learned about the creation of the Peace Corps during John F. Kennedy's presidency. Peace Corps fascinated me.
Originally I thought about going straight to graduate school after graduating from college, but I decided to put that on pause to pursue my dream of serving in the Peace Corps. I wanted to experience working in another country because of my career path — foreign service. Although being a Peace Corps Volunteer is different than being a diplomat, I knew I could learn and represent my country.
I was serving in North Macedonia in the Education sector. I was teaching English for students in second to ninth grade. I worked closely with another teacher focusing on improving English language instruction and student engagement.
I was located in the northwest region of North Macedonia, a country in the Balkan Peninsula, which had previously been Macedonia. The renaming of the country happened early on during my service. Around the time I arrived, the naming dispute was a popular topic of discussion having to do with the history between Macedonia and Greece. It was interesting to listen to different perspectives on such a complicated issue and learn about the history of the region where I was to serve. In January 2019 Macedonia became North Macedonia.
I lived quite close to the city of Tetovo in the small village of Zherovjan, which is home to less than 900 people. Albanians are the largest minority group in North Macedonia, and Zherovjan is an Albanian, mostly Muslim community. Because of where I was living, I was on a dual language track, learning Macedonian and Albanian.
March 2020: The Evacuation
On Tuesday, March 10, I finished teaching in the morning. That same day, in the afternoon, it was announced that schools were going to be closed for two weeks. So things were in limbo on Wednesday. By Thursday Peace Corps determined that we were raised a security level, and staff told us to pack our bags. However, Volunteers were questioning it, not knowing exactly what was going on, not thinking we really needed to pack. But on Friday we were told to prepare to leave the country. Then Saturday, we were instructed to get to the capital. We only had a few hours to grab our things, explain what was going on to our communities, and get to Skopje, where all of us volunteers were consolidated.
There was very little time to explain to my host family what was happening. I mainly didn't want to scare them. At the time, volunteers thought the most likely scenario was that we would be put on an administrative hold. We assumed we would be able to return in a month or two.
"Peace Corps says I have to leave because they don't want me to be a burden here," was how I framed it to my host family. But at that point, North Macedonia had not started shutting down, so my host family was totally confused. It was so hard. I had to ask them to take me to the capital immediately.
As if that wasn't painful enough, I did not have the chance to say anything to my students. I didn't get to say goodbye. I didn't get to tell them that I was leaving. I felt like I abandoned them without any explanation.
As if that wasn't painful enough, I did not have the chance to say anything to my students. I didn't get to say goodbye. I didn't get to tell them that I was leaving. I felt like I abandoned them without any explanation.
I am trying to figure out of there is something I can do to get in contact with my students. I have thought about recording a video of myself explaining and saying goodbye. But since school shut down the students have been distance learning rather than having class, so I don't know yet how to send something that they will all see.
I barely had the chance to communicate with my counterpart before leaving. She has two young children, and her husband works in another country, so she was preoccupied with trying to figure out what to do to keep her family safe — whether she and the kids would go or stay put. We only had a moment to just basically wish each other luck.
North Macedonia: Unfinished Business
Early on in my service, my counterpart and I applied for a Small Project Assistance grant to establish an English language resource closet at the school. The goal was to empower teachers to use more communicative activities in the classroom that make education more student-centered. We secured the grant, purchased resources for the school, and planned a training session for educators. The training, however, was scheduled to take place the week of the shutdown and the evacuation. I tried to see if there was a way to do the training online, but I didn't have enough time to organize before I was pulled from my post. I feel good about getting new materials for the school so that some fun and creativity can be brought into the classroom, but there was no training for teachers on how to implement those materials. I really hope the work will go on. I hope my school will apply for another Volunteer, and students will advocate for continuing some of the work we started.
At the beginning of the school year I started a spelling bee club for fifth- and sixth-grade students. The club met once per week for the entire school year. We hosted a qualifier spelling bee at our school to determine who would go to the regional spelling bee in Tetovo. The students worked so hard every week. And two students qualified! I was planning on going with them to the city at the end of March for the regional tournament. But that didn't happen. It's one of the things I am most sad about because I know how hard my students worked all year long.
I had requested a shipment of new books for the school's English language section in the library. Darien Book Aid, a nonprofit organization based in Connecticut that distributes books all over the world, emailed me right when I landed back in the U.S. asking me to confirm that I received the book shipment I requested. Thankfully the director of the school where I was teaching was able to pick them up from the post office.
My secondary project was helping to coordinate a local Girls Leading Our World (GLOW) club. GLOW provides great development and leadership experiences for youth. Recruitment for GLOW was going to start in March, and a number of PCVs were working as mentors for clubs all over the country. So much hard work went into planning events for the GLOW clubs, but when all of us PCVs were sent home, we left the girls hanging.
I felt that personally I was getting into the swing of things — I was finding my way. The timing of everything was difficult to accept.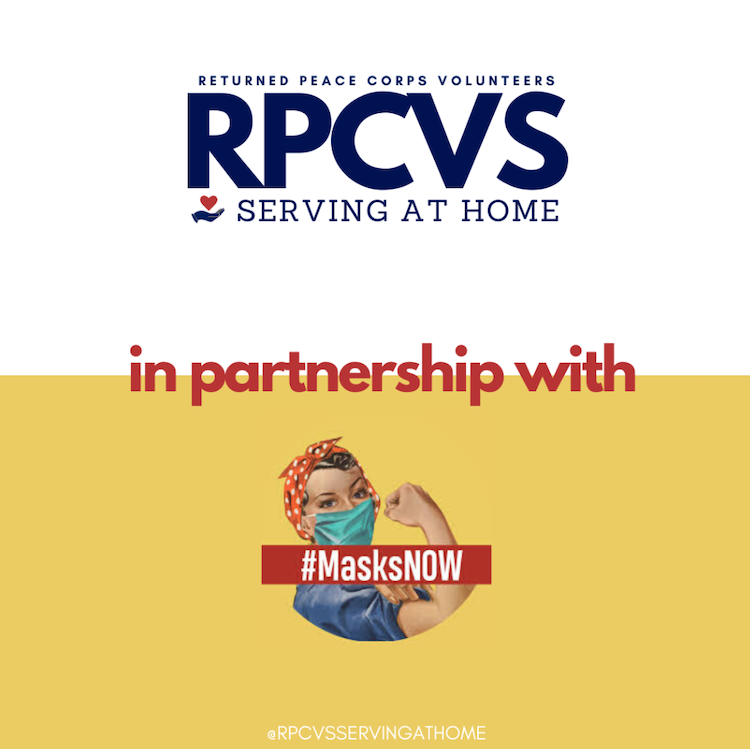 Back Home: Continuing Service
When I got back to the U.S. I felt a little bit lost. I committed myself to the full 27 months of service, and I just didn't feel like I completed that. So as soon as I got back I started looking for things I could do to continue serving. While I was quarantined, I started volunteering with a coalition called Masks NOW to donate masks to essential businesses.
I started an initiative called RPCVs Serving at Home with some other evacuated volunteers from North Macedonia. We rolled out the program to the rest of the RPCV community in April. The concept is three-fold: to connect the RPCV community, share volunteer opportunities in order to continue service, and reflect values of Peace Corps. We are determined to highlight the strength and impact of Peace Corps to our communities here in the U.S.
Since we began collecting data in early April, by the end of June 63 volunteers representing 24 states and 22 Peace Corps posts had logged over 2,000 hours of volunteer service. Participating RPCVs have donated nearly 700 fabric face masks, served over 400 hours at local food banks, and at least 16 volunteers donated blood or organized a local blood drive. Our goal is to log 10,000 hours of service by September, so we are working hard to spread the word and get as many RPCVs involved as possible. We believe this shows how much we as the Peace Corps community can do, and although we have dedicated ourselves to work abroad, right now our country needs us here at home.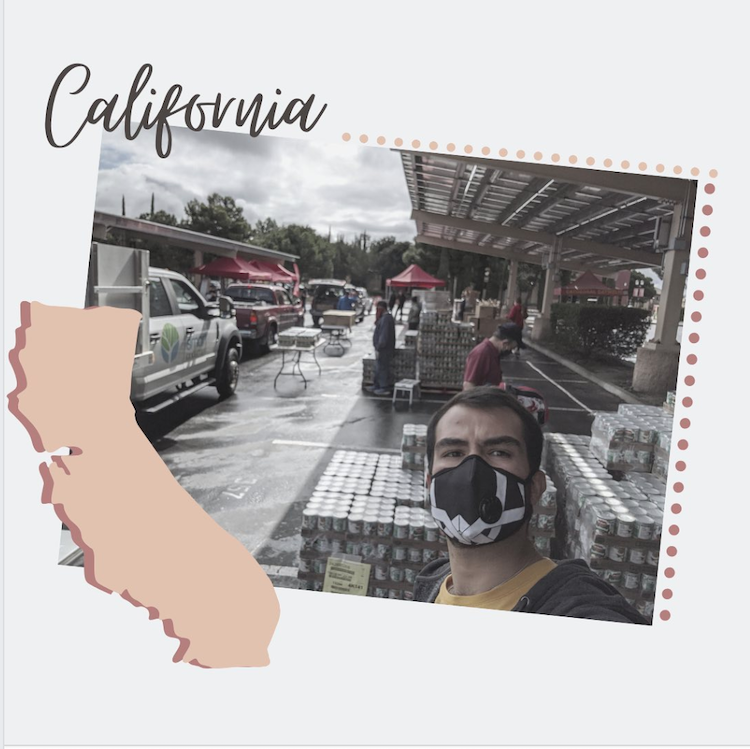 Since being evacuated I have taken on an AmeriCorps VISTA position doing community outreach for the Youth Volunteer Corps in Kansas City. What I am doing is similar to my youth empowerment work with the GLOW club in North Macedonia. My mission is to create service and learning opportunities, so that through civic engagement and skill development, youth not only understand issues in their communities but also feel empowered to address those issues.
Continuing to serve youth in my home community, helping to provide programs that I would have benefited from when I was growing up, has given me a sense of closure to my Peace Corps service.

---
For more information about service opportunities check out RPCVs Serving at Home online on Facebook, Twitter, and Instagram.
Cynthia Arata was serving as a Volunteer in Fiji when she was evacuated in March 2020. She lives in Napa, California.
---