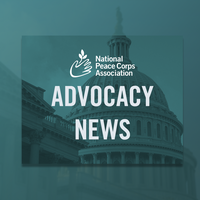 With more than fifty district office advocacy meetings being held or scheduled around the country, volunteer advocacy coordinators are playing a key a role in reaching out to district offices, recruiting local RPCV advocates, and coordinating with NPCA staff in Washington.
Next week, members of the South Florida Returned Peace Corps Volunteers will be meeting with district office staff of Senator Rick Scott to discuss their reasons for opposing the senator's legislation to put an end to the independent status of the Peace Corps. The group's advocacy coordinator, Ana Ciereszko, is finalizing preparations for that meeting.
In central Massachusetts, advocacy coordinator Tim Garvin is preparing for some one-on-one time with House Rules Committee Chairman Jim McGovern (D-MA) at an upcoming gathering.
Three weeks ago, central Wisconsin advocacy coordinator Judy Figi met with freshman Congressman Bryan Steil (R-WI) to help introduce him to key issues of the Peace Corps community.
And, at a recent town hall meeting in Fort Wayne, advocacy coordinator Faith Van Gilder questioned Congressman Jim Banks (R-IN) about his support of the defeated Walker amendment, which among other things, called for eliminating Peace Corps funding in fiscal year 2020.
Sign Up Today!
You can become an NPCA advocacy coordinator. No prior experience is necessary. All you need is a passion for the Peace Corps, a willingness to learn some basics about successful citizen-lobbying, and a commitment to a little community organization within your regional/statewide Peace Corps community.
Interested? Contact NPCA Advocacy Director Jonathan Pearson at jonathan@peacecorpsconnect.org for more details, including plans for an advocacy coordinator introductory webinar later this year!
---