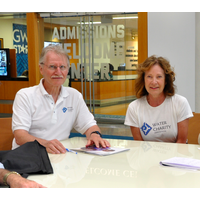 by Averill Strasser (Bolivia 1966-1968)
The Returned Peace Corps Volunteer community is a powerful force. As we complete our schooling, raise families, accomplish our career objectives, and enjoy life, we can remain engaged in furthering the Peace Corps mission. Working together we can achieve a lot.
During my Peace Corps service, I taught engineering at the University of San Andres in La Paz, Bolivia. When the students were on vacation or out on strike, we traveled to remote parts of the country to do water and sanitation projects.
Forty years later, after a career in engineering, city planning, law, and business, I was able to step back and ask: "What can I do now that would do some good in this world?"
Water Charity was started in 2008 with a few projects in Central America. We have gone on to help change the lives of 3 million people, implementing 3,000 projects in 70 countries.
Water Charity became a partner of the National Peace Corps Association in March, 2015. Since then, we have funded and provided technical support for Peace Corps Volunteer and Returned Peace Corps Volunteer projects in an amount exceeding $600,000.
In addition to acting as the COO of Water Charity, I am a member of the Board of the Returned Peace Corps Volunteers of Los Angeles — an NPCA affiliate group, a Shriver Circle member, and a regular participant in NPCA advocacy.
I believe each of us have to do everything within our power to support the Peace Corps community, both in our activities and financially. I urge everyone to become an NPCA Mission Partner.
---