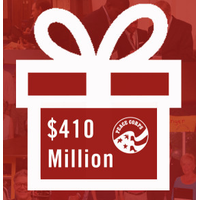 It's official!
With President Barack Obama signing into law a spending package for the current fiscal year that runs through September 30th, the Peace Corps will receive its highest appropriation in the agency's 54-year history.
The President's request of $410 million for the Peace Corps for Fiscal Year 2016 was included in final budget negotiations between Republicans and Democrats, between Senators and House Representatives. This increase is nearly eight percent above last year's $379.5 million Peace Corps spending level. It also is higher than the previous high of $400 million, achieved in Fiscal Year 2010 (one year after the National Peace Corps Association (NPCA) launched its MorePeaceCorps Campaign).
"This is a tremendous example that when the NPCA community comes together, great things can happen," said NPCA President Glenn Blumhorst. "With applications for Peace Corps service sharply on the rise, country requests for volunteers remaining backlogged, and ongoing reforms needed to improve the Peace Corps experience, the leadership demonstrated by Congress, President Obama and our Peace Corps champions on Capitol Hill could not be more timely."
Blumhorst also praised the thousands of NPCA citizen advocates who took time to make this victory possible.
"We are regularly told by those who work and know Capitol Hill that the most important voice to bring to the table is the voice of the constituent. That's exactly what the NPCA does, and we are so proud of our advocacy leaders who organized more than 60 critical district office meetings over the last several months, and the many, many more individuals who issued thousands of phone calls and written messages. The experience of the Returned Peace Corps Volunteer is highly respected by Members of Congress and their staff. This significant step forward for the Peace Corps is their victory."
---