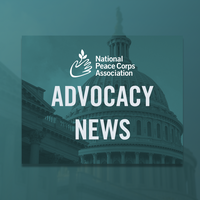 Led by Senators Johnny Isakson (R-GA) and Dianne Feinstein (D-CA), the annual Peace Corps funding Dear Colleague letter secured the signatures of 36 Senators!
When coupled with the 180 signatures on a similar letter in the House of Representatives, the combined 216 members of Congress who signed Peace Corps funding letters in 2018 represents a new record high!
As noted in the Senate letter, which requests robust funding for the Peace Corps in the upcoming 2019 fiscal year, "The Peace Corps' return on investment is profound. Host country nationals served by a volunteer are better equipped to meet challenges in the long run, helping to achieve healthier, more stable communities and prevent conflict. The Peace Corps is often one of the most transformative experiences in a volunteer's life, and Returned Peace Corps Volunteers continue their call to service by becoming leaders in their communities."
Read the final Senate letter here!
Our thanks to the thousands of Peace Corps supporters, who reached out to their members of Congress in support of these critical funding letters. We would not be successful without your support!
Say Thank You!
Thirty-six Senators (below) signed the Peace Corps funding letter and should be thanked!
California: Feinstein (co-author), Harris
Colorado: Bennet
Connecticut: Blumenthal, Murphy
Delaware: Carper, Coons
Florida: Nelson
Georgia: Isakson (co-author)
Hawaii: Hirono, Schatz
Illinois: Duckworth
Maine: Collins, King
Maryland: Cardin, Van Hollen
Massachusetts: Markey, Warren
Michigan: Peters, Stabenow
Minnesota: Klobuchar, Smith
New Hampshire: Hassan, Shaheen
New Jersey: Menendez
New Mexico: Heinrich
Ohio: Brown
Oregon: Merkley, Wyden
Rhode Island: Reed, Whitehouse
Vermont: Sanders
Virginia: Kaine
Washington: Cantwell
West Virginia: Manchin
Wisconsin: Baldwin
---