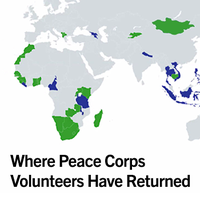 Hundreds of Volunteers are now serving alongside communities across the globe. And later this month, the first group of Volunteers ever is expected to arrive in Viet Nam.
By Dan Baker
Image courtesy Peace Corps
Peace Corps Volunteers are returning to serve alongside communities throughout the world. Hundreds of Volunteers have returned to more than 40 countries around the globe, with more returning in the weeks ahead. In the past couple weeks alone, in South America, Volunteers have returned to serve alongside communities in Guyana. They have arrived in South Africa. And they have returned to Mongolia.
These Volunteers' work with local partners includes education to advance literacy, collaboration on community development, and efforts to nurture environmental stewardship and foster health and family-life education in local communities. Many are new Volunteers — and some, like Daniel Lindbergh Lang, waited two and a half years to return (in his case, to Mongolia) after being brought back to the U.S. because of COVID-19.
In the most recent edition of WorldView magazine, we shared news of where Volunteers had returned. Here we're delighted to share with you a full update showing where Volunteers have returned — and where they have been invited to return.

Map courtesy Peace Corps. Additional editing by Orrin Luc
We're grateful for all of those in the Peace Corps community who have bolstered NPCA's efforts to support evacuated Volunteers over the past two years. Working with NPCA, this community also helped lay the groundwork for new agency policies and legislation that will ensure a better, stronger, and more inclusive Peace Corps. You've raised your voices and provided critical financial support.
If you tuned in to our Annual General Membership Meeting last month, you heard some news that we've been eagerly awaiting for years: In October, the first cohort of Volunteers is expected to arrive in Viet Nam!
Peace Corps CEO Carol Spahn reiterated that point at a recent meeting with returned Volunteers who work in the federal government. You can watch that conversation here. It includes the update on the countries where Volunteers have returned — and where invitations are out for them to serve once more.
In front of us now is the important task of ensuring that the U.S. Senate passes the Peace Corps Reauthorization Act — to bring home important reforms and better support for Volunteers. With Volunteers returning to service, it's also important that Carol Spahn is confirmed as Peace Corps Director. To fuel these efforts, I hope you'll join NPCA as a Mission Partner if you haven't already. And, if you can, make a gift to ensure that we carry forward our work for a new generation of Volunteers.

Welcoming the first Volunteers to return to South Africa in two years. Photo courtesy Peace Corps South Africa
Where Volunteers Have Returned: Posts with Volunteers or Trainees
(As of October 21, 2022)
Albania & Montenegro (Peace Corps post includes both countries)

Belize

Benin

Botswana

Cambodia

Colombia

Costa Rica

Dominican Republic

Eastern Caribbean (Peace Corps post includes four countries: Dominica, St. Vincent and the Grenadines, St. Lucia, and Grenada)

Ecuador

Eswatini

Ghana

Guatemala

Guinea

Guyana

Jamaica

Kenya

Kosovo

Kyrgyz Republic

Lesotho

Madagascar

Mexico

Mongolia

Morocco

Namibia

North Macedonia

Panama

Paraguay

Peru

Rwanda

Senegal

Sierra Leone

South Africa

Tanzania

The Gambia

Togo

Uganda

Zambia

Where Volunteers Have Been Invited to Serve
(as of October 21, 2022)
Armenia

Cameroon

Fiji

Georgia

Indonesia

Liberia

Malawi

Nepal

The Philippines

Samoa

Thailand

Timor-Leste

Viet Nam
---
DAN BAKER is Interim President & CEO of National Peace Corps Association. He served as a Volunteer in Bolivia (1999–2002) and Timor Leste (2002–03), and has served on Peace Corps staff in Washington, D.C., Costa Rica, and Ethiopia. Write him at president@peacecorpsconnect.org.

---