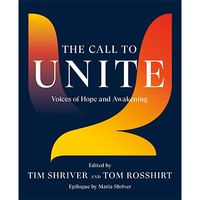 Call to Unite
Voices of Hope and Awakening
By Tim Shriver and Tom Rosshirt
Viking
Reviewed by NPCA Staff
Tim Shriver, who leads the Special Olympics International board of directors, teamed up in 2019 with a crew that included returned Volunteer Meisha Lerato Robinson (Benin 2000–02, South Africa 2012) to found the nonprofit organization Unite. As COVID-19 burned across the globe the next year, the group found an urgent focus — and a way to respond to the crisis.
Their first major project: a 24-hour broadcast in May 2020 that brought together people from around the world — monks and nuns, artists and activists, nurses and doctors, ex-presidents and former felons, imams and rabbis, archbishops and poets — to share messages of inspiration and transformation.
Participating luminaries included the Dalai Lama and Oprah Winfrey, Julia Roberts and Deepak Chopra, Naomi Judd and Peter Gabriel. Also part of the event: Sharmae Stringfield, a Volunteer evacuated in March 2020 from Malawi, and her colleague and counterpart in her community there, Chipiliro Ngwali.
NPCA President and CEO Glenn Blumhorst delivered a video message.
In book form, Call to Unite captures some of the spirit and substance of that event, with conversations and quotes from participants, including Meisha Robinson and RPCV Jack Kornfield (Thailand 1967–69), one of the key teachers to introduce Buddhist mindfulness practice to the West. Here are a few messages you'll find.
What Service Is

My mother used to tell me that to whom much is given, much is expected. I have taken that to heart. I feel that all the gifts we have been given in life — our time, our talent, our treasures — God gave them to us so that we would give them to others, give them to the people we meet throughout our day, give them to the people in our community and in our home. That is what service is.

—Meisha Lerato Robinson
A co-founder of Unite and former corporate brand manager, Meisha Lerato Robinson served in the Peace Corps in Benin and South Africa and is the founder of I Am, We Are, a youth empowerment initiative anchored in South Africa and dedicated to building a world where all youth are socially engaged, globally aware, and economically free.
Who You Really Are

When people are suffering, their pain is never separate from us — no matter where we live. It touches our hearts and our bodies because we are all in that field of caring for one another, whether we like it or not.

We know from research that even preverbal children care about those around them. If somebody is hurt, if another child is crying, if something gets lost, they want to help. That is born into all of us. It's what allows our species to survive. Even if we get frightened or confused, we all have the heart of compassion. When a baby is born, our first response is to love them. And when a loved one dies, our last gesture is to hold their hand. This timeless love is what really matters. And so part of what happens during painful times is that grief and anxiety build up in us. And we all wonder, "How do I find a way to hold this with a wise heart?"

—Jack Kornfield

Jack Kornfield is a bestselling author, peacemaker, and Buddhist Vipassana meditation teacher.
A Special Responsibility to Give Hope

We religious people have a special responsibility to give hope amidst this pandemic. When I speak about hope, it is not hope in the sense of an anesthetic to dull the throbbing pain of the current everyday reality. It is not an assurance that everyone will live happily ever after. To see hope in that way is an invitation to ultimately sink into despair and to surrender. No, hope is about acknowledging our fears, and dealing bravely with the pain, the reality, and the uncertainty brought to us by this pandemic. Only then will we have the love and strength to turn this crisis to good.

—Thabo Makgoba
Thabo Makgoba is the South African Anglican archbishop of Cape Town.
A version of this review appears in the special 2022 Books Edition of WorldView magazine. Story updated May 3, 2022.
---