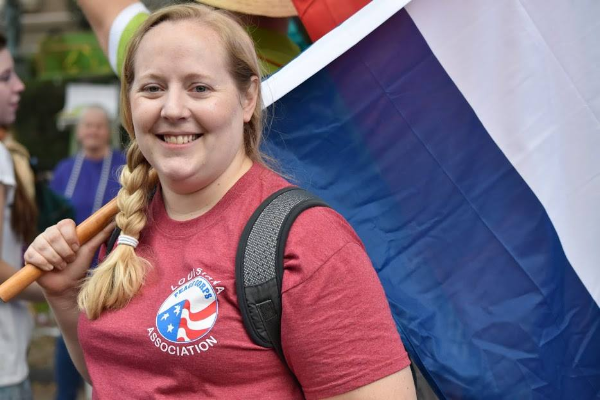 We are very proud of the hard work and commitment of our NPCA Volunteer Advocacy Coordinators – who are the key conduits between NPCA advocacy staff and our community at large. As we approach our third annual Health Justice Awareness Day, we are featuring Louisiana Advocacy Coordinator Kendra LeSar (Honduras 2007-09), who will be on Capitol Hill on June 22 to advocate for critical Peace Corps health care legislation, something she cares about from both a professional and personal perspective.
Best of Both Worlds
When Kendra graduated from college, she faced a decision that many face. Peace Corps or graduate school? "When I found the Master's International program at Tulane University School of Public Health and Tropical Medicine it seemed like the best of both. I was assigned to work with two government-run health centers in eastern Honduras where I taught reproductive health, HIV prevention, and nutrition classes."
Kendra's main assignment ended turned out to be teaching 5th grade sex education at a public elementary school. "I loved it and have worked in school health ever since."
Making Advocacy Personal
As an experienced advocate who has engaged at both the national and state level, Kendra is coming to Washington because she knows the most effective advocacy goes beyond a phone click.
"I think that participating in our democracy is critical. While emails and phone calls are useful, showing up and speaking to elected officials and their staff can have a huge impact on their consideration of issues."
And, when it comes to Peace Corps post-service health care, Kendra's personal experience is like that of many others. "I am coming to share my personal experience as a Returned Peace Corps Volunteer who is proud to have served my country but who also faced challenges accessing care for service-related injuries when I came home. I hope to speak with elected officials from Louisiana to tell them how important the Peace Corps is and how difficult it can be, under the current system, for volunteers to receive the health care that they need."
Progress on Multiple Fronts
As the Advocacy Coordinator with the Louisiana Peace Corps Association, Kendra says she is seeing increased interest in advocacy for Peace Corps and many other issues. "Our campaign to contact elected officials in March led to (Congressman) Cedric Richmond signing on to the Peace Corps funding Dear Colleague letter for the first time. It's exciting to see our efforts pay off!"
At the same time, Kendra notes that being an advocate for the Peace Corps goes beyond funding. "Funding is obviously essential to keep the Peace Corps operating, but to truly support the current, future, and returned volunteers we need to advocate for policies to improve the agency. As a public health professional, I think it is critical to ensure that all volunteers have access to the health services they need both while they are serving and when they return home."
Join Kendra!
There is still time to join Kendra on Capitol Hill on June 22nd, but you need to register here by our Sunday, June 18th deadline.
And, if you can't join us on Capitol Hill, set aside time and make plans to take action on June 22nd during our Health Justice Awareness Day.
---