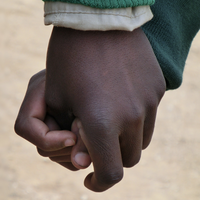 On March 15 more than 7,300 Peace Corps Volunteers were told they needed to leave the communities they had called home—an unprecedented global evacuation. They were uprooted from the lives and work they had come to know, sometimes without the opportunity to even say goodbye. They are returning to a country in crisis.
National Peace Corps Association is working to ensure they have the resources they need during these uncertain and difficult times. We also want to make sure the world hears their stories.
We are gathering here first-person videos and stories, as well as interviews with evacuated Volunteers from around the world.
We invite you to participate, too. We want to share your story—whether it's video, pictures, text, or you'd like to talk to one of our writers. This is just a beginning.
Stories
---
Daniel Lang
Mongolia
Home: Originally the Midwest — now North Las Vegas, Nevada
English Education and Community Development Volunteer
"To me, Peace Corps wasn't just about teaching languages. It was about promoting equity."
Meg Holladay
Ghana
Home: Amherst, Massachusetts
Peace Corps Health Extension Volunteer
"Peace Corps work is so powerful because it's work we do together with our communities, based on their priorities. It's work that can become sustainable as we share knowledge and learn together."
Danielle Shulkin
Panama
Home: Sharon, Massachusetts
Teaching English, Leadership, and Life Skills (TELLS) Volunteer helping teachers improve their skills and develop new teaching methodologies. She had one hour to pack before evacuating. Now she is a contact tracer with Partners In Health.
"I'm still hoping to go back to Panama one way or another, mostly because I feel very indebted to the whole country and I really want to pay that back...I can only hope that we have the opportunity to do that moving forward."
Chelsea Bajek
Vanuatu
Home: Rochester, New York by way of Arlington, Virginia
Community health Volunteer in a rural community, focusing on water, sanitation, and nutrition.
"Even though I am back in the United States, I continue to work with the women's group on this project, believing it could provide real change for these women."
Charles Castillo
Namibia
Home: Medford, New Jersey
Teaching information communication technology and art classes to deaf students in northern Namibia.
"I would also like for Peace Corps Volunteers to help empower deaf and hard-of-hearing people to let them know that they are just as capable as hearing people in achieving their dreams, and to not let anything hold them back."
Elyse Magen
Colombia
Home: San Francisco, California
Working on economic empowerment of women in Colombia — helping women who harvest cacao and turn that into chocolate products*
"These women [entrepreneurs] have been fighting really hard … a lot of people telling them they can't."
*Through NPCA's Community Fund, Elyse's project was fully funded!
Danielle Montecalvo
Madagascar
Home: Rochester, New York
Post-secondary English educator at the University of Mahajanga
"I left behind the most extraordinary community … If it is not possible to personally reinstate or return to Metangula, I hope that Peace Corps is able to reinstate its programs in Mozambique so that Metangula will receive another volunteer in the future."
Kevin Lawson
Ukraine
Home: Greensboro, North Carolina
Youth Development Volunteer in Apostolove, Dnipropetrovs'ka oblast
"Ukrainians and I are asking the same question: When will I come back? And more important: When will Peace Corps come back?"
Jim Damico
Nepal
Home: Kansas City, Missouri
Three-time Peace Corps Volunteer teaching English — and had hoped to extend to three years of service in Nepal. Previously served in Thailand and Mongolia.
"I left students behind — many that were lower level students that most teachers had written off. … Many of them have begun to be excited about learning … I want to return as soon as possible."
Stacie Scott
Mozambique
Home: Louisville, Kentucky
Serving as a community health services promoter
"I left behind the most extraordinary community … If it is not possible to personally reinstate or return to Metangula, I hope that Peace Corps is able to reinstate its programs in Mozambique so that Metangula will receive another volunteer in the future."
Ryan Blackwell
Togo
Home: Greater Washington, DC Area
Serving as an English teaching and gender education Volunteer
"We need to get the Peace Corps opened up again as soon as possible. … [They're] doing incredible work, especially supporting girls' education."
Sierra Drummond
Thailand
Home: Thousand Oaks, California
Working as part of Teaching Empowerment for Student Success (TESS) program, teaching alongside a Thai teacher.
"Peace Corps really provides an outlet for creating a global community, and I think there always be a need for that."
Lucy Baker
Mongolia
Home: San Francisco, California
Working as a Public Health Education Volunteer
"Mongolia loves Peace Corps! … I really hope that—in enough time—Peace Corps will send Volunteers back and be able to continue the work going on in the country."
Benjamin Rietmann
Dominican Republic
Home: Condon, Oregon
Working with dairy farmers on economic development and entrepreneurship.
"Much of what I was doing seemed like it would soon have promising results."
Jae Cho
Kyrgyz Republic
Home: Gloucester, Virginia
Teaching English as a foreign language in a school in a small village. Unfinished business: building a resource center for learning English to help students, faculty, and staff.
"I hope everyone stays safe, and I will be back as soon as possible."
---
Steven Boyd Saum served as a Peace Corps Volunteer in Ukraine 1994–96 and is the editor of WorldView magazine. Reach him at worldview@peacecorpsconnect.org.
---