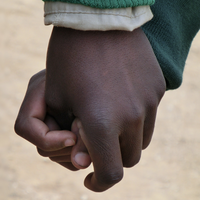 On March 15 more than 7,300 Peace Corps Volunteers were told they needed to leave the communities they had called home—an unprecedented global evacuation. They were uprooted from the lives and work they had come to know, sometimes without the opportunity to even say goodbye. They are returning to a country in crisis.
National Peace Corps Association is working to ensure they have the resources they need during these uncertain and difficult times. We also want to make sure the world hears their stories.
We are gathering here first-person videos and stories, as well as interviews with evacuated Volunteers from around the world.
We invite you to participate, too. We want to share your story—whether it's video, pictures, text, or you'd like to talk to one of our writers. This is just a beginning.
Stories
---
Jae Cho
Kyrgyz Republic
Home: Gloucester, Virginia
Teaching English as a foreign language in a school in a small village. Unfinished business: building a resource center for learning English to help students, faculty, and staff.
"I hope everyone stays safe, and I will be back as soon as possible."
Benjamin Rietmann
Dominican Republic
Home: Condon, Oregon
Working with dairy farmers on economic development and entrepreneurship.
"Much of what I was doing seemed like it would soon have promising results."
Lucy Baker
Mongolia
Home: San Francisco, California
Working as a Public Health Education Volunteer
"Mongolia loves Peace Corps! … I really hope that—in enough time—Peace Corps will send Volunteers back and be able to continue the work going on in the country."
Sierra Drummond
Thailand
Home: Thousand Oaks, California
Working as part of Teaching Empowerment for Student Success (TESS) program, teaching alongside a Thai teacher.
"Peace Corps really provides an outlet for creating a global community, and I think there always be a need for that."
Ryan Blackwell
Togo
Home: Greater Washington, DC Area
Serving as an English teaching and gender education Volunteer
"We need to get the Peace Corps opened up again as soon as possible. … [They're] doing incredible work, especially supporting girls' education."
---
Steven Boyd Saum served as a Peace Corps Volunteer in Ukraine 1994–96 and is the editor of WorldView magazine. Reach him at worldview@peacecorpsconnect.org.
---