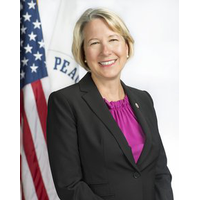 By co-hosting the 2016 Peace Corps Connect conference, the National Peace Corps Association invited leaders in economic development, environmental sustainability, equality of marginalized populations, global health, and security to speak to an audience of development experts. In addition to their work in these fields, the respective leaders champion women's rights.
Register now for this important event.
On September 22, Congresswoman Kay Granger (R-TX) and Congresswoman Nita Lowey (D-NY) will receive the National Peace Corps Association's Congressional Leadership Award. They are the Chairwoman and Ranking Member, respectively, of the State, Foreign Operations and Related Programs Appropriations Subcommittee. Congresswoman Granger has also been recognized for her humanitarian efforts in attacking the practice of human trafficking, among other issues. Congresswoman Lowey, former Chair of the Congressional Women's Caucus, is a leader in the fight against domestic violence.

September 23, Liberian President Ellen Johnson Sirleaf will address the Peace Corps community during the presentation of the Deborah Harding Women of Achievement Award ceremony. President Sirleaf, a lifelong advocate for girls and women, is Africa's first democratically elected female Head of State. During her career, she has been a voice for peace and reconciliation, serving on committees investigating conflict in her own country, the Rwandan genocide and the Democratic Republic of Congo, and was selected by UNIFEM to report on the impact and importance of women in peacebuilding. The Deborah Harding Award honors a Peace Corps Volunteer whose contributions have made a significant difference in the lives of women and girls in the world. This inaugural award will celebrate Sara Goodkind, founder of Girls Leading Our World (GLOW) Camps, now implemented in Peace Corps countries worldwide.
The same day Dr. Margee Ensign, President of the American University of Nigeria, will speak about creating opportunities for girls who escaped from Boko Haram, and how each can get the education they deserve. She will speak to the importance of empowering girls and women around the world and how the Peace Corps community, in partnership with the White House Let Girls Learn Initiative, can play a leading role in these efforts.
On September 24, Sarah Chayes, senior associate at the Carnegie Endowment for International Peace, will reflect on her decades of experiences with war, peace and community. The Morocco RPCV will be joined a colleague and friend, Sebastian Junger. After several years covering conflicts as NPR's Paris correspondent, including in Kosovo and in Afghanistan, Ms. Chayes put down her microphone to play an active part in rebuilding that war-torn countries. Ms. Chayes later served as special assistant to Chairman of the Joint Chiefs of Staff Admiral Mike Mullen. She is the author most recently of Thieves of State: Why Corruption Threatens Global Security, winner of the LA Times Book Prize.
Breakout sessions include The Peace Corps Experience: Providing Leadership Opportunities for Women as Volunteers and Beyond and Gender Equity in Environmental Sustainability.
For more information and to register for the event, visit our 2016 Peace Corps Connect page.
---