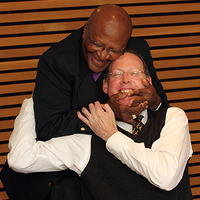 He founded Partners in Health and dedicated decades to focus on healing the poorest and the sickest in a dozen countries.
By Catherine Gardner
Sharing a commitment to helping the poor and a hug: Archbishop Desmond Tutu and Paul Farmer. Photo courtesy Skoll Foundation

Paul Farmer's life was one dedicated to health, human rights, and ameliorating the consequences of social inequality. He was someone known personally by many in the Peace Corps community, and he has inspired countless more. Tracy Kidder, in his biography of Farmer, Mountains Beyond Mountains, described him as "a man who would cure the world."
As a college student, Farmer worked with a migrant camp in North Carolina and got to know several Haitian migrants and their stories. A year after graduating from college he traveled to Haiti and was inspired to build a clinic in the village of Cange to aid struggling health practitioners. He studied medicine at Harvard and at the same time continued treating the poor and sick in Haiti. In 1987 he co-founded Partners in Health, an organization dedicated to providing care and strengthening public health systems with a focus on healing the poorest and sickest in communities in a dozen countries. He partnered with corporations and foundations and called PIH "the house of yes," with a goal of meeting the needs for both short- and long-term care.
Farmer continued to work in the realm of public health for decades, addressing HIV/AIDS, tuberculosis, maternal and child health, mental health, and more. He assisted West Africa with the Ebola epidemic in 2014 and implemented contact-tracing methods to combat COVID-19 in 2020. He died in February at age 62.
This remembrance appears in the Spring-Summer edition of WorldView magazine.
---
Catherine Gardner is an intern with WorldView. She is a student at Lafayette College.
---