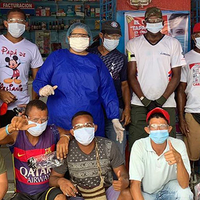 A Volunteer-led project now serves communities in the Americas, Asia, and Africa — and just hit a big milestone.
Olla Milagrosa (Fundacion, Magdalena, Colombia), which has benefited from earnings through TCP Global, has distributed food and facemasks during the COVID-19 pandemic. Photo courtesy TCP Global
Two decades ago, when 25,000 families were displaced annually by violence in Colombia, a group of Returned Peace Corps Volunteers started The Colombia Project, a loan program to help families reestablish financial independence. The program quickly grew to include communities in Niger, Guatemala, and Peru. It now serves 14 countries in Asia, Africa, and the Americas. In October 2020, this volunteer effort reached a milestone: $1 million in microloans.
"The goal is to create opportunities so migration becomes a choice rather than a necessity," says co-founder Helene Dudley, who served as a Volunteer in Colombia 1968–70. "We expect to reach the next million by 2025."
Last year, six Volunteers who were evacuated because of the pandemic joined the TCP Global team, bringing energy and creativity. The program added 30 new sites, including five introduced by evacuated Volunteers who worked with their counterparts virtually to introduce microloan programs.
---