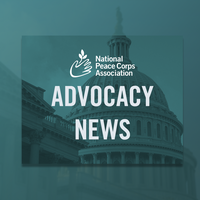 We will need strong support from the House of Representatives in order to see a Peace Corps funding increase in the fiscal year that begins next October (FY 2020).
Here's why.
Representatives John Garamendi (D-CA), Joe Kennedy (D-MA), and Garret Graves (R-LA) are circulating their annual Peace Corps funding letter. This letter to the House Appropriations Subcommittee on State/Foreign Operations asks that Peace Corps funding for FY 2020 be increased by nearly ten percent, to $450 million. This increase would follow four consecutive years of flat funding for the Peace Corps.
This letter carries great weight because of the high number of signatures it normally receives. Those signatures don't come easy, and don't happen without your involvement.
As this year's letter winds down, we have surpassed last year's record of 180 signatures. Congratulations!
TAKE ACTION - 3 SIMPLE STEPS
Share the link with five friends and ask them to take action.

Contact us if you want to find out more on how you can help.
The following members of the House of Representatives have signed the Peace Corps funding Dear Colleague letter. Contact them and say thank you!
(Last updated Thursday, March 28th, 2:00 PM - Please bookmark this page and return for regular updates!)
Current Number of Signatures: 181

ALABAMA
ALASKA
AMERICAN SAMOA
Aumua Amata Coleman Radewagen
ARIZONA
Ruben Gallego

Raul Grijalva
CALIFORNIA
Karen Bass

Ami Bera

Julia Brownley

Salud Carbajal

Tony Cardenas

Judy Chu

Gilbert Cisneros

Jim Costa

Susan Davis

Mark Desaulnier

Anna Eshoo

John Garamendi (co-author)

Jimmy Gomez

Katie Hill

Ro Khanna

Doug LaMalfa

Barbara Lee

Mike Levin

Ted Lieu

Zoe Lofgren

Alan Lowenthal

Doris Matsui

Jerry McNerney

Grace Napolitano

Jimmy Panetta

Scott Peters

Katie Porter

Harley Rouda

Lucille Roybal-Allard

Linda Sanchez

Adam Schiff

Jackie Speier

Eric Swalwell

Mark Takano

Juan Vargas

Maxine Waters
COLORADO
Diana DeGette

Joe Neguse

Ed Perlmutter
CONNECTICUT
Joe Courtney

Rosa DeLauro

Jahana Hayes

Jim Himes

John Larson
DELAWARE
DISTRICT OF COLUMBIA
FLORIDA
Kathy Castor

Ted Deutch

Alcee Hastings

Al Lawson

Stephanie Murphy

Donna Shalala

Darren Soto

Frederica Wilson
GEORGIA
Sanford Bishop

Hank Johnson

John Lewis

David Scott
GUAM
HAWAII
ILLINOIS
Cheri Bustos

Sean Casten

Danny Davis

Bill Foster

Jesus Garcia

Robin Kelly

Daniel Lipinski

Bobby Rush

Jan Schakowsky

Brad Schneider
INDIANA
IOWA
Cynthia Axne

Dave Loebsack
KENTUCKY
LOUISIANA
Garrett Graves (co-author)

Cedric Richmond
MAINE
Jared Golden

Chellie Pingree
MARYLAND
Anthony Brown

Elijah Cummings

Jamie Raskin

Dutch Ruppersberger

John Sarbanes

David Trone
MASSACHUSETTS
William Keating

Joseph Kennedy III (co-author)

Stephen Lynch

James McGovern

Seth Moulton

Richard Neal

Ayanna Pressley

Lori Trahan
MICHIGAN
Debbie Dingell

Dan Kildee

Andy Levin

Elissa Slotkin
MINNESOTA
Angie Craig

Jim Hagedorn

Collin Peterson
MISSISSIPPI
MISSOURI
NEVADA
NEW HAMPSHIRE
Ann McLane Kuster

Chris Pappas
NEW JERSEY
Josh Gottheimer

Andy Kim

Tom Malinowski

Donald Norcross

Bill Pascrell Jr.

Frank Pallone Jr.

Donald Payne Jr.

Mikie Sherrill

Albio Sires

Jeff Van Drew
NEW MEXICO
Deb Haaland

Ben Ray Lujan
NEW YORK
Yvette Clarke

Antonio Delgado

Eliot Engel

Adriano Espaillat

Brian Higgins

Hakeem Jeffries

John Katko

Carolyn Maloney

Sean Patrick Maloney

Gregory Meeks

Joseph Morelle

Jerry Nadler

Alexandria Ocasio-Cortez

Kathleen Rice

Thomas Suozzi

Paul Tonko

Nydia Velazquez
NORTH CAROLINA
Alma Adams

G.K. Butterfield
NORTHERN MARIANAS ISLANDS
Gregorio Kilili Camacho Sablan
OHIO
Joyce Beatty

Marcia Fudge
OREGON
Earl Blumenauer

Suzanne Bonamici

Peter DeFazio
PENNSYLVANIA
Brendan Boyle

Mike Doyle

Dwight Evans

Brian Fitzpatrick

Susan Wild
PUERTO RICO
RHODE ISLAND
David Cicilline

Jim Langevin
TENNESSEE
TEXAS
Colin Allred

Joaquin Castro

Lloyd Doggett

Veronica Escobar

Al Green

Sheila Jackson Lee

Eddie Bernice Johnson

Marc Veasey

Filemon Vela
VERMONT
VIRGINIA
Don Beyer

Gerald Connolly

Donald McEachin

Bobby Scott

Abigail Spanberger

Jennifer Wexton
WASHINGTON
Suzan DelBene

Denny Heck

Pramila Jayapal

Rick Larsen

Kim Schrier

Adam Smith
WISCONSIN
---