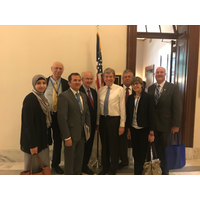 At the beginning this week, NPCA President Glenn Blumhorst (far right, with Missouri delegation meeting Senator Roy Blunt) led a Capitol Hill delegation to support stable funding for our nation's international affairs programs during a "State Leaders Summit" organized by the U.S. Global Leadership Coalition.
By week's end, Congress moved to make sure that happen – with Peace Corps funding also in the mix for stable funding.
In a concerted effort to complete its work before the October 1st start of the 2019 fiscal year (FY 2019), the Senate and House Appropriations Committees both gave approval to respective appropriations bills that have strong similarities.
In approving its State/Foreign Operations proposal, the House Appropriations Committee is recommending level funding of $54 billion for FY 2019. The proposal of the Senate Appropriations Committee was slightly larger, proposing a one percent increase to $54.4 billion. These recommendations are in sharp contrast to the Trump administration's proposal to cut this funding by nearly thirty percent.
The pathway for the Peace Corps is similar. While the Trump administration proposed a $14 million cut to the agency for FY 2019, the Senate Appropriations Committee is recommending level funding of $410 million. The House Appropriations Committee approved a recommendation with a very slight increase in funding – to $410.5 million.
As the committee recommendations head next to the full Senate and House, NPCA President Blumhorst congratulated all Peace Corps community members who took action over the past months.
"For every member of our community who over the past four months has made a phone call, sent an email, wrote a post card, participated in a district office meeting or came to Washington, we thank you. It is vitally important that our elected representatives hear from constituents who believe in the power of the Peace Corps and the importance of our diplomatic, international development and humanitarian assistance programs. Your individual actions add up, and they protect Peace Corps and other programs so many in our community care about. This achievement belongs to you."
Follow these links to read the summaries of the State/Foreign Operations bills approved by the Senate and House Appropriations Committees.
---