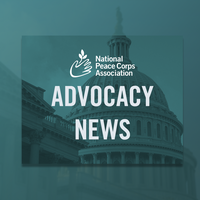 As Senate leadership struggles to bring a Fiscal Year 2020 State/Foreign Operations bill to the Senate Floor for a vote, a recently released copy of proposed funding levels strongly suggests that Peace Corps will not receive the recommended raise from Senate appropriators.
The Senate's proposed funding level for the State Department and a wide range of international affairs programs totals $56.8 billion, a roughly 1.4 percent increase over current spending.
Included in the proposal released late this week is a recommendation that Peace Corps funding remain at $410.5 million.
Differences between House and Senate Funding Recommendations
Meanwhile, the House of Representatives has already approved a State/Foreign Operations appropriations bill that recommends a 3.5 percent increase in Peace Corps funding, at $425 million.
With disagreements in funding levels and the end of the 2019 federal fiscal year just days away, Congress is moving to finalize a continuing resolution. This temporary funding bill will allow federal programs to continue operating after the October 1st deadline at current levels until both sides strike a long-term funding deal.
Eventually, both chambers will need to come together in a Conference Committee and negotiate agreed upon funding levels where differences exist. This includes the likely $14.5 million discrepancy in Peace Corps funding.
Watch for Updates
Stay connected to National Peace Corps Association for updates and opportunities for action in support of increased funding for Peace Corps. As the Senate and House look to be moving towards different recommendations, action alerts for strong Peace Corps funding are very likely this fall.
---