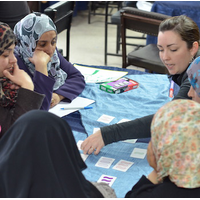 We wanted to understand the world through action, and we wanted to serve. That changed the path of my life.
By Shaylyn Romney Garrett
Photo: Students in Jordan work with Shaylyn Romney Garrett on critical thinking skills and activities — a summer project they launched that turned into a national initiative. Courtesy Shaylyn Romney Garrett
My husband, James, and I had been married for a little over a year. We were on track to create careers as academics — he in psychology, me sociology, anthropology. We love to study the world, but we also wanted to be in the world to try and understand it through action. We had wanted to do service together. And we had lived through the Bush years, which for us were really hard, especially watching the destructive influence the U.S. was having in the world.
In thinking about how to serve, we deliberately chose a program sponsored by the U.S. government — to participate in something our government was doing that we really believed in. So we joined the Peace Corps. Anybody who has joined the Peace Corps knows it's an arduous application process. That gave us a lot of time to sit with that decision!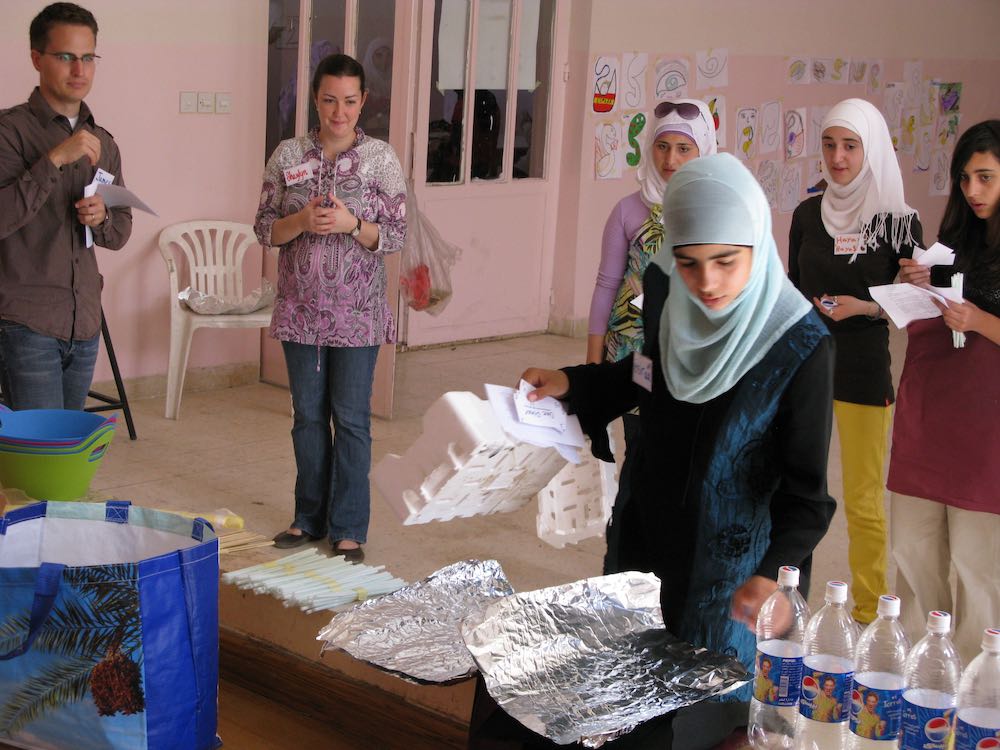 Brain Camp: Girls in Jordan undertake projects in critical and creative thinking, whyle Shaylyn Romney Garrett and her husband, James, look on. Photo courtesy Shaylyn Romney Garrett
We were ultimately placed in Jordan. I was a TEFL Volunteer, my husband a youth development Volunteer. I taught in a government girls' school, he in a boys' youth center. As part of our program, we were required to create a summer camp. We created a camp around critical and creative thinking; that was something that the Ministry of Education was really buzzing about. Particularly Queen Rania, a champion of efforts to transform rote-memorization learning into education for critical thinking. We built an experiential game-and-activity-based critical thinking program called Brain Camp.
It sort of caught fire. We ended up training other Volunteers to do it all over Jordan. By coincidence, we met Queen Rania, because she showed up at a community center where we were putting on a summer camp. She loved what she saw and invited us to partner with her foundation to bring the program to more students.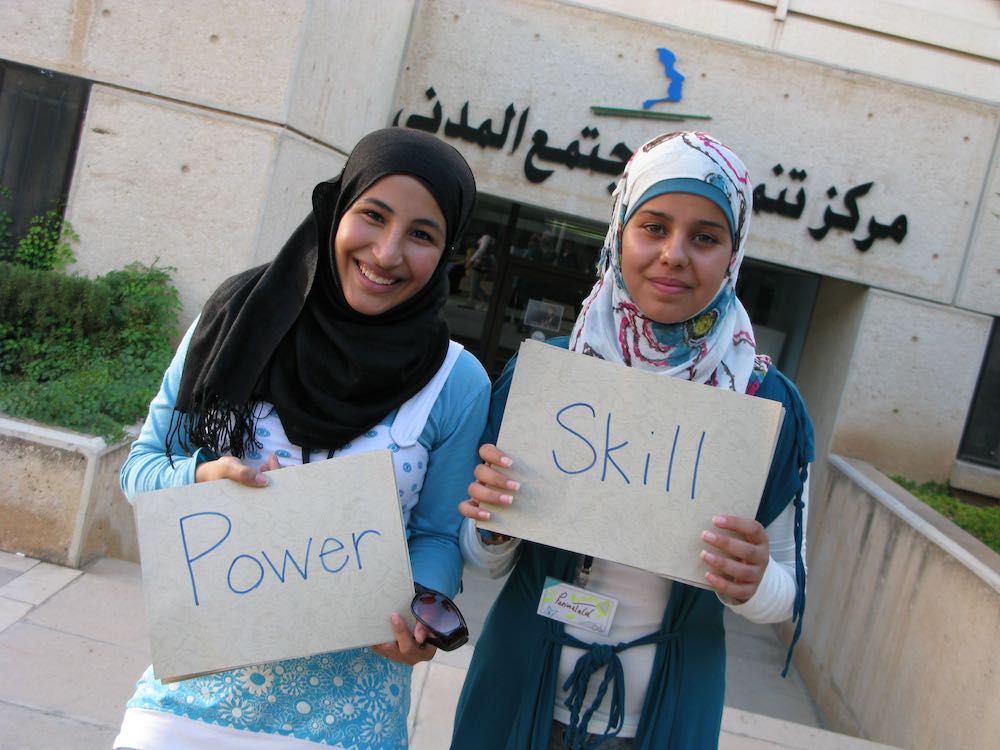 Power and skill: What started as a project to help students develop critical thinking and creative problem-solving skills also changed the path of Shaylyn Romney Garrett's life. Photo courtesy Shaylyn Romney Garrett
After our Peace Corps service, we came back to the U.S., founded a 501(c)3 called Think Unlimited, raised enough money to get back to Jordan, and then worked with Queen Rania and the foundation for a year to get the program into public schools and to train local teachers to implement it as an after-school program. Ultimately, we transitioned into working directly with private universities. We ran a two-semester credit-bearing course in multiple universities that was marketed as a critical thinking and social entrepreneurship curriculum. The first semester was a kind of self-exploration journey. In the Middle East, kids aren't given a lot of opportunity to think about Who am I? What's my contribution? What am I passionate about? The second semester was all about applying that learning in the world, and how to be a citizen and an active builder of society.
That ended up being a six-year journey — a couple of years in Peace Corps, four more years as private citizens in Jordan. What started as a desire to serve ultimately altered the path of my life, opening up incredible opportunities for service and growth.
This story appears in the 60th-anniversary edition of WorldView magazine.
Story updated January 17, 2022.
---
READ MORE: "We Can Do It! Again!" Shaylyn Romney Garrett on the research that shaped The Upswing: How America Came Together a Century Ago and How We Can Do It Again
---