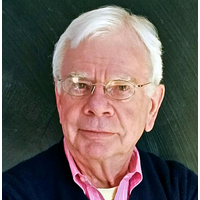 How WorldView pieces together our Peace Corps experience
By David Arnold
As this magazine continues publishing into its fourth decade, WorldView has become many things for the Peace Corps community. That's what magazines do. Particularly this one. The tone and texture of this modest quarterly was bound to change for at least several reasons: tumultuous events in most of the 142 countries where we have served for more than five decades, the diversity of those of us who have volunteered to go there, and the often-failing efforts of our own government's larger attempts to provide world leadership.
The puzzle
Since I began editing WorldView in late 1992, I've lurked in the background of NPCA's flagship publication and juggled stories about three worlds—the kaleidoscope of cultures, political currents, and personal ties more than 240,000 of us discovered; our very futures that those experiences launched; even our desire to shape a federal government that has consistently failed to appreciate the potential of our experiences since about 1962. In all of this I've stood like the Wizard of Oz behind a curtain—a name somewhere near the top of a list of NPCA staff, assembling the stories RPCVs shared with myself, two other editors, six presidents and their staffs—to put our puzzle together. As I turn WorldView over to other hands I think about how this magazine with such an ambitious title works.
Unlike a jigsaw puzzle, the RPCV narratives of experiences—letters, phone calls, manuscripts, and emails I have harvested four times a year to seed the magazine—did not come shrink-wrapped in a colorful box. I find that the conflicting shapes, sizes, and colors of our stories never produce a simple, complete picture. WorldView is forever the voice of our diverse population. And we are often compelled to disagree with each other.
My frame of reference when I started editing WorldView was a pride in remembering a different and new life among my students and neighbors in Asbe Teferi, Ethiopia in the mid-'60s. As editor, I wanted to capture the multitude of events and opinion shaped by other Peace Corps experiences so we could gather our worldviews and take them into the nation's classrooms and then rally Congress and our neighbors in every state to conduct better foreign relations and fewer military relations. I knew it was a naïve notion, but I was lucky to have the chance and I enjoyed every minute of it. I'm deeply grateful to National Peace Corps Association for letting me try.
Since WorldView launched in 1988, three RPCVs have edited the magazine. Our first editor, Jeff Drumtra (Niger 78-80), a former editor of Ralph Nader's Public Citizen, rightly defined WorldView as a piece of journalism about the developing world. I was second in line and even edited an early issue of the magazine through fax and DHL shipping from Addis Ababa. As NPCA staff, both Jeff and I were magazine editors who fulfilled other functions as well. When Erica Burman (The Gambia 87-89) replaced me, she not only edited the magazine but fulfilled an overwhelming NPCA need to get us onto the internet with social media. When I returned to NPCA four years ago to edit WorldView, it was on a part-time basis, much the same engagement as Steven Boyd Saum (Ukraine 94-96), who became editor with this edition.
Editorial trends
Our content has evolved over the years. Early on we fashioned WorldView to talk more about the world than about Peace Corps. One third of each issue was country-by-country news summaries edited by a corps of international journalists that included Time Asia bureau chief Barry Hillenbrand (Ethiopia 63-65), and Associated Press Chicago correspondent David Briscoe (Peru 66-70). We carried an interview by Newsday's Pulitzer Prize winner Josh Friedman (Costa Rica 64-66), and Associated Press Washington bureau chief George Gedda (Venezuela 62-64) wrote a monthly column for us. We also published authors who never served in the Peace Corps. Charles Larson (Nigeria 62-64), an American University professor of world literature, embedded the writing of dozens of the world's literary talents such as Nigeria's Ken Saro-Wiwa, Lebanon's Hanan al-Shaykh, and Somalia's Nuruddin Farah.
Editors can collaborate and they can take control. From behind my editor's curtain I leaned toward the latter role as I weighed what hundreds of writers contributed to WorldView's content, tone, look, and intent. We were becoming a magazine of news and comment about the rest of the world. It's always been hard to know what our readers want. Our reader base is a bifurcated international audience of thousands of RPCVs who volunteered over many decades, and those thousands who are now serving overseas.
A few years ago NPCA's president, Glenn Blumhorst (Guatemala 88-91) hired me to edit WorldView again. He told me he wanted the magazine to be an essential resource for PCVs and RPCVs. It took me a while to understand how to do that, but we now focus on the good work of individual RPCVs and the global partnerships NPCA has nurtured. Partners like Water Charity and TCP Global create groundbreaking results by fostering small economic engines through microcredit loans to coffee growers, weavers, and gardeners; they provide clean water and reliable sanitation to small remote schools and communities in Africa, Latin America, and Central Europe—and less frequently in the Middle East and Central Asia. We've also benefited greatly from the burgeoning network of RPCV Writers founded by John Coyne (Ethiopia 62-65) who blogs about our RPCV writers and their books.
Through original writing or reprinting articles relevant to our cause, the magazine has published the opinions and reporting of former ambassador Robert Ford (Morocco 88-90), former U.S. special envoy to Afghanistan Richard Holbrooke (Morocco 70-71), nationally known reporters and commentators such as The New Yorker's Peter Hessler (China 96-98), The Atlantic's political reporter George Packer (Togo 82-83) and its Russia observer Jeffrey Tayler (Morocco 88-90), environmentalist and former Sierra Club director Carl Pope (India 68-69), and Brookings Institution Pentagon watcher Michael O'Hanlon (Congo/Kinshasa 82-84). Among the long list of innovative and successful NGO executives is Tony Kalm (Sri Lanka 95-97), for years with The One Acre Fund and now the LINK Fund. There are countless more.

Dressing the magazine
Your first look at the quarterly—our cover—is an important first impression. That's where we set the tone, make promises, appeal to you intellectually and emotionally, and persuade you to look inside. The most compelling covers have graphically portrayed the AIDS epidemic in sub-Saharan Africa, the global water crisis, Afghanistan RPCVs who remembered the traditional life and times of Afghanistan as Russian tanks invaded the country—and even my first issue, when the Iron Curtain fell and Peace Corps responded to Eastern Europe's invitation by sending volunteers.
Recent covers have justifiably captured international events that have had a deep impact on the Peace Corps community—both serving and returned Peace Corps Volunteers: girls' education in Africa, root causes of Central America's rush to our borders, the African exodus to Europe, the U.S. troop withdrawal from Syria, and the reporting in this issue on the threats posed by climate change to Pacific islands.
This Peace Corps community began in print. NPCA's forerunner, the National Council of Returned Peace Corps Volunteers, published a tabloid, RPCVoice, edited by Katy Hansen (Nigeria 66-68). Roger Landrum (Nigeria 61-63), Karen Keefer (Nigeria 66-68), and others brought this movement to Washington, D.C. and committed to a quarterly print magazine. A few years after launching WorldView, they published a quarterly alumni newsletter designed by Marian Hailey Beil (Ethiopia 62-64) called 3/1/61 to honor the birth of Peace Corps. That allowed WorldView to devote its own pages to news and comment about the developing world and creating a quarterly Third Goal tool for a wider U.S. readership. When NPCA created its innovative Global TeachNet program to support RPCVs and teachers working in U.S. classrooms, its study guides were often based on WorldView articles. In the process the magazine began publishing fatter issues of up to 108 pages.
We've been fortunate that gifted photographers like Kevin Bubriski (Nepal 75-77) and sculptor Martin Puryear (Sierra Leone 64-66) have graced our pages with their work. To establish greater visual clarity and readability for these images and the texts of our reporting and essays, last year we hired art director David Herbick. His deft design skills have inspired us to reimagine what WorldView can be and set the stage for the birth of our digital twin.
What's next?
More than 70 percent of RPCVs surveyed recently about the future of WorldView said they wanted two things from NPCA: a thriving digital publishing presence to join in partnership with the print quarterly. The title has now been jointly branded under the name WorldView.
WorldView is now adding an app so you can access the quarterly on your smart phones and laptops wherever you are. And in between issues, we'll add exclusive news and features. We're also providing all serving Peace Corps volunteers with the app so they can get WorldView more quickly.
NPCA is now at an interesting crossroads. The staff is moving into a building of its own, creating its own longer-term overseas development projects for members, and hosting state-of-the-art data management and communication support services for many of our 185 affiliates as they grow and engage in our grassroots advocacy projects. Advocacy is the politically correct term for the lobbying we do in Washington, D.C. to get Congress to adequately fund needed benefits for PCVs and RPCVs, and to fight for Peace Corps' independence and growth to serve changing needs in the developing world.
Alongside this, digital and print WorldView are poised to thrive as our handcrafted blend of revolution and tradition, the ephemeral and the tactile, with a single message for a larger universe of readers within the Peace Corps community and on the internet beyond.
Although print magazine and newspaper markets have declined in the last few decades, many magazines large and small survive the threats of a shifting digital media landscape. Plenty of universities and service organizations also thrive with print, while their websites and social media engage broader—or different—audiences. Reuters reports that some new print magazines have found a new niche because readers are retreating from the hectic, loud, and cluttered landscape of the digital world's algorithms to find the quiet intimacy of the tangible—with writers you know and trust. Among other venerable titles, the monthly Popular Science scaled down to quarterly distribution, increased its price, and grew subscriptions by 30 percent.
Does everyone get WorldView? No. Five years ago, NPCA stopped requiring membership dues: All who served in Peace Corps are now members. We currently reach about 25,000 readers in print—through 7,500 serving PCVs and those RPCVs who subscribe to the magazine or otherwise support NPCA with donations. Our digital and print magazines could eventually reach all 240,000 RPCVs—and much wider audiences—through the communities that we're part of.
The business end of the story
The magazine connects us. And for most of its history, the print WorldView has produced financial benefits for NPCA and its community. NPCA's leaders have considered the risks and benefits of offering a free WorldView to everyone. Most issues of the magazine are financially self-sustaining through grants, advertising, individual subscriptions, and a modest subscription contract with Peace Corps for agency distribution to serving volunteers. For a printed magazine the obvious hurdle is the cost of providing a much larger circulation.
The decision to expand circulation is not an easy one, but the decision could be made easier through NPCA's pursuit of partnerships with corporations and foundations concerned about the U.S. role in the world. We've done it before with significant grants that financed editions of WorldView devoted to conflict resolution, reproductive health, the global water crisis, and the AIDS epidemic in sub-Saharan Africa. Funding came from the Hilton Foundation, a consortium of heath care NGOs and Johns Hopkins Bloomberg School of Public Health and Arizona State University's Thunderbird School of Global Management, the U.S. Institute for Peace, and the U.S. Agency for International Development. The credit for gathering these financial resources largely goes to Jim Collins, a Kentucky gentleman who did the same for the Council on Foreign Relations' Foreign Affairs magazine. As our magazine's advertising director Collins understood our publisher's values and mission and demonstrated a marketplace creativity that surpassed my own.
NPCA is building WorldView and other crucial programs through institutional partnerships and revenue-generating advertising. At the same time, the president, staff, and directors of NPCA face future decisions about the role these printed pages will play in engaging the 90 percent of the Peace Corps community who aren't connected to NPCA.
I am confident that our new editor, Steven Saum, can present a printed magazine that will build in interesting and important ways on what NPCA has done in the past. Saum brings a sense of the pleasure and, as he describes it, "the stickiness" of explanatory and entertaining prose to the magazine. The editorial and management skills Saum has already applied to magazines in the San Francisco Bay area are well recognized—including with EDDIE and MAGGIE awards in industry competitions alongside Mother Jones, Harvard Business Review, and The Economist.
I can imagine the resounding success the digital and print WorldView might now achieve as a powerful Third Goal tool for teaching America about the world we serve. We can then help to make a little more sense of the global puzzle Peace Corps volunteers have put together.
---
David Arnold taught English and social studies with his wife, Courtney, at a secondary school in Asbe Teferi, Ethiopia from 1964 to 1966. He wrote and edited for U.S. newspapers and magazines, supervised 20 Ethiopian broadcasters airing language broadcasts for Voice of America to Ethiopia and Eritrea, and received Fulbright and Ford Foundation grants to teach journalism in Pakistan and Kenya. He joined the NPCA staff in 1992.
This story was first published in WorldView magazine's Spring 2020 edition.
---