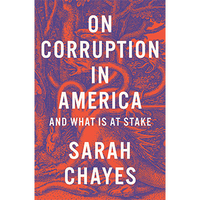 On Corruption in America
And What Is at Stake
By Sarah Chayes
Penguin Random House
Reviewed by Steven Boyd Saum
Back in 2015, when Sarah Chayes published Thieves of State: Why Corruption Threatens Global Security, she gave an interview in which she warned: "As far as Afghanistan is concerned, I think the window of opportunity to exert real leverage on governance and corruption is closed ... We had more than a decade, and we squandered a remarkable moment in history." In August 2021, as the United States executed a chaotic withdrawal from Afghanistan and the Taliban returned to power, Chayes wrote a blog post titled "The Ides of August." It bears quoting at length:
Afghans did not reject us. They looked to us as exemplars of democracy and the rule of law. They thought that's what we stood for.

And what did we stand for? What flourished on our watch? Cronyism, rampant corruption, a Ponzi scheme disguised as a banking system, designed by U.S. finance specialists during the very years that other U.S. finance specialists were incubating the crash of 2008. A government system where billionaires get to write the rules.

Is that American democracy?

Well...?
There is no comforting answer to that.
Chayes' knowledge of Afghanistan is well earned. As an NPR reporter, she covered the fall of the Taliban, making her way to Kandahar in December 2001. She left journalism for a spell to try to help shape a better future for Afghanistan, first running an NGO founded by President Hamid Karzai's brother; then she launched a manufacturing cooperative that produces skin-care products from locally sourced ingredients in Kandahar. In 2009 she became a special advisor to the International Security Assistance Force, and in 2010 to the Chairman of the Joint Chiefs of Staff, offering counsel on strategic policy on Afghanistan, Pakistan, and the Arab Spring. But all too often, as she recounts in Thieves of State, her warnings about the corrosive toll of corruption were words U.S. leaders did not want to hear.
Grounded in history, this big story traces how corrupt networks are organized — including right here at home.
The most disheartening aspect was U.S. complicity in allowing corruption to fester in Afghanistan. So perhaps it was all too logical for her to take as her next project On Corruption in America: And What Is at Stake. Grounded in history, this big story traces how corrupt networks are organized — including right here at home. From the grand excesses of the Gilded Age, the 1929 stock market crash, and corrupt machine politics, she follows the thread through a period of expanding equality that lasted decades but came to an end circa 1980. She takes to task the policies and personal enrichment of Democratic and Republican politicians alike, which have led us to a new kleptocratic age in which beneficiaries of the system use money and politics to bend rules and cover over their misdeeds: from corporate malfeasance to the sexual abuses of Jeffrey Epstein.
For an epilogue she offers ideas for "Breaking the Pattern," including bringing the legal definition of corruption more in line with the common understanding of that crime. But one particularly poignant moment comes early on in the book, as Chayes is researching ancient history in the Mediterranean. Discussing gatherings for meals to show a sense of community, she recalls experiences in rural Morocco, where she served with the Peace Corps 1984–85: "I could suddenly see the merry eyes of my favorite neighbor as she leaned forward to break the tender meat into morsels and place an equal portion in front of each person she was hosting," she writes. "That gesture, launching our meal, bound our fellowship." A deeper commitment to community is something we desperately need.
This review appears in the special 2022 Books Edition of WorldView magazine.
---
Steven Boyd Saum is the editor of WorldView.
---