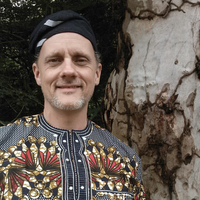 Author: Braeden Waddell
Ryan Smith joined the Peace Corps in 1998 as an Environmental Action and Community Forestry volunteer in the Republic of Benin. After his service was completed in 2002, he decided to remain in country and has been living there ever since.
Smith cites two primary reasons for his decision to stay in Benin: his career as director of CRFA, a Beninese non-governmental organization which manages the Antisua Forest nature reserve; and, more importantly, his adoptive family, where he is father to fourteen orphaned and abandoned kids, and grandfather to fifteen surviving grandchildren.
Of his previously unconceived personal and professional trajectory, Ryan says:
"This admittedly unusual lifestyle has been accompanied by far too many adventures and unexpected learning opportunities to adequately recount in this essay. Suffice it to say, that by virtue of my integration into the fabric of my rural Beninese host community, the village of Pèrèrè-Gourou, I have become an expert of some local renown on the culture and worldview of the peoples of the Borgou, especially of the Baatɔnu people who dominate the region. I speak the Baatonum language fluently, one of very few foreigners who can rightfully claim to do so; as well as French, Benin's official language, each having served me well on my path toward integration."
Working as the director of CRFA, Smith interacts with a wide variety of local officials and national organizations, partnering with and often representing the interests of those who would wish to preserve the forest area that CRFA continues to protect. By utilizing a community-based approach that encompases both managerial and educational roles throughout the area on the value of the reserve, Smith believes that CRFA plays an integral role in fighting for proper regulatory measures and increased funding for the conservation of the Antisua Forest.
In particular, Smith's worldview both on local and international issues has been reshaped by his life as both an American citizen and a member of a Beninese community:
"Having one foot in America and the other foot in Benin has given me amalgamated vision. I see things through dual lenses: Western and African, modern and traditional, urban and rural, and even theoretical and practical. I have come to appreciate the value of such a split personality."
Currently, Smith is a student at the University of Parkou, studying the Sociology of Natural Resources in the Graduate School of Agronomic and Water Sciences. His next step forward in his professional career will be to pursue a PhD.
Want to know more? You can read an introductory essay written by Smith, which features an in-depth look at his personal and professional roles in Benin; it is eloquently written and extremely informative, in the Winter issue of WorldView magazine.
---
About the Author:
Braeden Waddell is a journalism major entering his second year at American University. Although not an RPCV (yet), he participated in a year-long service experience in Argentina after leaving high school. He was a communications intern at NPCA.
---