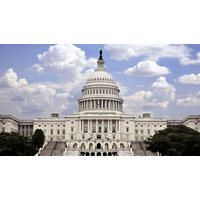 Senators Marco Rubio (R-FL) and Chris Van Hollen (D-MD) have been named to the Senate subcommittee with jurisdiction over the Peace Corps' funding. The key seats on the State, Foreign Operations and Related Programs Appropriations Subcommittee give both senators a voice on the body responsible for doling out funds for America's International Affairs Budget.
Senator Rubio, who has won high praise for his championing of America's soft power role in the world, is also a member of the Senate Foreign Relations Committee, and sits on that body's subcommittee that overseas America's aid and assistance programs. Since coming to the senate from the Florida house of representatives in 2010, Sen. Rubio has been a leading and consistent proponent of America's development and trade investments abroad. He was a co-sponsor of the Kate Puzey Peace Corps Volunteer Protection Act.
First-term Sen. Van Hollen was formerly U.S. Representative for Maryland's 8th District from 2002 to 2016, serving that district's large international development and currently-serving and Returned Peace Corps Volunteer communities. He was born in Pakistan and lived in other countries while his father was with the foreign service. While in the House, Sen. Van Hollen signed every Peace Corps Dear Colleague Funding Letter since 2005.
Senator Rubio is filling the Republican seat left vacant by former Sen. Mark Kirk (R-IL), who lost a re-election bid in November to Tammy Duckworth, and Sen. Van Hollen replaces Sen. Barbara Mikulski (D-MD), who retired.
The rest of the State, Foreign Operations subcommittee members remain the same from the 114th Congress, with Sen. Lindsey Graham (R-SC) as chair and Sen. Pat Leahy (D-VT) as ranking member. Rounding out the subcommittee are Republicans Mitch McConnell (KY), Roy Blunt (MO), John Boozman (AR), Jerry Moran (KS), James Lankford (OK), and Steve Daines (MT); and Democrats Dick Durbin (IL), Jeanne Shaheen (NH), Chris Coons (DE), Jeff Merkley (OR), and Chris Murphy (CT).
Over 8,000 Floridians and over 6,000 Marylanders have served in the Peace Corps since 1961. Please give Sen. Rubio (@senmarcorubio) and Sen. Van Hollen (@ChrisVanHollen) a warm welcome.
Secretary Tillerson sworn in as Secretary of State
Newly sworn-in Secretary of State Rex Tillerson addressed his team at Foggy Bottom for the first time Thursday, calling their work "mission critical" to America's partnership with the world.
Reminder: If you're an RPCV Eagle Scout, please send an email to jm@peacecorpsconnect.org with the subject line "RPCV Eagle Scout." More information regarding welcoming Secretary of Tillerson will follow.
---