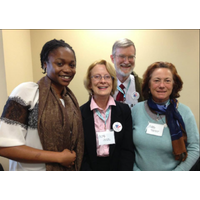 Enjoy telling your Peace Corps story? When it comes to impacting the world, the most important people with whom to share your experience are your elected representatives in Congress. They are the ones who play a lead role in deciding the future of the Peace Corps.
As part of Peace Corps Connect, NPCA advocates will be on Capitol Hill in a big way, all day, on September 22, 2016.
You can join in, but you need to register for our Capitol Hill Advocacy Day by Monday, September 5!
By joining us, you will make sure there is a Peace Corps buzz in Capitol Hill offices and hallways that will rekindle the moment when the Peace Corps movement began. For it was on September 22, 1961 that President Kennedy signed into law the original Peace Corps Act, which created the agency and governs its policies to this day.
Now, 55 years later, nearly 200 advocates are already registered for NPCA's Capitol Hill Advocacy Day. They are coming from 33 states to make the case for strong funding to ensure the Peace Corps' future, and reform legislation to improve health services for RPCVs with service-related illness or injuries.
Colombia RPCVs Kay and Kevin Dixon of Spokane, Washington are among those coming to Peace Corps Connect and coming in time to be citizen advocates in support of the Peace Corps. Kay says when it comes to her congresswoman, "I never want her to be a position to reply 'no one told me about X, Y or Z.' She must be kept aware of the Peace Corps and that we are active constituents and participate in the voting process in her district."
Nearly one hundred congressional meetings are already scheduled, and many more are on the way! The full extent of our impact is directly related to your participation! We want more RPCVs and former staff from all across the country to personally attest to the power of a strong, vibrant and well-resourced Peace Corps.
Our top fifteen states where we particularly need additional citizen advocates? Alabama, Delaware, Kentucky, Maine, Michigan, Mississippi, New Jersey, North Carolina, Ohio, Rhode Island, South Carolina, Tennessee, Vermont, Virginia and West Virginia.
You can shape policy and make history. No previous advocacy experience is required. All that is required is that you register today!
---